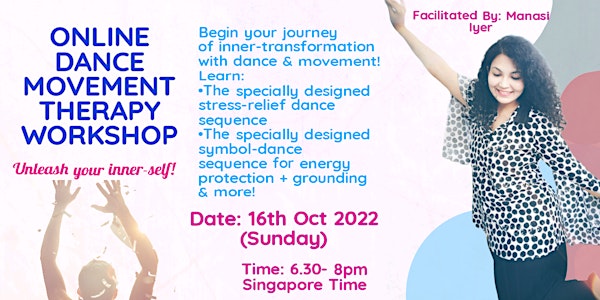 Online Dance Movement Therapy Workshop
Join the Online Dance Movement Therapy Workshop to connect with yourself using dance & movement & begin your inner-transformation journey!
About this event
Come, be a part of the upcoming transformational Online Dance Movement Therapy Workshop! With more than 230 (& counting!) people benefitted from the unique movement techniques!
This workshop has all the tools you need to heal yourself & connect with yourself via movement!💫
Along with the Stress Relief Dance Sequence, Body Awareness & Grounding, you will also learn the specially curated Symbol- Dance Healing (inspired by an ancient sacred geometry symbol) & other intensive Dance Movement Therapy techniques which have been specially designed for starting your inner transformation & healing journey, via movement & dance. 😊
The American Dance Therapy Association defines dance/movement therapy as the psycho-therapeutic use of movement to further the emotional, cognitive, physical and social integration of the individual.
This is a holistic workshop and will focus on your physical, mental & emotional health and will help you enhance your overall health.
It will be a fun as well as effective workshop!
What will you learn?
1. Specially designed 'Stress-Relief Dance Sequence', to help relieve stress. anxiety & frustration.
2. Body awareness practices & Grounding Techniques.
4. Specially developed 'Symbol Dance Sequence ' to help you protect your energies & emotions and being more aware and present.
5. Specially curated fun activites to overcome personal barriers & hesitation, & more!
Post workshop- notes in PDF format will be sent to your email id, to practice Dance Therapy techniques at home.
Date: 16th October 2022 (Sunday)
Time: 6.30 pm to 8 pm (Singapore Time)
(Please check your local time zone while registering.)
Duration : 1.5 hours
Fees: $17 SGD
You can register via eventbrite (or if in Singapore via PayNow or PayLah using the number 90679242.)
**Please note: We Do Not offer refunds**
About the Facilitator:
Manasi Iyer is a Physiotherapist (IN) , Certified Orthopedic Manual Therapist (AUS) & Certified Dance Movement Psychotherapist. (UK)
She is the founder of Rejoice In Motion & has been conducting Dance Movement Therapy Programs & sessions in Singapore & Online as well.
For her work in the area of Dance Movement Therapy, in Singapore & beyond, she has been awarded the 'Outstanding Therapist Award' (Runner up) by the Centre Of Excellence (UK) which is a huge international body and is recognized worldwide as one of the leading online training providers, with more than half a million community of learners having gained vital skills & qualifications.
Follow us on Instagram for all latest updates!
Link: https://www.instagram.com/rejoice_in_motion/?igshid=1qhx10a3jmun