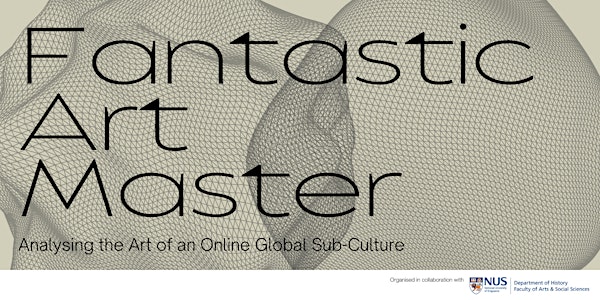 [Online seminar] Fantastic Art Master
This talk seeks to delineate how art history can contribute to visual machine learning abilities through the "Fantastic Art Master" project
About this event
Fantastic Art Master: Analysing the Art of an Online Global Sub-Culture
Date: Thursday, 18 August 2022
Time: 7pm – 8.30pm (GMT+8, Singapore), 2pm – 3.30pm (GMT +3, Israel)
Venue: Online on Zoom
Speaker: Sharon Khalifa-Gueta (Research Fellow, Department of Art History, University of Haifa, Israel )
Despite its prominence in the gaming, literature, and tattooing industries, the artistic genre known as Fantastic Art (FA) has received uneven academic attention. While literature, film, and new media tend to engage with this genre actively, it remains absent from the discipline of art history, and institutions such as galleries, libraries, and museums. As such, the "Fantastic Art Master" project was conceived in 2020 at the University of Haifa to address this gap, in collaboration with the E-Lijah Lab, the Digital Humanities Department, the Information Systems Department at the University of Haifa, and the AI company tasq.ai.
This talk seeks to delineate how art history can contribute to visual machine learning abilities through the "Fantastic Art Master" project which mobilises art history and AI to archive, map, tag, and analyse the FA genre. It posits that the humanities have a significant role in enhancing AI's visual recognition capacities, tracing how past and present artistic traditions and iconographies have shaped FA, reading connections between museum collections and popular new media art, as well as usage of the fantastic art semiotic language and art historical methods. In so doing, it explains the delicate ontology that was created through the project, alongside a demonstration of the tagging scale derived from this study, where the ultimate aims of the project will be outlined in its intention to teach computers to be able to understand FA artworks using artificial intelligence (AI). Consequently, this process forms a distant viewing of the genre where large-scale quantitative analysis of artworks can be conducted based on tagging and visual machine learning which would ultimately transform the way in which artworks can be analysed in the study of art history.
About the speaker
Dr. Sharon Khalifa-Gueta is a Research Fellow in the Art History Department of the University of Haifa. She specialises in Greco-Roman, Egyptian, Italian, and Modern and Contemporary art. Her dissertation "The Dragon and Femininity in St. Margaret Paintings by Raphael and Titian" was funded by The Rotenstreich Scholarship and was approved in March 2020. Among her publications and articles are "Leonardo's Dragons – The 'Rider Fighting a Dragon' Sketch as an Allegory of Leonardo's Concept of Knowledge" in Explorations in Renaissance Culture (2018) and "The Evolution of the Western Dragon" published in the Athens Journal of Mediterranean Studies (2018). She was awarded the Spinoza Post-Doctoral Fellowship, University of Haifa (2020-2021). She was also awarded the Dataset Collection Grant for the "Fantastic Art Master" digital project in 2021.
This seminar is co-organised in collaboration with the Department of History, Faculty of Arts and Social Sciences, National University of Singapore (NUS).