Join us in discovering more about our distinctive Chinese Singaporean culture!
About this event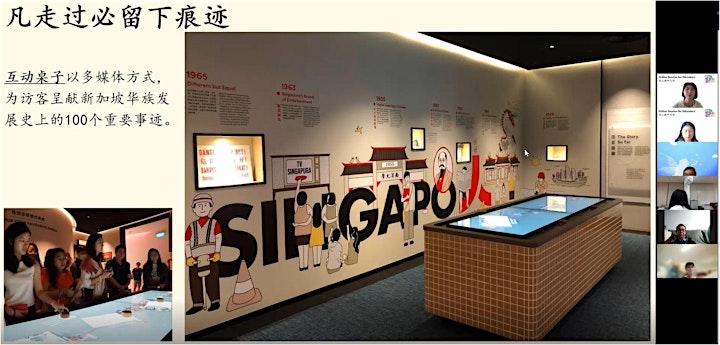 Calling all educators!
The Singapore Chinese Cultural Centre presents the exhibition, SINGAPO人, which examines the distinctive Chinese Singaporean culture through themes such as food, language, and customs.
We would like to invite educators to join us in this online session for you to gauge how easily it is for your students to be self-directed learners.
You will also be introduced to specially designed resources to prepare you for future visits with your students!
Date & Time :
25 November 2021, Thursday (Mandarin) | 3pm – 5pm
26 November 2021, Friday (English) | 3pm – 5pm
Venue : Zoom
Price : Free. Registration is required.
For all enquiries, please email education@singaporeccc.org.sg.
Please take note:
These sessions are organised especially for in-service educators teaching in local schools. These tours are conducted in English or Mandarin. Each session is two and a half hours long and requires a minimum of five participants. Registration closes 4 days prior to the start of the session.
由新加坡华族文化中心推出的"SINGAPO人"常设展,通过展示本地华人的饮食特色、语言特色和节日习俗等主题,以带领访客探索独特的新加坡华族文化。
此活动的学习内容有助于教师们较好地为贵校学⽣策划⽇后的⾃主导览之旅。
同时,每名出席者不但可获赠⼀套专⻔设计的教学资源,还可以深⼊了解与新加坡华族⽂化相关的主题内容。
日期 & 时间:
2021 年 11月25日,星期四(华语 ) 下午3时至5时
2021 年 11月26日 ,星期五(英语)下午3时至5时
地点:Zoom
收费:入场免费,须提前报名。
如果有什么疑问,欢迎通过电子邮件education@singaporeccc.org.sg与我们联系。
敬请注意:
此活动专为本地在职教师而设。
导览活动将以英文或中文进行。每场导览活动的时长为二小时。每场导览活动须至少有5名教师报名。
报名将于导览活动开始前四天截止。