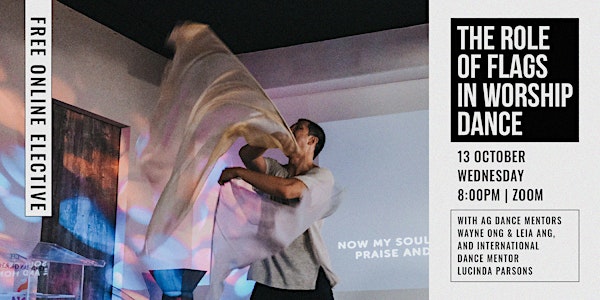 Onsite - Awaken Generation Public Elective: WORSHIP DANCE
Onsite - Awaken Generation Public Elective: WORSHIP DANCE
When and where
Location
Awaken Generation 8 New Industrial Road #03-04 Singapore, 536200 Singapore
About this event
The Role of Flags in Worship Dance
Are you curious about the role of dance in worship? Do you wish to explore a new way to worship the Lord? This elective is for all, whether you are a dancer or feel you have two left feet!
Led by our AG International Dance Mentor and friend, Lucinda Parsons from South Africa, the session will unpack Biblical insights of the role of dance in worship, followed by exploring how flags were used. Come dressed for some practical exercises!
Through this elective, participants will learn:
- the 'why' of dance in worship from the OT through to the NT
- symbolism and significance of flags in the Israelite community and what it means to us today
- practical exercises with flags
- how the flag is an extension of your body and Spirit
- how can we continue giving ourselves physically to our worship
Do note that you have to be fully vaccinated, have recovered from Covid, or have taken the ART from any approved clinic, in order to attend in-person.