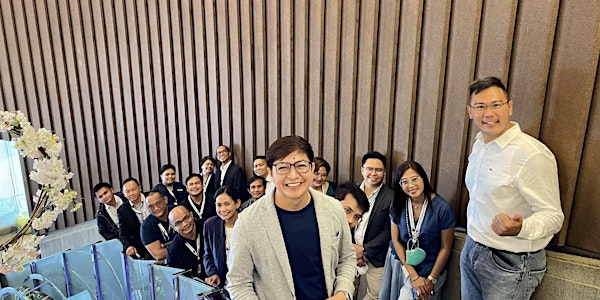 Onsite @ Manila - Data Governance Essentials (DGE)
Design data governance strategies, and policies with Data Governance frameworks to enhance business value and encourage innovation
When and where
Location
GT Tower International corner H.V. Dela Costa Makati, NCR 1227 Philippines
Refund Policy
Contact the organizer to request a refund.
About this event
For more information: www.casugol.com/dge
International Acclaimed Certification. 5-Star Reviews
Suitable for everyone. Learn in an Interactive, Supportive and Encouraging Environment.
Duration: 4 Day / 32 Hours
Certification: Participants will receive a Certificate of Competency upon successfully completing the course and passing the examination
Who Should Attend: IT, Data, Data Management (policy, quality), Data Analytics, Statistic, Business Owners and anyone seeking to acquire essential knowledge on data governance.
Course Objective
Acquire the essential knowledge on data management and data governance techniques to enhance the quality, integrity, security and usability of data.
Learn how to design data governance strategies, and policies with proven Data Governance frameworks to enhance business value and encourage innovation within an organization.
Pre-Requisite
No pre-requisite. Data Governance Essentials (DGE) is suitable for everyone.
Examination
Participants are required to attempt an examination upon completion of course. This exam tests a candidate's knowledge and skills related to Data Analytics and Python Programming based on the syllabus covered
Participants are expected to score a minimum of 70% to pass the examination
Module 1 Introduction to Data Management
Why Data Management?
Key Problems With Data Management
Importance of Data Management
Key Essentials on Data Management
Data Management Goals
Governing of Managed Data
Policies, Processes,and Procedures
Data Management vs. Data Governance
Module 2 What is Data Governance?
Introduction to Data Governance
Enhancing Trust in Data Through Data Governance
Data Governance vs. Data Enablement vs. Data Security
Benefits of Data Governance to Businesses
Risk Factors in Data Governance
Importance of Regulatory Compliance
Data Handling Ethics
Module 3 Key Components to Data Governance
Business Drivers in Data Governance
Goals and Principles
Activities in Data Governance
Implementation of Data Governance Practices
Implementation Guidelines to Successful Data Governance
Data Governance Framework
Metrics for Value, Effectiveness, and Sustainability
Module 4 Data Governance Organizaton and Roles Expectations
Understanding the Existing Organization and Cultural Norms
Data Management and Governance Organizational Models
Critical Success Factors
Building a Sustainable Data Governance Organization
Interaction Between Data Managers / Data Stewarts
Roles and Responsibilities of Data Managers / Data Stewarts
Module 5 Data Governance Tools
Introduction to Data Governance Tools
The Enterprise Dictionary
Data Classes and Policies
Data Classification and Organization
Data Catalogue and Metadata Management
Data Quality
What is Lineage Tracking?
Key Management and Encryption Techniques
Workflow Management for Data Acquisition
Data Catalogue and Metadata Management
Identity Access Management (IAM)
Data Governance Essentials (DGE) involves rigorous usage of real-time case studies, hands-on exercises and group discussion