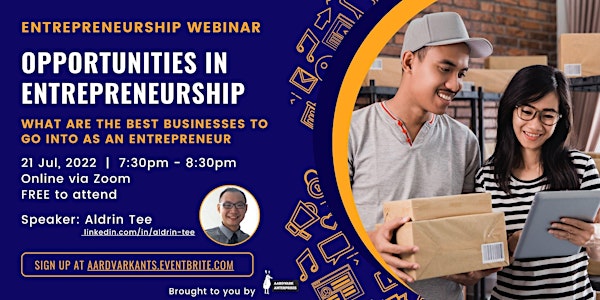 Opportunities in Entrepreneurship
Identify the best ideas and businesses to start your entrepreneurial journey
About this event
Even if you've decided to become an entrepreneur and are ready to get started, the big question remains - what business should I do?
Perhaps an area of passion, or something that you're skilled at? What business will be easy to start and be profitable? Or if you already have a business idea, is there a way to make it succeed?
Here's where your questions will get answered.
In this free webinar, you will learn:
The best businesses to go into as an entrepreneur
How to identify and create opportunities
How entrepreneurship can lead to more opportunities in other areas
About the speaker
Aldrin Tee is a serial entrepreneur and social innovation and impact consultant who focuses on sustainable and scalable industry transformation, ecosystem value chains and venture building. Among his many business ventures is Aardvark Anterprises, a business whose mission is to advocate and support entrepreneurship.