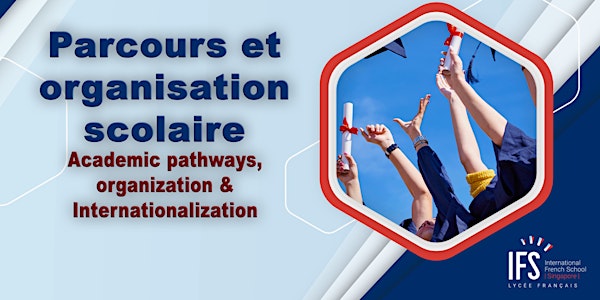 Organisation, parcours et internationalisation (focus group parents)
Temps de discussion sur le projet d'établissement / Focus group on the school project.
Date and time
Tuesday, October 11, 2022 · 7 - 8:30pm +08
Location
International French School (IFS) 2900 Ang Mo Kio avenue 3 Pour tous parents Salle J224, 569928 Singapore
About this event
DÉFINITION:
Cette thématique regroupe les questions liées:
- à l'organisation scolaire (horaire des élèves, constitution des groupes-classe, etc.),
- au parcours qui leur sont offerts (filières d'étude, enseignement des langues, accueil des allophones, etc.),
- à l'internationalisation de l'établissement (promotion du français et de sa culture, rayonnement de l'IFS par ses actions, site Web et usages des réseaux sociaux, événements spéciaux, raisons parentales du choix de l'IFS, etc).
In English
This theme covers issues related to:
- school organisation (student timetable, class group constitution, etc.),
- the academic pathways offered to them (study programs, language teaching, reception of allophones, etc.),
- the internationalisation of the school (promotion of French and its culture, influence of IFS through its actions, website and use of social networks, special events, parental reasons for choosing IFS, etc.).