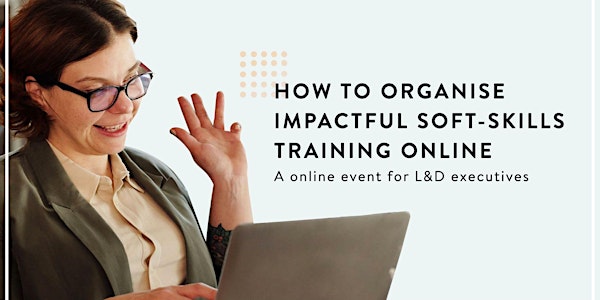 Organising impactful soft-skills training online
Organising an impactful soft-skills training online
About this event
Dear HR and L&D folks,
Covid has radically changed your learning and development plan, hasn't it?
You're caught in between. If you conduct soft-skills training online, you run the risk of not meeting your learning goals and wasting your training budget. At the same time, putting off these programmes doesn't seem viable because you are unsure when face-to-face workshops can be conducted again. What more, during a crisis, the ability to communicate and lead effectively is more essential than before. Without it, teams' morale and productivity would plummet.
Like it or not, workers will be communicating more virtually even after they head back to their physical workplace. Soft skills are no longer exclusively relevant to the offline context.
But you might be wondering, can communications training be effectively conducted online?
Absolutely! In fact, online learning can be equally engaging as offline learning.
In this interactive webinar, you will uncover the essential components needed to bring offline learning online without compromising the learning experience and outcomes.
What you will take away from the 90-minute webinar:
1. Identify the most effective mode of online learning that fulfils your team's unique L&D needs.
Explore the top 3 online learning formats and solutions that are easy to implement and will not break the bank.
2. Implement measures to ensure learning outcomes are achieved.
Uncover tips on what should be done before, during and after online learning is conducted or implemented.
3. Understand skills required to engage learners virtually and facilitate learning.(it's not about quizzes and polls)
Learn to prepare your trainers to sustain attention, and increase engagement and impact.
The meeting link and details will be sent to your email after successful registration.
Learning can be engaging and effective online!
Here's what past learners felt:
"Despite the challenges of conducting workshops over Zoom, the instructor was engaging and knowledgeable to conduct the workshop and maintain interest in the subject content."
- Student of Visual Presentation virtual workshop
"Very clear communication and able to engage despite over VC. Outstanding."
- Student of Visual Presentation virtual workshop
"Time management is great and the workshop is engaging (didn't feel like it was 4 hours long)."
- Student of Data Storytelling virtual workshop
"Sessions are fun and engaging, and learners gain applicable take-aways for their respective professions."
- Charlene Lim, Senior Manager, Human Resource
About HighSpark
The team at HighSpark helps market leaders win business, hearts and minds when stakes are high. We train and develop clear, persuasive, and engaging narratives that help leaders from Fortune 100 companies shine brighter.
The agency was started with a keen focus on helping brands clarify their unique value propositions and achieve their business goals through presentations.
Using our 5P Story Framework, we've helped empower more than a thousand executives over the course of the last 7 years for clients ranging from Fortune 500 companies to leading startup accelerators.
About the Trainer, Koh Kai Xin
Kai Xin is the co-founder and lead trainer at HighSpark.co, a strategic presentation consultancy. Fortune 100 company leaders rely on her to clarify their brand's message and craft persuasive visual narratives to win in high-stake moments.
She has received the "The World's Best Story Tellers Award" citation by the World HRO Congress in 2017. She has also been previously featured on media outlets like 938 Live, Yahoo News, VulcanPost and more.
She was recently one of the only 20 Singaporeans to be honoured on the Forbes30Under30 Asia list.