Description
Welcome to Mama & Dada's Pregnancy Wellness Party!
Starting a family can be a exciting yet overwhelming time. We hope to make it a little easier and a lot more fun by partnering with a group of experienced professionals who inspire us with their commitment to their services that strive to ease your parenthood journey.
Register now and receive an EXCLUSIVE GOODIE BAG worth more than $50!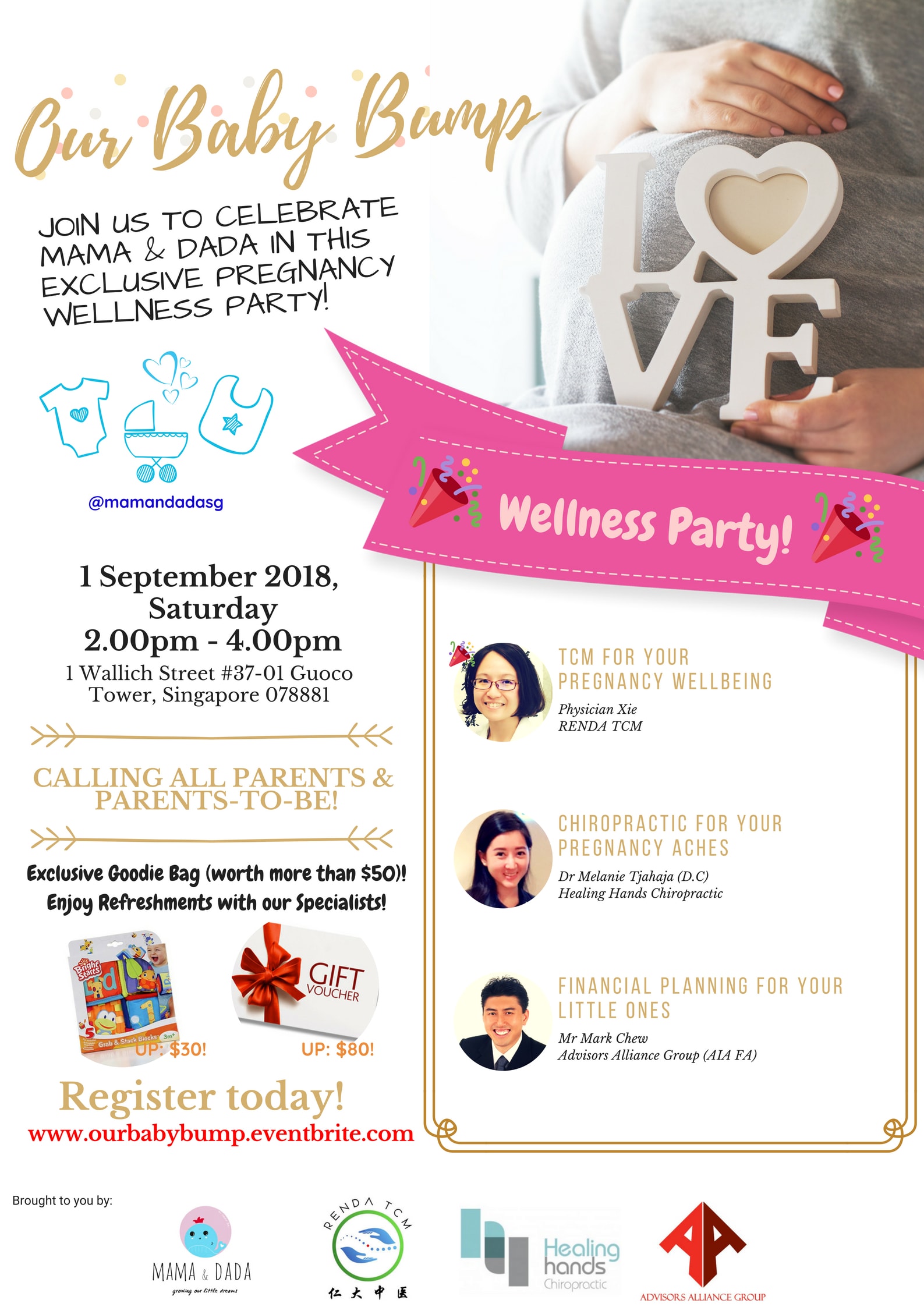 ABOUT OUR SPEAKERS
TCM for your Pregnancy Wellbeing by Physician Xie, Renda TCM
Being a new mum, Physician Xie understands the importance of nourishment during and after pregnancy for mothers. She is a registered TCM Physician of Singapore with many years of experience in the healthcare industry. She believes in providing a holistic treatment and is committed to help more parents to understand the importance of nourishment for both parents and children.
Chiropractic for your Pregnancy Aches by Dr Melanie Tjahaja (D.C), Healing Hands Chiropractic
Dr Melanie Tjahaja is a well-trained chiropractor who provides a uniquely integrated approach that take care of the overall health of both parents and children. She is passionate about fostering whole-body wellness through the elimination of pain and aches that mums (during pregnancy), dads (caring for the baby) and children (carrying heavy school bags) faced.
Financial Planning for your Little Ones by Mr Mark Chew, Advisors Alliance Group (AIA FA)
Mark is an experienced financial advisor and a high performance leadership coach. He has a strong team of consultants who believe in transforming the financial industry. Happily married to his beautiful and capable wife, and being a father of two active little girls, Mark believes in planning early and strategically for his family. He is committed to help more parents to have an easier time planning financially so that they can have more quality time with each other and with their lovely little ones.
Open to all new parents and parents-to-be!
Register today to save your seats!
Like our Facebook Page @mamandadasg !