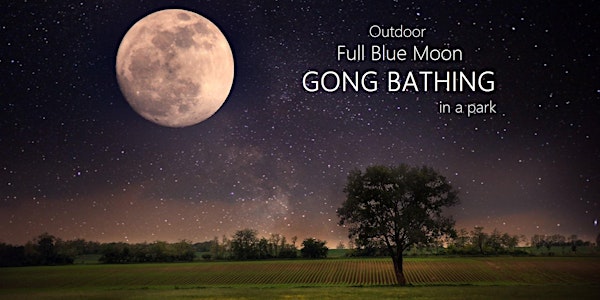 Outdoor Full Blue Moon GONG BATHING in a park
Connect with nature, relax in the outdoors & bask under the powerful full moonlight to enjoy a magical and relaxing journey of Gong Healing
When and where
Location
Ang Mo Kio Linear Park Ang Mo Kio Avenue 5 Singapore Singapore
Refund Policy
Contact the organiser to request a refund.
Eventbrite's fee is nonrefundable.
About this event
Outdoor Full Blue Moon GONG BATHING in a park
Date: 23 August 2021 (Monday)
Time: 7:15pm - 8:30pm
Venue: Ang Mo Kio Linear Park (Exact Location will be disclosed in the confirmation email)
Energy Exchange: $55 - $58.69 (Eventbrite fees apply)
You can DM me directly to make a booking. (No Eventbrite fee and payment will be made through PayNow)
Relax in Nature, meditate in an outdoor setting, under the potent full moonlight while being bathed in mystic sounds of Gong and other Sound Healing tools. It will be a creation of a sacred sound healing space for you to relax and indulge.
Not only that the full moon is a powerful time for looking within, for healing, release and shifting, the outdoor natural setting also offers a great way to channel these strengths with the Full Moon Gong Bath to calm the mind and harness the healing and harmonizing potential of this full blue moon.
The Gong being a truly transformational instrument, promotes wellness at a cellular level. As the Gong is struck, the sound blossoms and resonates through the body stimulating the Alpha and Theta brainwaves moving you to a meditative, dream like or sleep like state. All you need to do during the Sound Bath is lay and be, the Gong and healing tools will do the rest.
Allow the therapeutic frequencies from these ancient healing instruments to take you on a tranquil, deeply relaxing journey of healing and self-discovery, intended to cleanse and recharge your energy, bringing you a profound sense of peace and well-being.
All are welcome! Come with an open mind and heart and no experience in mediation is required.
** You will bring home a Crystal Stone gift with wonderful healing properties as well**
Benefits of a Sound Bath / Gong Bath:
• Helps to quieten and calm the mind
• Release emotional and energetic blocks thereby giving a clearing effect
• Releases tension
• Balances the left and right hemispheres of the brain
• Can help to release what no longer serves us and change old behavioural patterns and habits
• Deeply relaxing
• Improves the quality of your sleep
And many more …
What will you need to bring to a Sound Bath?
* Yoga mat, large thick beach towel, picnic mat or something similar to lie on.
* A throw, blanket, jacket, cushion, eye pillow or anything for your comfort. Get comfy!
* Crystal if you wish to receive additional healing energies during the session or Crystals that you wish to cleanse with the sound bath and the moonlight.
* A bottle of water to help keep you hydrated.
* Insect repellent if you have concerns for mosquitoes or other insects. Alternatively you can wear protective clothing instead.
Location and Additional Information:
• The event will be held at Ang Mo Kio Linear Park. The exact location details will be disclosed in the confirmation email. In case of a change in the location, you will be informed accordingly. You are welcome to contact us if you need any further assistance.
• Do arrive at least 20 mins earlier prior to the session to facilitate sufficient time to settle in and to secure a mat space. Make provision for time to find the venue if it's your first time at the park. Latecomers may join the session mindfully without creating any disturbance to the rest of the attendees. However any request for refund will not be entertained.
• There is a public toilet located about 200m away, within a 3 - 5 mins walk distance from the exact location.
• In case if it rains, depending on the intensity, the following apply
Light rain or light drizzle: Proceed as scheduled
Heavy rain / thunderstorm / Risk of lighting: Session will be cancelled.
In such weather situation, participants will be contacted at least 45 mins prior to the session as to confirm whether we will proceed or cancel the session.
If the session is cancelled by host, you can register for another session with Wenyogaheal by Dywen Pte Ltd. or request for a refund.
• Kindly understand that a park is a public shared space, it is inevitable that there will be background sound / noises or disturbances in a public nature outdoor environment. So embrace them as they are part of the natural soundscape experience.
COVID-19 Restrictions and Safety Measures:
• Adhering to latest advisories, the number of attendees will be limited accordingly. So book early to secure a slot.
• All Wenyogaheal Sound Bath / Sound Healing sessions will be MASK ON regardless of vaccination status so wearing a mask properly at all times is required.
• Log in and out of Trace Together upon entry and exit of the park.
• Sanitised your hands upon arrival at the designated venue. (Hand santiser will be provided)
• Temperature will be taken upon arrival at the designated venue.
• Do not attend the session and stay at home if you are feeling unwell. If your temperature is 38 Degree Celsius and above or you display flu -like symptoms, you will be strictly denied participation of the session.
• Observe safe distancing of at least 1 metre from one another.
Minimum 4 to run.
By sound therapist Wendy Lum
(FACEBOOK): www.facebook.com/wenyogaheal
(INSTAGRAM): www.instagram.com/wenyogaheal
If you would like to make a reservation directly with me or have any questions, you are welcome to email to hellowenyogaheal@gmail.com or direct message through Instagram or Facebook.