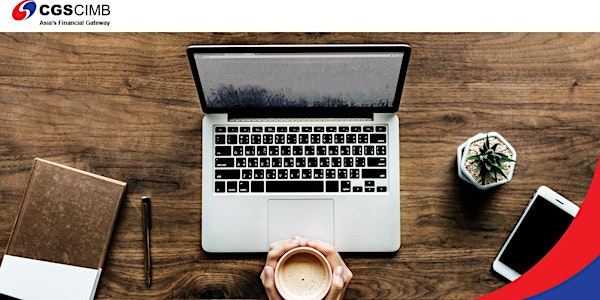 Overcoming A Great Wall of Worries
Overcoming A Great Wall of Worries
About this event
Recently market participants are facing a great wall of worries which includes red hot inflation, aggressive monetary tightening policies, COVID-Zero policy in China, a resurgence of COVID-19, possible weak corporate earnings and guidance, as well as extreme volatility which may even continue to the end of 2022.
As the markets remain fluid even any sectoral rotation appears to be a fast in and fast out cycle.
In the midst of such market uncertainty, are we still able to find suitable sectors of stocks or even ETFs for investing and trading?
Come and listen to Clarence Chee as he discusses the possible market sectors of stocks and ETFs for us to consider and focus for Q3 of 2022.
Speaker Profile:
Clarence Chee is the Stock Trading Coach and Mentor for T3B and also the MD and CEO of T3B Capital and T3B Asia Pte Ltd.
Clarence Chee has been trading Singapore and even Malaysian Stocks since the 1980s. He started trading forex in the 1990s with a bucket-shop. He picked up stock index trading during the Asian financial crisis.
He resumed active stock trading in 2012. For the past three years, he has been actively trading the US stock market and guiding his community of stock traders.
As a stock trading coach and mentor, he provides life-time support to a community of more than 1,000 stock traders from Singapore, Malaysia and Indonesia via his own Facebook Groups and Whatsapp Groups. This support includes, regular stock picks, market updates and weekly stocks watch list.
Zoom Access Details:
Please click the link below to join the webinar: https://cgs-cimb.zoom.us/j/99622072574?pwd=MkllUFJ6NHV4aVN2aXNoM1pMUUpIQT09
Webinar ID: 996 2207 2574
Webinar Passcode: 123456
(6.30pm to 7pm check-in time)
Session will start at 7pm
How to set up your zoom account
1. Sign up for a free zoom account here: https://zoom.us/signup
2. Installation
• Laptop/desktop (Windows or MacOS), download ZOOM client here: https://zoom.us/download#client_4meeting
• Android Phone: Download from Google Play Store
• Apple iPhone & iPad: Download from App Store Login your zoom account and join the webinar.
PLEASE CAREFULLY READ THE PROVISIONS BELOW BEFORE PROVIDING YOUR PERSONAL DATA. BY PROVIDING YOUR PERSONAL DATA BELOW, YOU ACKNOWLEDGE THAT YOU HAVE READ AND FULLY UNDERSTAND THE CONTENTS OF THE PROVISIONS AND YOU HEREBY GIVE YOUR CONSENT AS SET OUT BELOW. 
REGISTRATION NAME DOES NOT NEED TO BE AS PER NRIC 
By providing your personal data, you consent to CGS-CIMB Securities collecting, using, disclosing and/or processing your personal data for the purpose(s) of: 
(a) Processing your registration/sign-in to visit and/or access CGS-CIMB Securities' premises; 
(b) Record keeping, visitor log monitoring, audit, data storage or backup (including for disaster recovery); 
(c) Security and public safety; 
(d) Contacting you in the event of emergency and/or investigation (including contact tracing for medical reason or otherwise); and(e) To contact you for future events/seminars and product promotions. 
 If you have any questions relating to CGS-CIMB Securities' collection, use and disclosure of your personal data, you may contact dpo_securities@cgs-cimb.com.