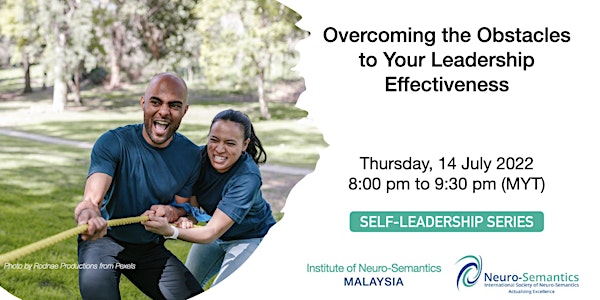 Overcoming the Obstacles to Your Leadership Effectiveness
Are you, at times, your worst enemy? Do you put up obstacles that prevents you from being at your best?
About this event
Self-control is a crucial element for your leadership effectiveness. Without it, you find it hard (almost impossible) to succeed in anything in life. Your success depends on your ability to implement your action plan. One significant reason why people are unable to do what they plan to do is their inability to be in control of their mental and emotional states. Not being fully in charge of yourself creates a host of obstacles in your self-leadership pathway.
Are there ever times in life when you feel dis- empowered or out-of-control?
Do you ever confuse yourself as a human being with what you do?
Do you have any beliefs that limit or sabotage your best?
What emotion or emotions are you uncomfortable with or try to banish from your life?
What concepts can you not stand, do not like, and find irritating or annoying?
How do you overcome these?
Neuro-Semantics has identified 14 distinct obstacles to your leadership effectiveness. Through the Four Themes of Empowerment, Healing, Programming and Ecology, you can and will overcome these obstacles to unleash your leadership effectiveness.
[Sᴇʟғ-Lᴇᴀᴅᴇʀsʜɪᴘ Sᴇʀɪᴇs]

M Marzuki Mohamed
M Marzuki Mohamed has extensive experience in the field of Human Capital Development. He creates a learning classroom that is dynamic and memorable. He is a Certified Neuro-Semantics & NLP Trainer and Meta-Coach by the International Society of Neuro-Semantics®. Marzuki also Co-Authored an international published book 'The Change'.