Searching for the Overseas Uni Fair to attend to find out more about your dream Uni overseas? Sign up for the Overseas Education Mega eFair!
About this event
Calling all O / N / A Levels Student and Diploma Students!!!
Finding the Overseas University Fair to attend to help you get to your Dream Uni? Don't miss the Overseas Education Mega Efair (Online) taking place this October Fri 22 & Sat 23 Oct.
About This Event:
A Virtual World University Expo featuring World Top 100 Unis and several Group of 8 Unis / UK Russell Group Unis and Foundation Colleges. Great opportunity to explore your options in popular study destinations such as Australia, New Zealand, Switzerland & United Kingdom.
Event Highlights:
Have 1 to 1 exclusive consultation directly with the University Staff
Most Application Fee Waived
Scholarships Advisory
Entry requirement Advisory
Latest advisory on Online or Face to face delivery
eMeet multiple Top-Ranked Universities & Foundation Providers
We can help you submit multiple applications on the spot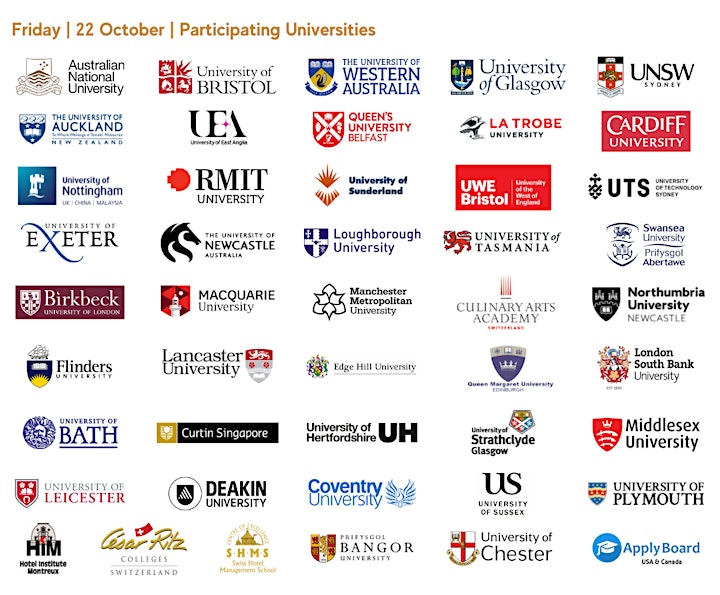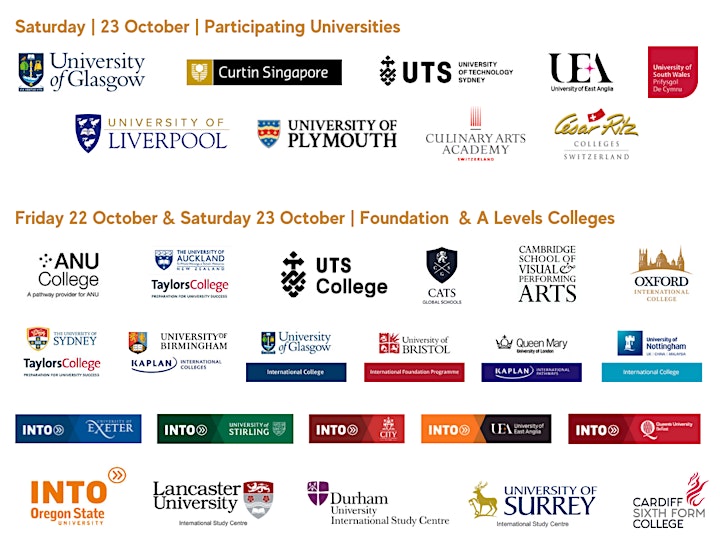 Participating Universities
United Kingdom Universities
University of Nottingham
University of Bristol
University of Glasgow
University of East Anglia
University of Liverpool
Cardiff University
Queen University Belfast
University of Exeter
Loughborough University
Birbeck University, University of London
London South Bank University
Lancaster University
University of Leicester
University of Hertfordshire
UWE Bristol
Northumbria University
University of Strathclyde
Swansea University
University of Sunderland
Manchester Metropolitan University
University of Strathclyde Glasgow
Middlesex University
University of Sussex
University of Bath
Edge Hill University
University of Chester
University of Plymouth
Bangor University
University of Plymouth
Coventry University
Queen Margaret University
Australia and New Zealand Universities
Australian National University (ANU)
University of New South Wales (UNSW Sydney)
University of Western Australia (UWA)
Macquarie University
RMIT
University of Technology Sydney
Griffith University
Flinders University
University of Newcastle
Deakin University
Curtin Singapore
La Trobe University
University of Auckland
United Kingdom & Australia Pathways & Colleges
ANU College
University of Sydney Foundation
University of Adelaide College
UNSW Global
Curtin College
UTS Insearch
University of Bristol Fdn
University of Glasgow Fdn
University of Birmingham Fdn
University of Nottingham Fdn
University of York Fdn
University of Queen Mary Fdn
University of Liverpool Fdn
University of Newcastle University
Durham Uni Fdn
INTO Uni of Exeter
INTO Manchester
INTO UEA
Bellerbys College
Oxford Int'l College
Shorelight
Details about the Event
Venue: Zoom
Date: Friday 22 Oct 3pm - 6pm & Sat 23 Oct 11.30am - 2.30pm
Have friends that are interested too? Register together to go together as a group!
Need more information about studying overseas?
We are 1 call away. Call us at 6100 9800 today or visit our office at Level 7 Orchard Shopping Centre 321 Orchard Road S238866.
Organiser of Overseas Education Mega Efair (Online) Fri 22 & Sat 23 Oct
One Stop Overseas Education Agency assisting students get to their best-fit universities, including World's Top 100 Unis in UK, Australia, New Zealand & more. We have help thousands of students to study overseas since 2002. Free consultation and service support. Call 61009800 now for a personalised consultation! 
Free services include:
- Identifying universities based on academic profile and preferred programs
- Applications to shortlisted universities
- Free certification of documents for applications
- Scholarship counselling
- Visa application advice and guidance
- Accommodation assistance