Description
If you are looking to explore the wondrous study opportunities outside of our little red dot, then this is the event for you! Representatives of universities from the UK, Australia and the US will be conducting informative one-to-one sessions for prospective students. In addition, our senior counsellors will be present to provide you with objective advice on how to get to the best-fit institution possible. Let us help you!
*Do note that spaces for 30 minutes of personalised consultations are limited to 15 families for each day. Reserve your seat now!
Who should attend this event:
- Sec 4, N and O levels students looking for options;
- A levels and IB student completing/completed their studies;
- Diploma students with 4 semesters/ completed their diploma;
- National Service men who will be operationally-ready
Please bring along the original or copy of:
- Educational transcripts and graduation certificate (from N / O levels onwards)
- Passport
Below is the schedule of event for the 2 days: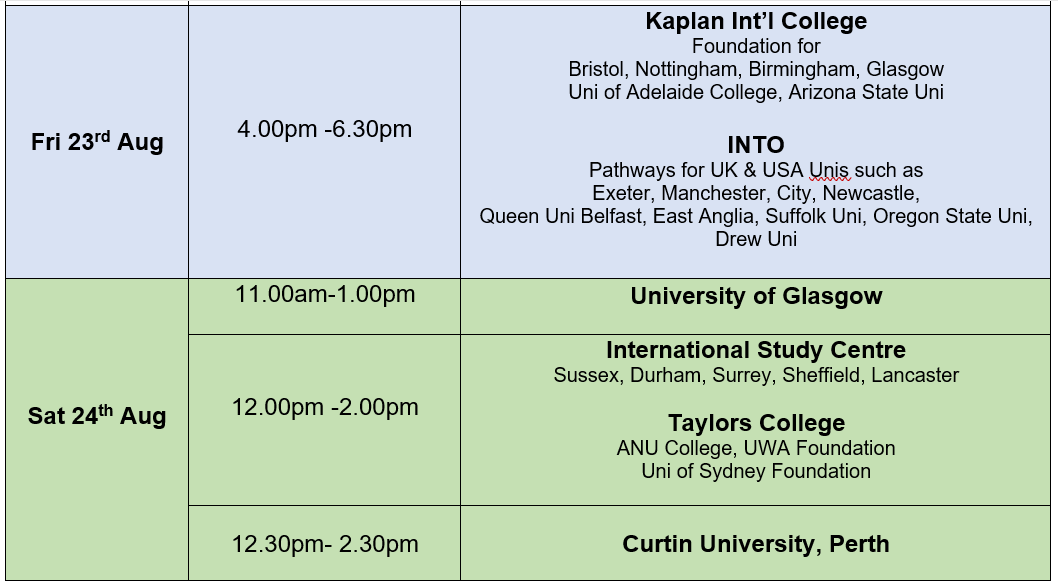 What are you waiting for? Clarify your doubts and prepare your options with the help of our agency*!
*Who are we?
We are one of the most successful overseas student placement agencies guiding students in finding the best fitted universities for them in the UK, Australia, New Zealand and more for the past 17 years. Our services are free of charge as we represent majority of the universities in Australia/UK/NZ including the world's top 1%.
Most of our students received offers from the Top 2 % of World Universities worldwide and we have placed thousands of students since 2002. See reviews from our happy clients : - Please see our google and facebook review.
For no fees at all, our services include:
- Identifying universities based on academic profile and preferred programs
- Applications to shortlisted universities
- Free certification of documents for applications
- Scholarship counselling
- Visa application advice and guidance
- Accommodation assistance
Register now for this 2-day Open House - Friday 4-6.30pm & Saturday 11-2.30pm. Call 61009800 to register now!