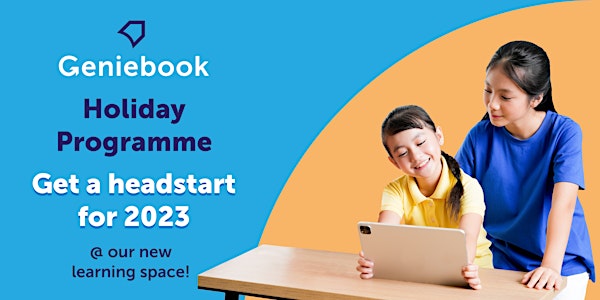 P5 Holiday Programme
Prepare your child for Primary 5 with this holiday programme - held in Geniebook's first ever physical learning space in United Square.
When and where
Location
Geniebook @ United Square Shopping Mall 101 Thomson Road B1-26/27 Singapore, 307591 Singapore
About this event
Welcome!
Welcome to Geniebook's first ever physical collaborative learning space specially created for our student subscribers! We are debuting with a range of holiday programmes covering English, Chinese, Maths, and Science subjects for students entering P4, P5, and P6 in 2023. The curated activities conducted in each programme will cover the core subjects to help prepare your child for their upcoming academic year by stimulating their interest through active, team-based learning.
Only limited seats are available, so sign up today!
Our Primary 5 Holiday Programme
For the past four years, your child has enjoyed a steady academic journey through primary school. Starting with Primary 5 however, their lessons will begin to emphasise the importance of doing well in exams, preparing students mentally for their PSLE in two years' time. The change in pace will be noticeable, but with early awareness and steady preparation, your child will still be able to enjoy their next school year even as they slowly gear up for the first major exams in their lives.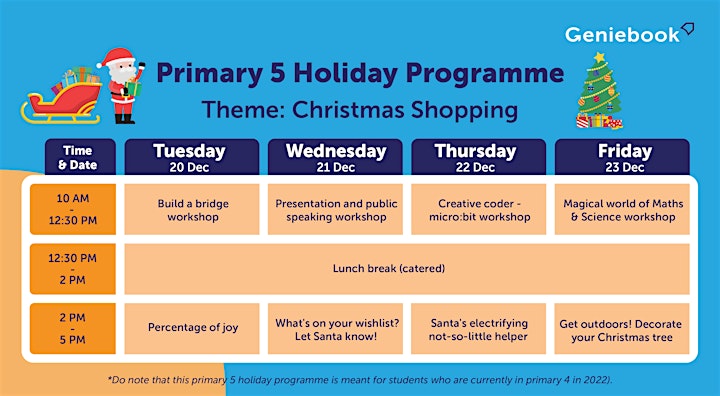 Our Primary 5 Holiday Programme will span four days from 10 AM to 5 PM, with students beginning each day with a fun workshop session related to the subject of the day. Lunch will be provided for all students*, after which the second half of the day will proceed with a lesson for the day's featured subject.
Facilitated by a team of up to five teachers, these lessons will focus on experiential and collaborative learning where students are given the chance to participate in hands-on and teamwork-oriented activities. The topics that your child will be learning in our programme will pique their interest and give them a solid headstart when they return to school after the holidays.
*Please note that any dietary requirements can be specified in the Eventbrite signup form.
Programme Topics
The theme for the Primary 5 programme is Christmas Shopping, in which your child will go through the process of preparing for the holidays through the introduction of new subject topics! Here's a quick overview of what your child will be learning over the course of four days with us:
Day 1 - Maths
10 AM: Build a bridge - This design and architecture workshop will introduce the architectural concept of bridges by building a functional miniature bridge and testing its load-bearing capabilities.
2 PM: Percentage of joy - Learn how to convert between percentages, fractions, and decimals, and how to calculate discounts for real-world purchases.
Day 2 - English
10 AM: Presentation and public speaking workshop - Learn how the power of speech can influence others' decisions, and get tips on how to engage listeners through the B.E.S.T. concept.
2 PM: What's on your wishlist? Let Santa know! - Learn about situational writing and the components to include when writing informal letters.
Day 3 - Science
10 AM: Creative coder/micro:bit workshop - Get introduced to the basics of programming and learn to create simple functions using micro:bit.
2 PM: Santa's electrifying not-so-little helper - Learn about closed electrical circuits, the flow of electricity and how to connect electrical components together to make a simple device.
Day 4 - Chinese*
10 AM: Magical world of Maths and Science workshop - Discover the joy of learning by exploring the secrets behind learning Maths and Science.
2 PM: Get outdoors! Decorate your Christmas tree - Learn all-new words, practise verbal skills and participate in a group reading of a new story about the virtues of trust.
In order to allow each student the chance to participate fully and maximise the effectiveness of our classes, we can only accept a limited number of registrations for the holiday programme. If you're interested in having your child join us, sign up today to secure a place!
*P.S. If your child does not take Chinese as a Mother Tongue, reach out to us at care@geniebook.com or 6909 9598 to get a pro-rated registration fee.