Location
Hin Bus Depot
31A Jalan Gurdwara
George Town, Pulau Pinang 10300
Malaysia
Sales Have Ended
Registrations are closed
Join a moderated panel discussion on conserving Peninsular Malaysia's Central Forest Spine
About this event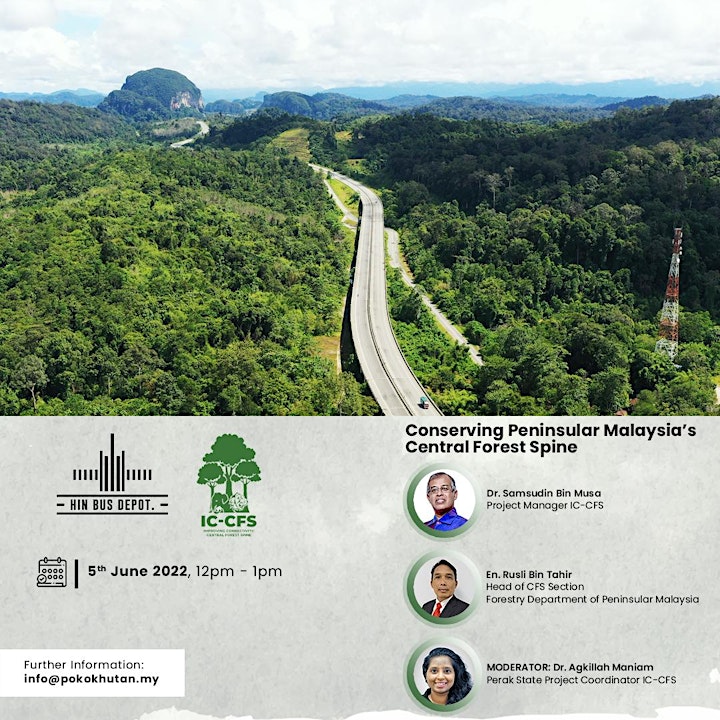 About the Panel Discussion
Our forests are our national treasures, and it is our responsibility to conserve biodiversity and ecosystem services in the priority forest landscapes of the Central Forest Spine (CFS). Spanning over 5.5 million square hectares, the CFS, located in the heart of Peninsular Malaysia, harbours critical mountain watersheds and catchment areas that supply water for 90 percent of the population. Home to a highly diverse range of flora and fauna species including the endangered Malayan tiger subspecies, the pristine forests provide climate regulation, soil protection, and carbon storage.
The project is composed of four project sites: Temengor Forest Reserve (Main Range) - Royal Belum State Park (Main Range), Gerik, Perak; Tanum Forest Reserve (Greater Taman Negara) - Sungai Yu Forest Reserve (Main Range), Lipis, Pahang Forest Reserve; Labis Timur Forest Reserve - Lenggor Forest Reserve - Mersing Forest Reserve, Johor; and Panti Forest Reserve - Ulu Sedili Forest Reserve, Johor
This exclusive panel discussion will deliberate on how the IC-CFS Project supports the Central Forest Spine in achieving the CFS Master Plan implementation in Pahang, Perak and Johor as well as highlighting the importance of protecting Malaysia's biodiversity and ecosystem services. The panellists share on the Project's activities that strengthen the connectivity of fragmented forest through rehabilitation, enforcement, forest management as well as involvement of local communities in the 3 states.
About the Panelists
Dr Samsudin bin Musa
o Project Manager IC-CFS
Encik Rusli bin Tahir
o Head of CFS Section, Forestry Department of Peninsular Malaysia
About the Moderator
Dr Agkillah Maniam
o Perak State Project Coordinator IC-CFS