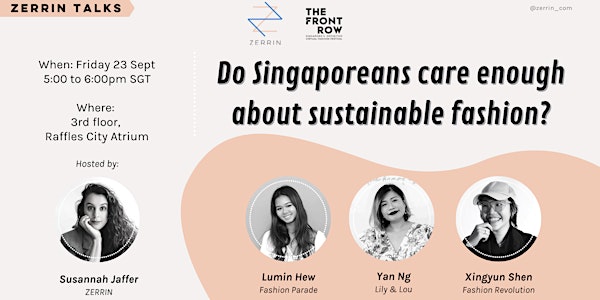 Panel Talk: Do Singaporeans Care Enough About Sustainable Fashion?
With a heightened awareness around sustainable fashion, hear from advocates, designers and industry about where Singapore sentiment is at.
When and where
Location
Raffles City Singapore 252 North Bridge Road Singapore, 179103 Singapore
About this event
It's no secret that the way we create and consume fashion has a huge environmental and social impact. An awareness of the impact of fast fashion, to ways we can shop better like thrifting, swapping and supporting ethical designers are all coming into global mainstream consciousness.
But where are mindsets around sustainable fashion really at within Singapore?
For a hyper-local perspective, ZERRIN has gathered together youth leaders, designers and advocates to discuss that very topic in this FREE talk as part of the The Front Row fashion festival 2022 and Singapore Design Week, held at Raffles City! Entitled #Fashtag X Raffles City Singapore, this festival is a key event of Singapore Design Week 2022.
They'll be discussing:
— Insights: The differences between sustainable fashion and fast fashion production.
— How will our shopping habits change in the future?
— The barriers to sustainable fashion consumption: from buying new to second hand.
— The biggest misconceptions around sustainable shopping?
OUR SPEAKER LINE UP:
Xingyun Shen, Country Coordinator of Fashion Revolution Singapore
Xingyun is the Research and Impact Coordinator at The Fashion Pulpit, Singapore's largest clothes swapping platform. She is also the Country Coordinator at Fashion Revolution Singapore, the Singaporean chapter of the global fashion activism movement. Through her work, she reimagines a more equitable fashion industry that centres the planet and its people at the core of its intentions and operations.
Lumin Hew, Fashion Parade
Passionate in involving and inspiring the youth, Lumin founded Fashion Parade (@fashionparadesg) to highlight youth voices and perspectives in today's sustainable fashion industry and to create real experiences and opportunities to excite Gen Z's. With Fashion Parade's ongoing #ipromise movement, Lumin aims to be inclusive and open minded, inspiring people from all walks of life to join in and begin their personal sustainable fashion journey. Lumin's interest also lies in the 'liberation' of the arts, fashion and creative industry, to change mindsets and provide hope and inspiration to the upcoming generation entering the artistic work force. Originally from Malaysia, Lumin grew up in Singapore and London and is also passionate about social media, upcycling, sports and living an outdoors lifestyle.
Yan Ng, Founder of Lily & Lou
Yan Ng is the founder of Lily & Lou, a fashion technology company that specialises in customisable clothing powered by in-house developed applications, from design to production stage. Yan is an alumni of Raffles College of Higher Education, where she majored in Fashion Design. She later went on to pursue a second degree in Business Marketing. In the past decade, she has worked for several fashion companies, in roles covering operations, marketing, management and business strategy. At her last role as Director of South East Asia for Tokyo Fashion, she played a vital role in the expansion of the company into most countries of SEA, including Singapore, Malaysia, Indonesia, Thailand, Vietnam, Myanmar, Cambodia and the Philippines.
About The Front Row 2022
The Front Row returns for the third consecutive year to take fashion to the people – by taking over Raffles City from 16 till 25 September 2022 and transforming it into an interactive phygital gallery! Entitled #Fashtag X Raffles City Singapore, this festival is a key event of Singapore Design Week 2022.
The public can look forward to an array of physical activations, such as cabine shows, talks, workshops, a gallery of exhibitions across three levels of the mall, and a special appearance by Singapore's former top model – Pat Kraal, as well as Singapore's top models Kaigin Yong, Diya Prabakar and Srri Raam, new fashion face Alyssha Hannah - all of whom will be walking in the fashion shows.
This is a 10-day extravaganza of all things fashion-related, which showcases TFR's belief in showcasing Designs with a Conscience, Celebrating Unique Concepts and Celebrating the Solidarity of cross-border designers and creatives.