Description
Since its inauguration in 2007, Singapore Children's Society has been organizing an annual lecture to raise public awareness on issues pertaining to the welfare and well-being of children, youth, and their families.
This year, we are pleased to have Dr John Elliott to speak on "Parenting: Does one size fit all?".
Dr John Elliott is an academic with a deep interest in the social and cognitive development of young children. He was an Associate Professor in the Department of Psychology at the National University of Singapore and he retired last year. Dr Elliott is a long-standing volunteer with Children's Society, and is actively involved in the Research Committee, having served as its Chairman for 20 years. He is now advisor to the Research Committee, and is also a member of Children's Society's Research and Advocacy Standing Committee.
Please refer to the e-poster below for details. Alternatively, please click here for more information.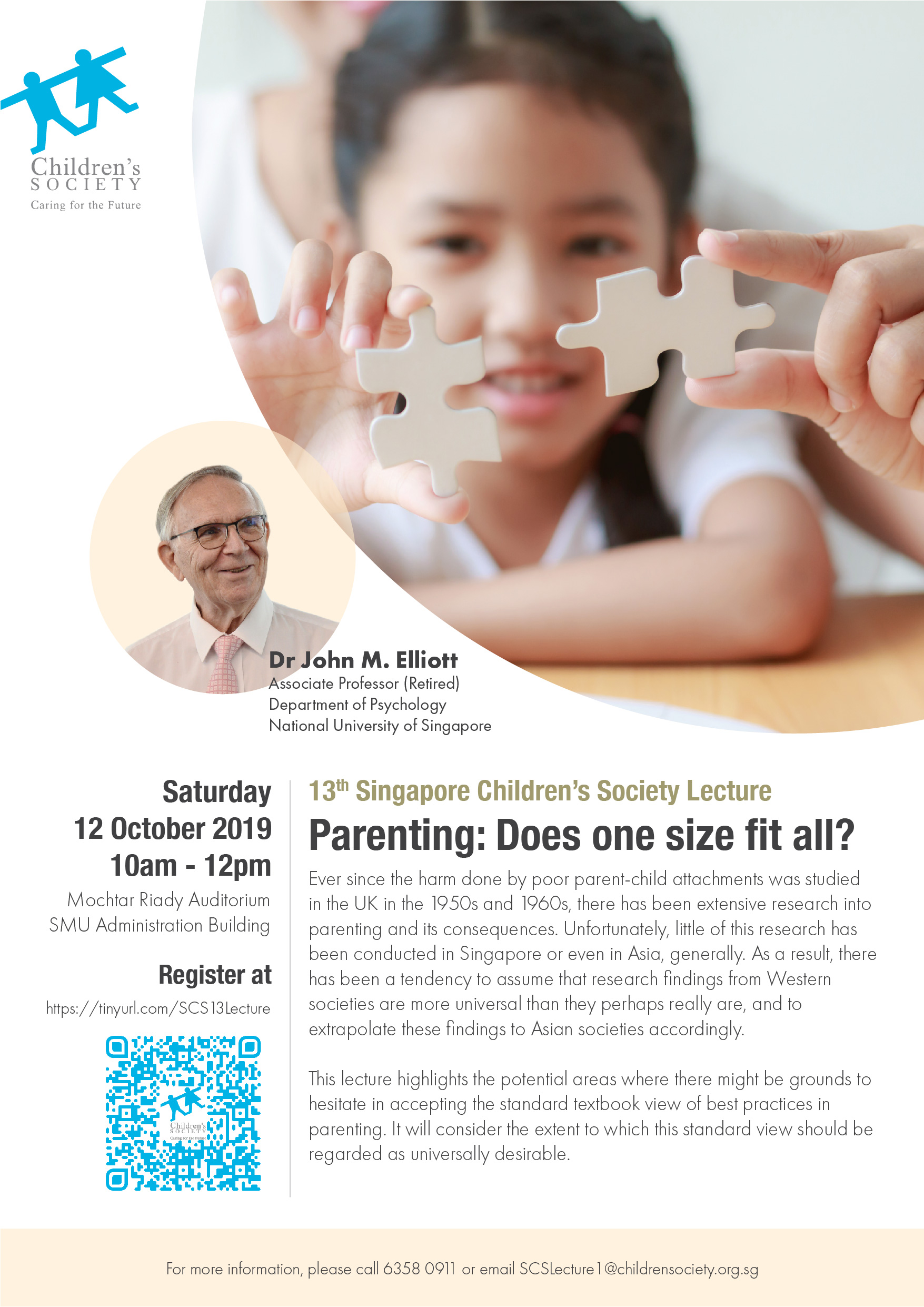 ---
Terms and Conditions
By registering for the event, you agree and consent to Singapore Children's Society, as well as its representatives and agents (collectively, "Children's Society") collecting, using, disclosing and sharing amongst themselves your personal data provided above as well as in the records of Children's Society from time to time, and disclosing such personal data to Children's Society's authorised service providers, and relevant third parties for purposes reasonably required by Children's Society. Such purposes are set out in a Data Protection Policy, which is accessible at https://www.childrensociety.org.sg/data-protection or available on request and which you confirm you have read and understood.
Further, where you have submitted the personal data of third parties to Children's Society, you confirm that you have obtained the consent of these third party individuals for the collection, use and disclosure of their personal data to Children's Society for the same purposes described above.
You also agree and give consent to Children's Society rights to use photos/videos taken during the activities or events for publicity purposes. Please inform Children's Society in writing if you do not agree or consent to this.