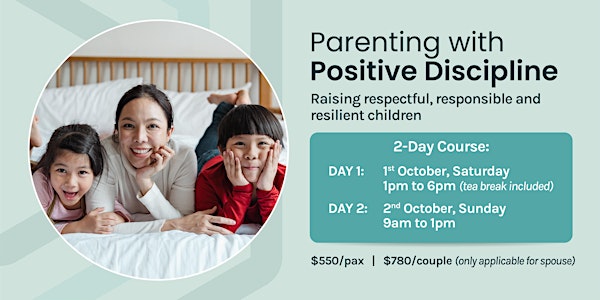 Parenting with Positive Discipline Singapore 2022
At a loss with your child? Join Kim DeMarchi and learn techniques for raising respectful, responsible, and resilient children.
When and where
Location
Hegen Experiential Centre 438A, 02-01 Alexandra Rd Tower A Lobby 1, Alexandra Technopark Singapore, 119967 Singapore
Refund Policy
Contact the organiser to request a refund.
Eventbrite's fee is nonrefundable.
About this event
This 2-Day Positive Discipline course is based on the best-selling books "Positive Discipline" by Dr. Jane Nelsen, educator, licensed Marriage and Family Therapist, Child Counselor, and mother of seven.
Let Kim DeMarchi, Certified Parent Educator, Family Coach & Speaker, share valuable insights and practical tools to help you in your journey as a parent.
Discover how to:
Bridge communication gaps
Diffuse power struggles
Build on strengths, not weaknesses
Avoid the dangers of praise
Teach your child how to think, not what to think
Re-direct your child's behaviour
2-Day Course:
DAY 1: 1st Oct 2022, Sat, 1pm to 6pm (tea break included)
DAY 2: 2nd Oct 2022, Sun, 9am to 1pm
Ticket Prices:
$550/pax | $780/couple (only applicable for spouse)
—
For more information, please e-mail us at: positivediscipline.sg@gmail.com
Please note that cancellations/refunds will only be for 50% of the ticket price.
What is Positive Discipline?
Positive Discipline is a program designed to teach young people to become responsible, respectful, and resourceful members of their communities. Based on the best-selling "Positive Discipline" books by Dr. Jane Nelsen, it teaches essential social and life skills in a deeply respectful and encouraging manner to both children and adults (including parents, teachers, childcare providers, youth workers, and others).
Recent research tells us that children are "hardwired" from birth to connect with others, and those children who feel a sense of connection to their community, family, and school are less likely to misbehave. To be successful, contributing members of their community, children must learn necessary social and life skills. Positive Discipline is based on the understanding that discipline must be taught and that discipline teaches.
What the Course will Cover:
Parenting with the End in Mind
Emotional Bank Accounts
Ages and Stages
Self Esteem
Genuine Encounter Moments
Responding instead of Reacting
Sibling Rivalry
Encouragement vs. Praise
Autocratic vs. Permissive Parenting
Democratic Parenting
Setting Limits
Creative Ways to Say No
Understanding Misbehaviour
The 4 Goals of Misbehaviour: Attention, Power, Revenge, Inadequacy
Redirecting Attention
Redirecting Power Struggles
Redirecting Revenge and Inadequacy
Temper Tantrums
Handling Feelings
Timeouts
Self Calming Time
Natural and Logical Consequences
Solutions
Family Meetings
Family Mission Statement
Encouragement Feast