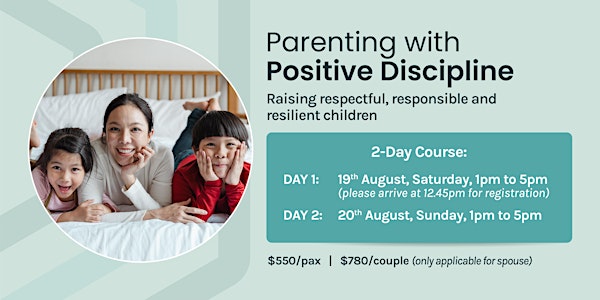 Parenting with Positive Discipline Singapore 2023
At a loss with your child? Join Kim DeMarchi and learn techniques for raising respectful, responsible, and resilient children.
Date and time
Sat, 19 Aug 2023 13:00 - Sun, 20 Aug 2023 17:00 +08
Location
Singapore TBA TBA, TBA Singapore
Refund Policy
Contact the organiser to request a refund.
Eventbrite's fee is nonrefundable.
Agenda
1:00 PM - 5:00 PM
Day 1: 19th August, Saturday
---
(please arrive at 12:45pm for registration)
1:00 PM - 5:00 PM
Day 2: 20th August, Sunday
About this event
1 day 4 hours

Mobile eTicket
This Positive Discipline course is based on the best-selling book "Positive Discipline" by Dr. Jane Nelsen, educator, licensed Marriage and Family Therapist, Child Counselor, and mother of seven.
Tired of tantrums? Time outs not working? At a loss with your child?
Let Kim DeMarchi, Certified Parent Educator, Family Coach & Speaker, share valuable insights and practical tools to help you in your journey as a parent.
Discover how to:
Bridge communication gaps
Diffuse power struggles
Build on strengths, not weaknesses
Avoid the dangers of praise
Teach your child how to think, not what to think
Re-direct your child's behaviour
2-Day Course:
DAY 1: 19th Aug 2023, Sat, 1pm to 5pm (please arrive at 12.45pm for registration)
DAY 2: 20th Aug 2023, Sun, 1pm to 5pm
Ticket Prices:
$550/pax | $780/couple (only applicable for spouse)
—
For more information, please e-mail us at: positivediscipline.sg@gmail.com
Please note that cancellations/refunds will only be for 50% of the ticket price.
What is Positive Discipline?
Positive Discipline is a program designed to teach young people to become responsible, respectful, and resourceful members of their communities. Based on the best-selling "Positive Discipline" book by Dr. Jane Nelsen, it teaches important social and life skills in a manner that is deeply respectful and encouraging for both children and adults (including parents, teachers, childcare providers, youth workers, and others).
Recent research tells us that children are "hardwired" from birth to connect with others, and those children who feel a sense of connection to their community, family, and school are less likely to misbehave. To be successful, contributing members of their community, children must learn necessary social and life skills. Positive Discipline is based on the understanding that discipline must be taught and that discipline teaches.
What the Course will Cover:
Parenting with the End in Mind
Emotional Bank Accounts
Ages and Stages
Self Esteem
Genuine Encounter Moments
Responding instead of Reacting
Sibling Rivalry
Encouragement vs. Praise
Autocratic vs. Permissive Parenting
Democratic Parenting
Setting Limits
Creative Ways to Say No
Understanding Misbehaviour
The 4 Goals of Misbehaviour: Attention, Power, Revenge, Inadequacy
Redirecting Attention
Redirecting Power Struggles
Redirecting Revenge and Inadequacy
Temper Tantrums
Handling Feelings
Timeouts
Self Calming Time
Natural and Logical Consequences
Solutions
Family Meetings
Family Mission Statement
Encouragement Feast
Course Reviews
"Kim's parenting workshop is truly an eye-opener for my husband and I. Having to juggle our work and 4 kids all with different temperament and personalities are no easy feat! If only we have discovered this gem right at the start of our parenting lives, I am sure there would be less hair-pulling, yelling and screaming in our household! 😅
This workshop really came at such a good time for my own parenting journey. It really needed a complete overhaul and redirection, and this was THE exact thing I needed! I have started implementing some of the things with my spirited child and he's really enthusiastic and in his words "I am satisfied!" when I asked "Are you happy with the upcoming changes?"
The in-person workshop is engaging, valuable and definitely very practical. I highly recommended this life-changing workshop to all parents with toddlers all the way to teenagers!"
⭐⭐⭐⭐⭐ - Zoe Chu, @sgsupernanny
"I really enjoyed the Parenting with Positive Discipline course with Kim. We learnt so much and it really gave us a new perspective on parenting. The way Kim frames and articulates the principles, and explains why they are important through very engaging scenarios and role plays, really helps to set a good foundation. Her passion to help parents really shines through as well, and she is so personable and such a delight to learn from.
My husband was very hesitant to join me for the course at first and thought it might be fluffy, but when we were done he said it was such a good learning experience and everything Kim shared was practical and made complete sense.
The course really helped us align on our parenting styles as well and we would say it is the best investment we could make as parents. Thanks again Kim! Best, Tiffany and Bowei "
⭐⭐⭐⭐⭐ - @tiffany_tan
"I was pressured by the wife to attend Kim's course. Boy was I glad she made me. Positive Discipline program is not only a toolset for building stronger bonds and healthier relationships between you and your child(ren), these are also important foundational life skills they will benefit from for the rest of their lives. My wife and I thoroughly enjoyed the training as it was informative, engaging and fun!"
⭐⭐⭐⭐⭐ - Jen Wong
"Attending Kim's course on Positive Discipline was a great reinforcer to what I thought I already knew. I realized from her sessions that alot of connection starts from the toddler stage and behaviors set in. My 3 children are teens now and I wished I had these training before but she says its not too late.
I've learnt to pause before reacting with my daughter and use one word reminders on her and now she's more willing to listen. I've even had a heart to heart talk with my eldest to acknowledge the hurt he might have felt when growing up as I wasn't equipped to help him through his emotions back then. I've so much to practice with all the tools she's given me. One day at a time. I will learn to discipline my children in a positive way and maintain that connection with them throughout their lives. Thanks Kim!"
⭐⭐⭐⭐⭐ - Vanessa Liok, Mother of 3 Teens
"This is the third time I'm taking Kim's class. Each time I take it, I take away something new and insightful that applies to my current stage in parenting with each child.
She continues to keep things fresh, entertaining and challenges me to rethink of how I want to parent. Most importantly, she reminds us that the ultimate goal is connection with our kids."
⭐⭐⭐⭐⭐ - Claudia Sondakh
About the organiser
Empowered Parenting offers a variety of courses, workshops and 1 on 1 coaching for parents, teachers, grandparents, health care workers, counselors, and anyone who relates to children.