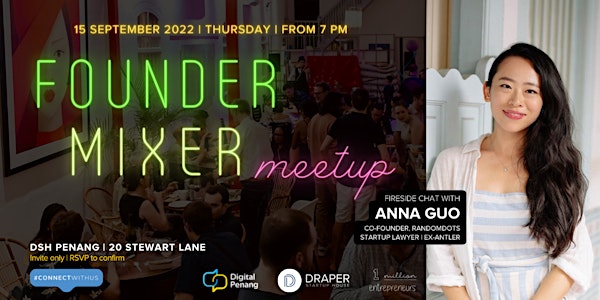 Penang Founders Mixer Meetup at Draper Startup House
Entrepreneurs, founders, investors - come to DSH Penang and connect. We invited our friend Anna to come share about her founder's journey.
When and where
Location
Draper Startup House for Entrepreneurs 20 Stewart Lane George Town, Penang 10200 Malaysia
About this event
Chill, fuss-free, easy - that's how we're keeping this meet up! If you're a startup, founder, investor, or a passionate ecosystem builder, join us on Thursday evening at DSH Penang :-)
--
We've also invited our lovely friend and DSH Founder-in-Residence Anna Guo (Co-founder, Randomdots) to join us on a fireside chat (Moderated by Xia, Head of Community at DSH). Some of the topics we'll cover:
Founder journey and startup story
Launching a business and pivoting in COVID-19
Antler program: The experience, journey, pros & cons
Accelerators, Fundraising, and Bootstrapping
Startup law vs Traditional law
... and we'll open the floor to questions.
Not to be missed - this session is for any founder considering joining world-class accelerators or fundraising, or anyone who wants to broaden their networks with our diverse-minded community.
Draper Startup House is on a global mission to enable one million entrepreneurs by 2030, and we would love the local entrepreneurial community to be a part of this journey. If you're a startup raising capital, or an investor interested to co-invest globally, receive unique deal flow, we'd love to #connect with you - check out DSH Ventures.
--
Go big, pay it forward, and drive progress - onward with the mission to enable ONE million entrepreneurs by 2030!
About Draper Startup House
Through the use of real human connection, inspired business travel, a diverse-minded community and access to global citizens - the community members of Draper Startup House are able to connect to new opportunities, inspire one another to innovate and execute, and empower one another to GO BIG, pay it forward, and drive progress.
To be a part of the global community, join the Draper Entrepreneur Network today!
About Draper Startup House Ventures
Draper Startup House Ventures is a global fund and syndicate created for the sole purpose of helping entrepreneurs receive better access to funding beyond geographical borders, while helping to cultivate a network of entrepreneurial growth.