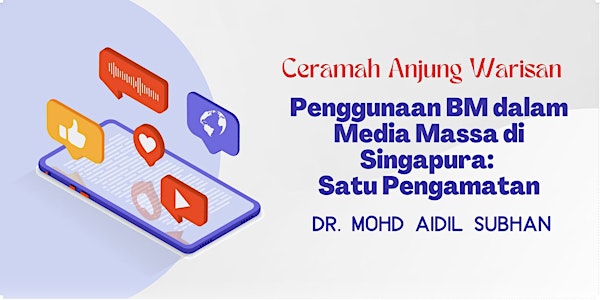 Penggunaan Bahasa Melayu dalam Media Massa di Singapura: Satu Pengamatan
Pengamatan tentang peranan yang boleh dimainkan oleh media massa untuk menentukan Bahasa Melayu kekal relevan di Singapura.
By GoLibrary | National Library Board, Singapore
When and where
Date and time
Saturday, February 11 · 2:30 - 4:30pm +08
Location
National Library - Imagination 100 Victoria Street Singapore, 188064 Singapore
About this event
Sinopsis
Dalam suasana dwibahasa di Singapura yang berpaksikan bahasa Inggeris, apakah peranan yang boleh dimainkan oleh media massa untuk menentukan bahasa Melayu kekal relevan? Apakah pula peranan masyarakat dalam menentukan media massa kekal menggunakan bahasa Melayu yang baik dalam menyampaikan maklumat terkini? Dan akhir sekali, siapakah sebenarnya yang bertanggungjawab terhadap penggunaan bahasa Melayu yang baik melalui media massa? Perbincangan ini akan menyelongkar dan menjawab ketiga-tiga soalan yang diajukan ini dalam usaha kita untuk melestarikan penggunaan bahasa Melayu menjelang 2065.
Penceramah
Dr Mohamed Aidil Subhan telah menceburi bidang pendidikan selama 35 tahun. Kini memegang jawatan sebagai Pensyarah Kanan dalam bidang kurikulum dan pedagogi di NIE/NTU dan telah menghasilkan dua buku mengenai perancangan bahasa Melayu di Singapura. Beliau kini cenderung terhadap cabaran Bahasa Melayu menjelang 2065 dan bagaimana perancangannya dapat terlaksana.
Moderator
Adi Rahman, Pengarah Urusan E-ventions International Pte Ltd.
About the organizer
The National Library Board (NLB) manages a network of 28 libraries, the National Library and the National Archives of Singapore. NLB promotes reading, learning and information literacy by providing a trusted, accessible and globally-connected library and information service through the National Library and a comprehensive network of libraries.