Description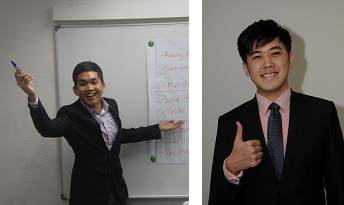 Hi, we are Marc & Ganglin, the founders of Pentagon Learning, an education centre that specializes in Math Coaching Programmes to help Primary School students who have a strong dislike in mathematics, start to love the subject.
If you're sick & tired of nagging your child to do his work and want a solution to get him to be self-motivated…
Find out how the Pentagon 5 step framework can give your kid the right tools, mindsets & strategies to excel in math today in our 1-on-1 Diagnostic Session!
Here's what you get in the 1-on-1 session:
- Discover how our Interactive Technologies and teaching techniques are able to keep your child AWAKE and pay 100% ATTENTION all throughout a TWO hour class.
- Exclusive access to the customized Exam paper review to find out the reasons why your child is mysteriously losing marks in their Maths Papers [ even after religiously completing massive assessment books]
- How the 5 Step Pentagon Framework helps your child retain long-term memory for tricky math topics & problem sums even after a long holiday!
- ERADICATE the ONE habit that has your child give away at Least 5 Marks off every single math test [You will be SHOCKED at how SIMPLE this is!]
- Bonus : A FREE Math Profiling Kit (UP$19.90) that tells you the SECRET ingredient behind every A-grader (Hint: it's not just about drilling through 15 pages of assessment a day).
Date and Time
Location
17 Simon Rd #02-01
17 Simon Road
(5 minutes walk from Kovan MRT)
Singapore, 545902
Singapore