Description
Personal Branding 247 is the latest and 3rd in the 247 series. Over the last 10-11 months, it has been immensely popular both in Singapore and Malaysia. Many workshops have spurned off as a result of the launch of the book. Now, one year now, a group of about 100 influential people with powerful personal branding can network and discover more about their brand essence and brand personality on 27th March, 6 pm at Trading PLC.

The author Andrew Chow has invited 4 winners of the Best Personal Brand Award 2017 to share different aspects of personal branding strategies.
Program:
6.00pm - Dinner & Networking

7.00pm - Welcome and Introduction

7.15pm - Andrew Chow - Magnifying Your Personal Brand Personality

7.45pm - Serene Zhao -

Digital Cashing with Personal Branding

8.05pm - Phoon Kok Hwa - Branding Yourself the Write Way

8.25pm- Joshua Luke - Power Up Your Image Projection in Personal Branding

8.55pm - Collin Seow - Closing Keynote by the Host of the Venue

9.10pm - Networking continues
About the Book:
This book is written as a beginner guide to anyone who is keen to create their personal branding. It is not meant to be an exhaustive list of suggestion on how you can develop your brand. This book is written for entrepreneurs who want to invest in your own personal branding to market your company and services. This book is a guide to a young startup founder who is looking to establish his network and name on social media. This book is written for people who have a wealth of working experience and exploring a second career by rebranding themselves.
http://personalbranding247book.com/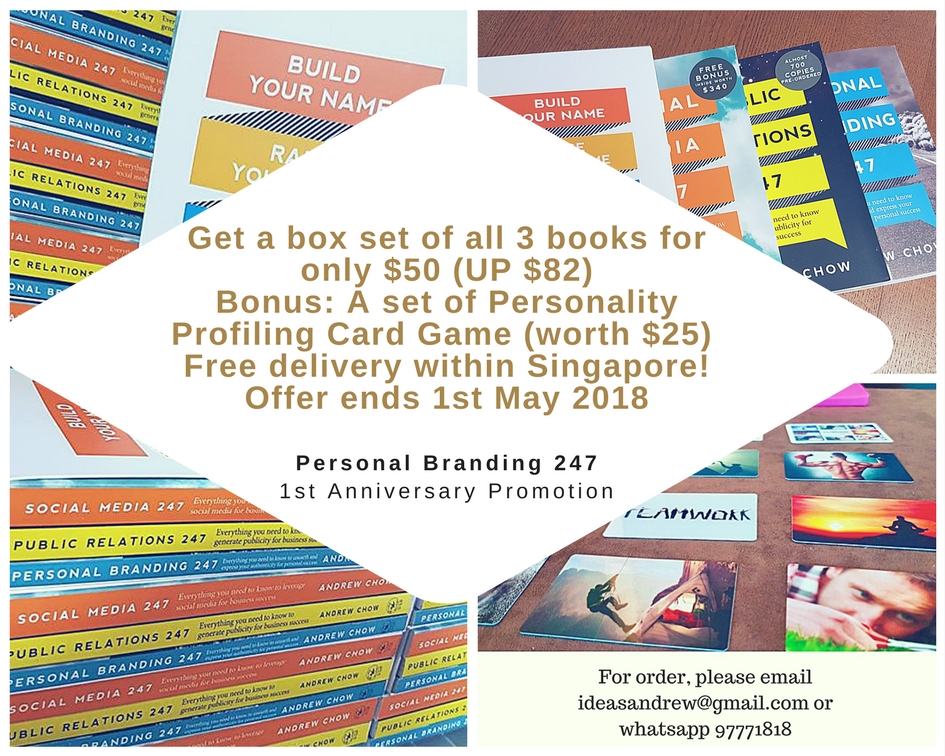 About the Venue:
Trading Place was hatched one morning by three traders over their coffee in a neighborhood cafe. They were lamenting about how wonderful it would be to have a place where they could comfortably work without the disadvantages and distractions of a public space. They discussed the convenience of having simple amenities like a good printer, unlimited wifi or a safe spot where they could leave their possessions behind without the need of paying astronomical fees for a workspace. 'Wouldn't it be great to also meet other traders so we could enjoy sharing trade strategies and ideas!'. That was when a lightbulb moment entered all three minds and Trading Place was born.
http://www.tradingplc.com