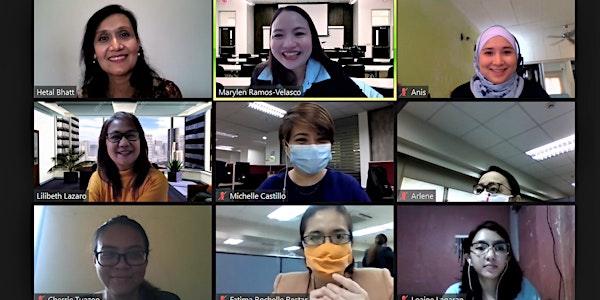 Personality Discovery (Full Virtual Workshop)
Road to Understanding, Influencing and Leading Others Ethically
Refund Policy
Contact the organiser to request a refund.
Eventbrite's fee is nonrefundable.
About this event
Ever noticed how different your colleagues and team members can be from you? Ever wondered why they don't see things the way you do? Each individual has got their unique personality style: how they process information, what drives them, how they approach a task and how they interact with others. The basis of understanding personality traits is to understand that not everyone is the same, and different doesn't mean wrong.
This programme is designed to assist you in decoding human personality traits in order to understand, influence and lead others, creating loyal clients and customers, and improve work and personal relationships. It is geared towards helping you to create better work place environment, positive interaction among colleagues, and achieve productive team dynamics.
Learning Objective & Outcomes
 Identify their own personality traits.
 Decode personality traits of others.
 Understand the strength and challenges of each personality traits.
 Delegate task appropriately by understanding driving factors of each personality.
 Increase their influence on others using ethical technique.
 Increase the response from others by understanding their "emotional" language.
 Minimize conflicts and increase productive team dynamics.
 Lead more empathically.
Target Audience: Senior Executive & Managers
Duration: For Online Sessions: 4 Hours (up to 5 hours)
7 & 9 July 2020 -1:30 to 4:00 PM
9 & 10 September - 10 : 00 AM - 12:00 NN
Assessment: Pre and Post Assessment can be arranged upon request
Methodology: Interactive Discussion, Slide Presentation and Experiential Learning Activities
Inclusions: Personality Assessment, up to 5 hours live virtual sessions , copy of the presentation slides
About the Trainer:
Hetal Bhatt is a Business Administration graduate (BSc. in Finance) with a Magna cum Laude from Santa Clara University, California. Hetal is also a certified Emotional Intelligence Practitioner under Genos International and Swinburne University Programme.
She started her career approximately 25 years ago in the banking industry. Hetal specialises in the training and development of Emotional Intelligence, Professional Business (English) Communication, Interpersonal Skills and Workplace Relationship Management.
Her passion for learning and development led her to empower people, and help them discover their true potential. She has had the privilege to work with people from all walks of life mainly in areas such as creating positive self-image, emotional intelligence, goal setting, communication and interpersonal skills, people skills and leadership skills.
Disclaimer, Terms & Conditions:
Location is subject to change for face to face training
Minimum number of participants has to be reached prior to confirmation of event
Please note that trainers and topics were confirmed at time of publishing, however, CTS may necessitate substitution, alterations or cancellations. CTS reserves the right to change or cancel any part of its published programmed due to unforeseen circumstances.
Registrations should be made 4 weeks prior to training date for face to face and 1 week before training date for online
Full payment for the course should be made prior to training date unless you have pre-arranged terms with us.
Cancellation 3 weeks prior to event date or no shows are liable to pay the full course with no refund, however you may substitute delegates at any time with notice
Participants are required to attend at least 80% of the course program prior receipt of Certificate
Rates are exclusive of taxes unless otherwise indicated in the invoice
Receipt of this email to participate and/or register in any of the learning activities organized by CTS should not in any way be taken as a promise for employment or contract of employment of any kind.
Force Majeure: Should for any reason outside the control of CTS, the trainer changes his dates or event cancels due to the act of terrorism, extreme weather conditions, industrial action or epidemic, CTS shall reserve the rights to replace the trainer or reschedule the event but the client hereby indemnifies and holds CTS harmless from and against any and all costs, damages and expenses, which are incurred by the client.
For more information, registration or any inquiries, kindly contact us at:
Customized Training Solutions Pte. Ltd.
Registration No. 201621001H
Email:  marylen@ctsolutionsglobal.com
Tel. #: +65- 6524 4973
www.ctsolutionsglobal.com