Phishing, Ransomware & Your Small Business: Cyber Security Best Practices
Sales Have Ended
Registrations are closed
Thank you for your interest in Broward County Office of Economic and Small Business Development events. Please note that registration for this event is now closed. We invite you to visit our website, subscribe to our e-mail or text list and follow us on social media. Broward County Office of Economic and Small Business Development www.Broward.org/EconDev | 954-357-6400
Sales Have Ended
Registrations are closed
Thank you for your interest in Broward County Office of Economic and Small Business Development events. Please note that registration for this event is now closed. We invite you to visit our website, subscribe to our e-mail or text list and follow us on social media. Broward County Office of Economic and Small Business Development www.Broward.org/EconDev | 954-357-6400
Explore how to protect your data and assets from predators.
About this event
Avoid Cyber Scammers
Get insight into tools and best practices that may help your small business. Listen in as experts provide details to help you prepare for cyber attacks.
FEATURING:
Dr. Fred Hicks, Founder, Cyber Minds Institute, and Sr. Vice President, Technology and Cyber Security, Early Learning Coalition of Miami -Dade & Monroe Counties
Michael Goldstein, President/CEO, LAN Infotech, LLC
Paul Faustin, Board Member/COO, Sounetu, LLC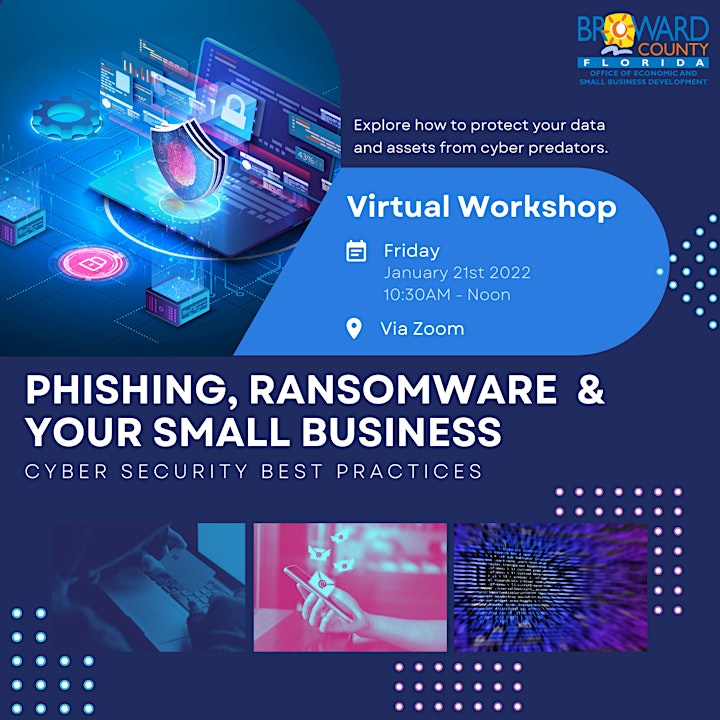 Organizer of Phishing, Ransomware & Your Small Business: Cyber Security Best Practices

The Broward County Office of Economic and Small Business Development (OESBD) is primarily responsible for enhancing the economy of Broward County by recruiting new industry, supporting existing industries, and creating new value-added employment opportunities for residents. ​The Community Relations and Outreach (CRO) team promotes OESBD services, programs, and events to Broward County residents and the entire business community with a special focus on supporting small and disadvantaged businesses. Contact us: 954-357-6400.