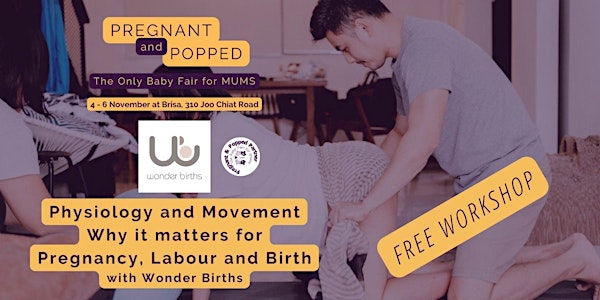 Physiology and Movement for Pregnancy, Labour and Birth (FREE)
Just DROP IN between 5pm-6.30pm for your FREE class on HOW PHYSIOLOGY AND MOVEMENT can transform your pregnancy, labour and birth
When and where
Location
Above Brisa 310 Joo Chiat Road Singapore, 427561 Singapore
About this event
FREE class on HOW PHYSIOLOGY AND MOVEMENT can transform your pregnancy, labour and birth
THIS CLINIC IS FREE AND MOVEMENT BASED - so be prepared for some gentle movement
DROP IN between 5pm-6.30pm for this FREE session!
🗓 Saturday 5 November
⏰ 5.00pm - 6.30pm
📍 310 Joo Chiat Road, Brisa, Level 2
🤑 FREE
🧑🏽‍⚕️ Wonder Births
🤰🏻👶🏼🧘🏻🤰🏻👶🏼🧘🏻🤰🏻👶🏼🧘🏻🤰🏻👶🏼🧘🏻
Wonder Births are a team Birth & Postpartum Doulas, Childbirth Educators, Prenatal and Postnatal Yoga and Womb Yoga teachers, and Bodyworkers.
Their mission is to transform the world of birth and beyond through movement, physiology, and psyche.
In their own words ...
Movement
Our movement methodology is informed by our training in yoga, movement and bodywork, as well our continued learnings in applied physiology and anatomy. We do not believe in a one-sized fits all approach; we tailor our exercises and manoeuvres - from squats to lunges, to myofascial release technqiues and comfort measures - based on your unique anatomy and range of motion.
Physiology
We equip our clients with an up-to-date understanding of the birthing body through a physiological lens, so that they can fully embody the experience of pregnancy, labour and birth - a key factor in having an empowering birth experience.
Psyche
We emphasise the need to prioritise mental and emotional health during pregnancy, birth and beyond. We educate our clients on the importance of the psyche and it's relationship to birth and parenting journeys. We adopt mindfulness based practices and visualisation journeys to help our clients manage uncertainty, anxiety and pain.
🤰🏻👶🏼🧘🏻🤰🏻👶🏼🧘🏻🤰🏻👶🏼🧘🏻🤰🏻👶🏼🧘🏻
FIND OUT MORE ABOUT THE EVENT HERE >>> https://www.empowa.sg/schedule/pregnant-popped-november-2022-1
GET THE HELP AND SUPPORT YOU DESERVE
At
PREGNANT & POPPED - THE ONLY Baby Fair for Mums in Singapore
Exclusively dedicated to supporting YOU, your journey, your pregnancy, your postpartum and your transition to motherhood and parenthood
This is a FREE Drop in Clinic, simply come down and say hi!
Please note that this is on a first come first served basis and times are not guaranteed
JOIN US
We can't wait to meet you
Over 30 vendors, all dedicated to supporting your pregnancy, your transition, your postpartum, your parenthood, YOUR JOURNEY
Please note that your registration details may be shared with vendors and partners of this event. By providing your registration details you are confirming your agreement to this in the knowledge that you may be added to mailing and subscription lists. Should you wish to unsubscribe from any mailing list in connection with this event please do not hesitate to contact Kathy@empowa.sg to request the same
CHECK OUT @empowa.sg on Instagram to get all the latest updates