Description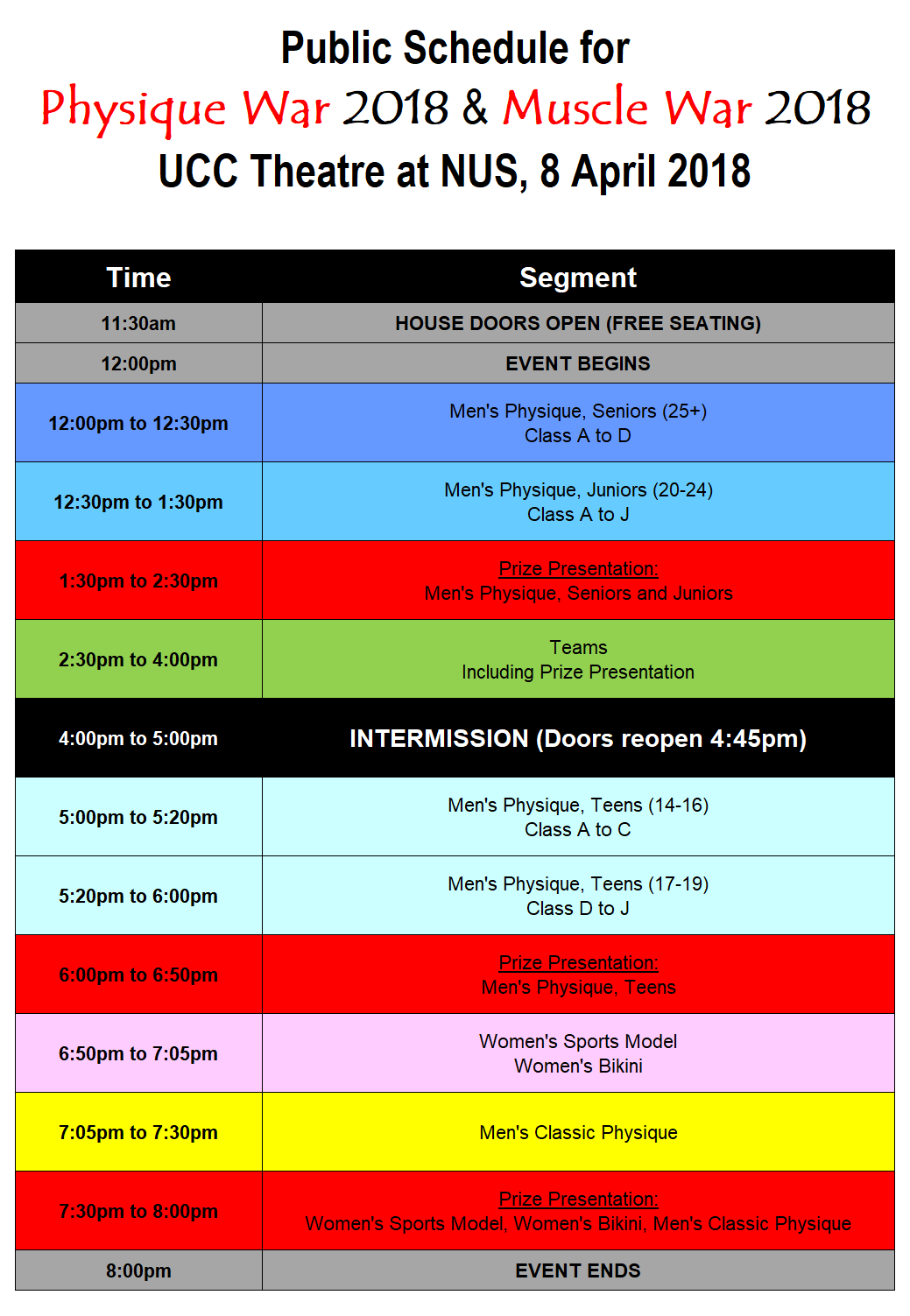 ---
$39 PER TICKET. FREE SEATING.
Eventbrite charges an additional processing fee.
Event runs from 12pm to 8pm (with a one hour intermission from 4pm to 5pm).
The House Doors open 11:30am and close at 4:00pm for intermission. They re-open at 4:45pm.
Ticket Collection is from 11am to 6pm (except 3:30pm to 4:30pm when Ticket Collection Desk crew is on break).
Tickets are sold on a first-come-first-serve basis. There is no priority or reserved allocation given to athletes or family of athletes. No complimentary tickets are issued to athletes.
---
TICKETING INSTRUCTIONS
- PAY for your tickets online. Eventbrite will send you a confirmation email AND a PDF with one barcode for every ticket.
- PRINT OUT the confirmation email AND all the barcode pages. Bring all printouts to the event to collect physical tickets.
- SHOW the Ticket Collection Desk in the UCC lobby on 8 April the confirmation email printout AND all barcode pages printouts AND your NRIC/MyKad/Passport.
- We will keep ALL your printouts. (Do NOT use the Mobile Tickets option as we require PAPER printouts that we can keep.)
- COLLECT your tickets between 11:00am to 3:30pm and 4:30pm to 6:00pm on 8 April 2018 at UCC. The Ticket Collection Desk is closed between 3:30pm and 4:30pm as there is a one hour intermission in the event program.
- If you do not collect your tickets by 6:00pm, you forfeit them without refund. The Ticket Collection Desk closes at 6:00pm.
---
SEATING TIPS
The auditorium doors open at 11:30am, at which point you can enter and sit down. The event starts at 12:00pm.
You must collect your tickets by 6:00pm, but you can enter the auditorium at any time during the event. Remember that it is FREE SEATING. Some people remain seated for the entire event, but many people move in and out of the auditorium depending on which segments they plan to watch, so there is a circulation of seats. You will be wristbanded when you enter the auditorium for the first time which allows you to leave and re-enter anytime.
At peak times, like the prize presentation, the auditorium will be quite full, so please keep seats clear so that others can sit in them. Please do NOT try to "chope" seats for others.
If you supporting a specific athlete, ask the athlete for the time he/she will be on stage. Athletes will be told the timings of their segments the day before the event, on Sat 7 April, during the Event Briefing for athletes. All athletes will go on stage for the prize presentation for their class(es).
---
ABOUT THE EVENT
FM League Muscle War 2018 and FM League Physique War 2018 are the nation's premier bodybuilding and physique championships for junior and teen athletes. They are both run by Fitness Movement League, Singapore's main physique sports league, which represents 80% of all competitive fitness models and bodybuilders nationwide.
FM League is a grassroots organisation that supports the aspirations of over a thousand active Singaporean physique sports athletes, including all the national champions of the sport, and organises the largest and most prestigious championships for the sport in Singapore.
Muscle War and Physique War will be held together on Sunday 8 April 2018 at the University Cultural Centre (UCC) at the National University of Singapore, a leading performing arts venue in Singapore.
---
TICKETING TERMS AND CONDITIONS
No Photography: No cameras or video recording equipment are allowed inside the auditorium. All bags will be searched. There is no bag check facility at UCC, so you cannot enter if you cannot find a place to store your camera if you bring one. (Mobile phones are allowed into the auditorium.)
Age Limit: No admission for infants in arms and children below 6 years old.
Refunds: Tickets are not refundable. Tickets not collected by 6:00pm at UCC on 8 April 2018 will be forfeited without refund.
Ticketing Terms and Conditions
---
INFORMATION ABOUT UCC AND NUS
Maps: UCC | Yusof Ishak House | NUS
Directions: Click here for directions to UCC.
Parking: Click here for info on 24-hour covered parking at Car Park 3 next to UCC. There are 250 lots and charges are capped at $3.85 per entry. Outside of stated operating hours the gantries are raised and parking is free.
Food: No food or drink is allowed in the auditorium. Most eateries in NUS are closed on Sundays.
ATM: There are no ATMs in UCC. The closest are at Yusof Ishak House (5 mins walk).