Description
Top reasons to come:
Get a picnic basket filled with sumptuous food and wine.

Enjoy the serenity and tranquil atmosphere of the riverside

$5 promo code to use at any Waitrr restaurant (e.g. The Daily Cut, Guzman y Gomez, Grain Traders and more!)
We're hosting our first ever collaboration event with one of the top hotels in Singapore! Grand Copthorne Waterfront from the Millienium Group and Waitrr have teamed up to create a picnic by the riverside event where you'll enjoy a picnic basket filled with delicious food and wine.

Picnic by The Riverside (Waitrr x Grand Copthorne Waterfront)
Join our celebration and you'll get the discounted price of a set menu with the flexibility to customise your order. What else would you expect when you'll be ordering & paying (faster) with Waitrr ;)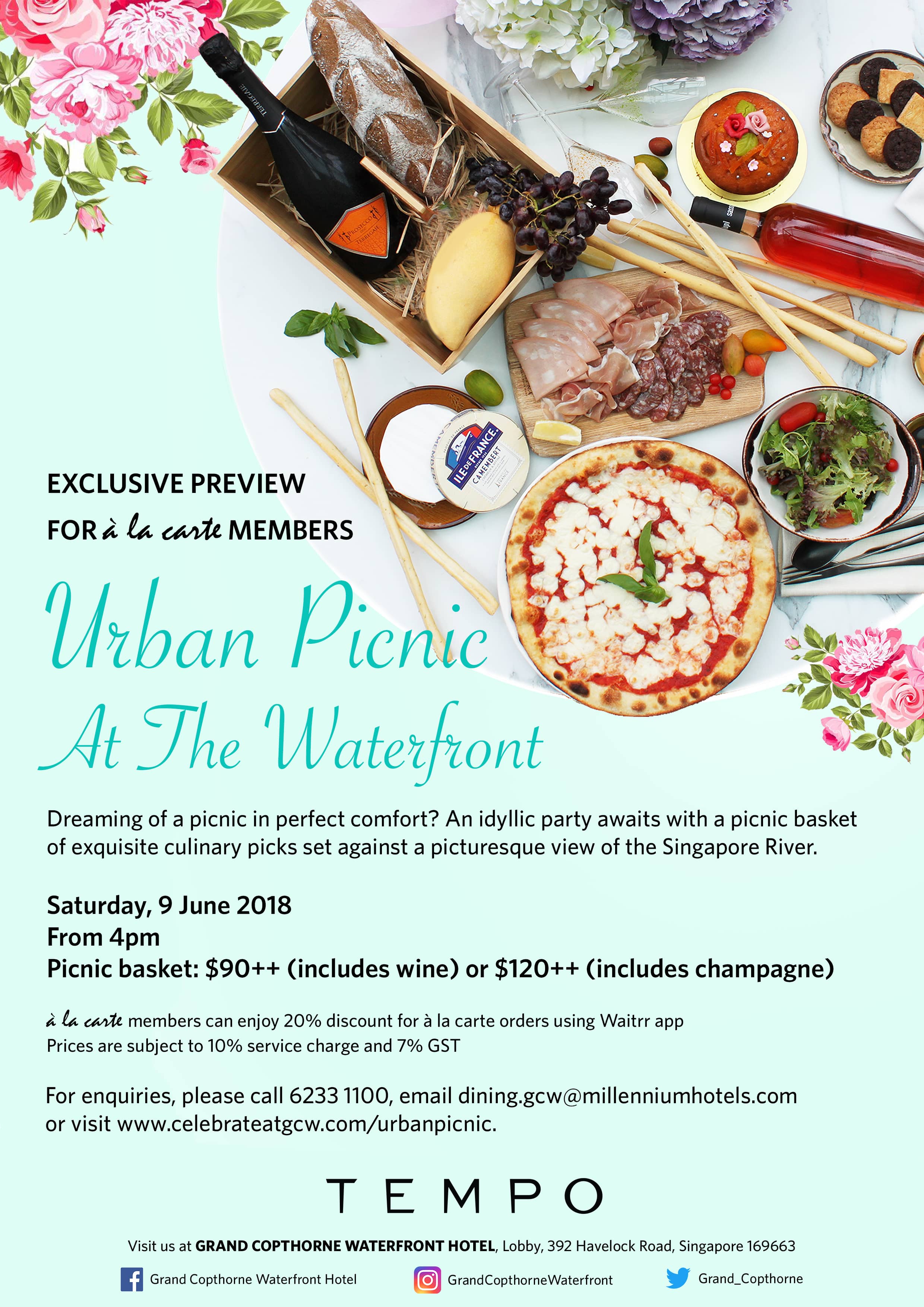 GET YOURSELF A WAITRR PROMO CODE RIGHT NOW!
Share a post on Facebook or Instagram about the event with the hashtag "#notimetowait" and we'll send you a promo code for a discount at any of Waitrr's restaurants*.
#notimetowait #waitrr #wheretoeatsg
FAQs:
What are we celebrating?
We are celebrating that it's Saturday and you get to hang out with your friends and family while enjoying delicious food by the water! What other reason do you need?
Will I have to arrive on time and stay for the whole event?
No and no again! Come down to Grand Copthorne Waterfront when you feel like it, leave when you please.
Is my registration/ticket transferrable?
Yes - this is complimentary to register your interest in the event, so please feel free to pass your ticket to your friend if you can't go
Will I be able to order & pay using Waitrr at the event?
Of course! We'll be offering a special menu for the event with the picnic baskets, which can be ordered using Waitrr. It will be possible to order without using Waitrr, but as you know, ordering with Waitrr means the food & drinks arrive faster :)
Send us an email at hello@waitrr.com if you have any other questions.
Cheers to no more waiting!
Wait wait wait... What is Waitrr?
Waitrr is a mobile app for busy people like you and me to order & pay faster. Waitrr customers browse through the list of (many) restaurants, access menus, place orders and pay instantly for their food and drinks all via the app. This means you avoid the trouble of queuing or calling for a waiter.
Check us out online:
https://waitrr.com/
https://www.facebook.com/waitrr/?ref=br_rs
https://www.instagram.com/waitrr/
*Terms & Conditions
- Waitrr Pte Ltd reserves the right to cancel or modify this promotion at any time
- Promotion ends 30 June 2018
- Limited to one promo code per person