Description
Qigong is an integration of physical postures, breathing techniques, and focused intentions. Qigong can help you with your digestion, backaches, leg and knee pains, and many other illnesses. The key to long-term health, therefore, lies in enhancing the free circulation of "qi" to increase stability and peacefulness of mind.
What is Qigong

Health Benefits of Qigong

Qigong Exercises

Guided Meditation

About Mr. Thomas Kuan
Thomas Kuan was introduced to Ping Shuai Qigong (Level Arm Swing) when he met Master Lee Feng-San Shifu in Taiwan in 2013. Since then, he had helped to promote this qigong in Singapore. He is also a certified Ping Shuai Qigong facilitator.
Date: 10 Jan 2020 (Friday)
Time: 2.00pm to 4.00pm
Venue: 10 Square @ Orchard Central Level 10, Arena
Fee payable: $10.00 per participant
Not eligible for SkillsFuture Credit
Things to note:
Dress comfortably
Flat shoes
Light lunch

The class will start with a minimum of 10 participants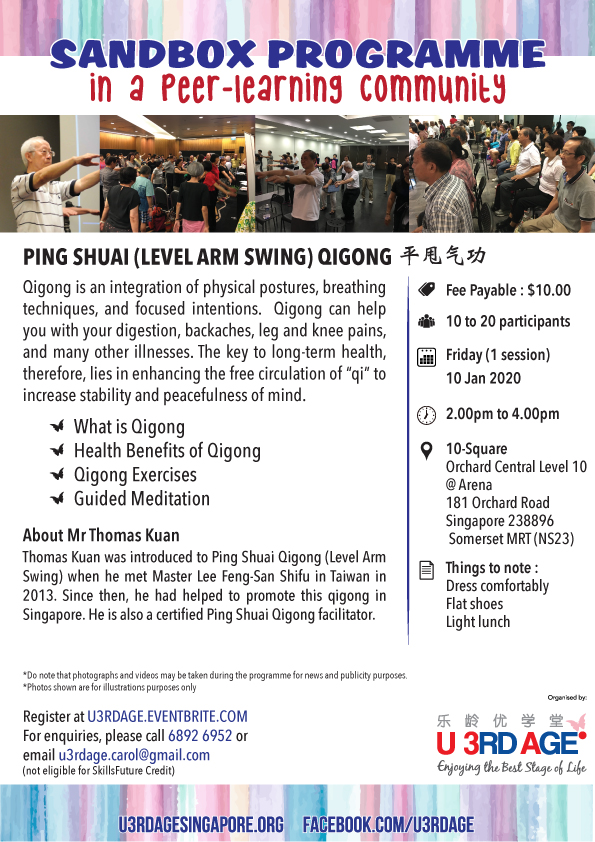 -------------
Please take note:
Are there ID requirements or an age limit to enter the event?
Open to the public
Please check U3RDAGE.EVENTBRITE.COM for other workshop schedules.

In registering for this activity, you consent to the collection and processing of your personal information for U 3rd Age Pte Ltd mailing list, in accordance with the Personal Data Protection Act (2012).
You may choose to unsubscribe at any point by sending an email to u3rdage.carol@gmail.com