Description
Why Do People Pay So Much to Learn from Dato' Jimmy Wong?
Talk is cheap.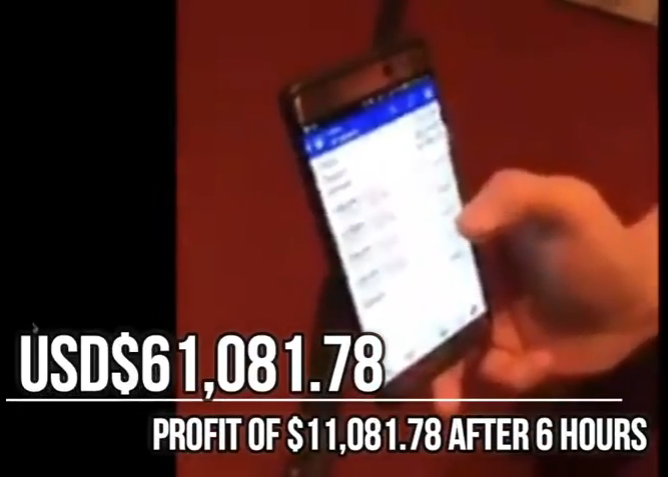 ** Do you have a Plan B that is Not Uber, Grab or Carousell? **
What if Plan B does Not Require you to have
Not require sales skills
Not require driving skills nor own or rent a car
Not require fixed working hours


All you need is
A laptop or a PC
internet connection and
the desire to learn.


Do you want have a system that will finally get rid you of all your money worries?
A system that is PROVEN.
A system that is EASY - does not require a PhD.
A system that is FAST - requires only just minutes a day.
A system that offers you a high SUCCESS probability.
A system that is PROFITABLE from the get go.

Come down if you are interested in finding out,
To learn from ISO Certified JF Lennon. Officially the first and only FOREX institute in the World (World Class) to be ISO Certified
Proprietary and unique trade setups typically complete within minutes or hours with clearly defined Entry and Exit price points. Based on our strategies for the past 12 months, we have a record of 627% returns
Easy to Learn Strategies. A complete, turnkey trading system is backed by our in-house R&D team are proven to win more than 70% of the time.
On-going Support. Hand-hold you until you get it! Exploit and profit from the USD/JPY market with our in-house formulated strategies.


Learn How to Trade the World's Largest Financial Market and Trade Anytime, Anywhere.
"Open 24 hours a day, 5 days a week, with starting capital as low as USD250"
What Are People Saying?
In his Wise Words: "DON'T Trade, WON'T Die! But ANYHOW Trade, SURE Die!" Heheh! :P I've been really BLESSED by the AWESOME Guidance and Mentoring of "The MAN" himself, Dato Jimmy Wong ... a Big-Hearted and Caring Shifu who's taken great pains to impart and constantly reinforce the proven trading strategies of JF Lennon in all of us! :) It's been a MOST Fun and Exhilarating journey so far learning to manoeuvre the complexities of the global Forex market. Thanks so much again, Dato Jimmy and the amazing team of seniors at JF Lennon. Pips Pips, Hurray! -

Kelvin Kong



I have recently attended Dato Jimmy Wong's FX workshop. I am really amazed & impressed with what was taught. Just follow his proven system thoroughly. Coupled with the right mindset, I dare say trading FX need not be so formidable, a "beast" so many feared. Million thanks to Dato Jimmy who shared with us his "Da Vinci Code" on FX trading. Cheers! Ps: What was lacking in the course was the perfunctory complicated jargons and complex TAs. I am sure many of us can do without these.-

Daniel Low



I had been very sceptical and even scared to touch Forex in the past because of the horror stories which I have heard. But when I joined Dato Jimmy Wong's class at JF Lennon, I was pleasantly surprised and hugely impressed by the strategies taught which consistently brought in results. I am glad to have join the 2 classes as I have gained valuable skills and also gotten to know awesome people. Thank you Dato and JF Lennon team for teaching us, helping us and even continuing to guide us after the training! You are the BEST! -

Chrys Lee
More About Dato' Jimmy Wong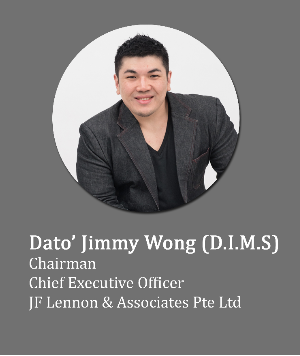 A self-made multi-millionaire who owns and runs multiple businesses overseas and Singapore. Dato' jimmy Wong is the Chairman & CEO of JF Lennon Institution of Financial Science. Apart from JF Lennon, Jimmy is also a Movie Producer, Private Investor, Author, Master Trainer & Entrepreneur with a span of successful businesses including automobile, aesthetics, gold & oil mining, fund management and movie production.
Best known for making millions from FOREX Dato' Jimmy amazed hundreds from all over the world with his signature LIVE demonstrations. His unique trading skill set has created multiple consistent winning trades and set many other renowned trade precedence.