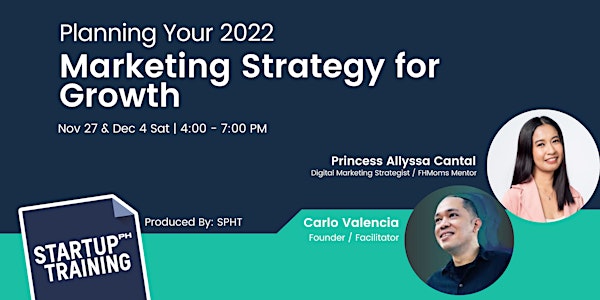 Planning Your 2022 Marketing Strategy for Growth
Create a custom 2022 marketing strategy for your startup or business and greatly increase revenue and reduce marketing costs!
Refund Policy
Contact the organizer to request a refund.
About this event
You'll Create a Marketing Strategy Together with Founders and Business Owners.
This is an activity filled workshop where participants will learn how to produce their own marketing strategy, present their drafts, get feedback and view the strategies of other participants.
We'll be applying Design Thinking, Digital Marketing and Lean Startup best practices in producing your strategy.
This means that you will
Begin by understanding your customer and their experiences
Learn how to test things before making any major commitments
This Event is Not a Webinar. It is Output Driven
Attend This Workshop If You Are
Start-up founders that have some traction but want to grow further
E-Commerce merchant that wants to increase sales
Attend This Workshop If You Want
To grow your revenue by being deliberate in your marketing efforts
Have customers come to you instead of doing mind numbing outbound effort
Reduce the cost of your marketing efforts
What We'll Cover
Understanding Your Current Digital Marketing State:
What are your current assets and what campaigns are you running? Do they align and support your business goals?
Creating Specific Messages To Your Target Market:
You already know who they are. But do you know why they buy? How do they engage with your brand? What do they like and not like about the overall experience?
Establishing Your Marketing Goals and Budget:
If you're hoping for ten million pesos in revenue, how much of that are you willing to spend to achieve that goal? Where will you spend it on and when?
Understanding Paid vs Free vs Earned: When do you use what?
How do you make the most of your paid and earned? How do you go "viral"?
What Channels Are Best For Your Business:
Should you do SEO? Should you create videos? Should you be advertising in Google? or Facebook? Should you do webinars or workshops?
What Kind of People Should You Hire?
Should you get full time employees? Hire an agency or freelancers? Where do you find them? How do you know which ones are good for you? How much do you pay and how do you manage them?
Tracking Reporting and Analytics:
How do you know you're making more money than what you're spending? How do you know which campaign is better than the other? When do you save on advertising and when do you make a big - but sure bet?
What Tools Should You Use:
Should we sign up for Canva? Mailchimp? Eventbrite? Hubspot? Notion? Should we use Google Sheets or Asana? The answer will be different for everyone so find out what factors you need to consider
What You'll Get
Digital Marketing Strategy Template
Digital Marketing Audit Checklist
Content Calendar and Campaign Tracker
Growth Hacking Techniques
Highly recommended marketing resources you may not have heard about
Workshop Schedule and Agenda
Session 1: Nov 27 (Sat) 3 - 6pm
Understanding Yourself - Auditing Your Digital Marketing
Understanding Your Customers and their Journeys
Setting Goals and Budgets
Understanding Digital Marketing in 2021
Defining Your Digital Marketing Campaigns and Establishing Assets
Creating a Content Plan
Session 2: Dec 4 (Sat) 3 - 6pm
Reviewing Your Strategy + Getting Feedback
Building Your Marketing Team
Tracking, Reporting and Analytics
Growth Hacking, Experimentation,
Future Workshops (FB, IG, Website, SEO/SEM, Linkedin, Tiktok, Marketplaces, etc)
Payment Options
Via Credit or Debit card using PayPal
Choose "pay via invoice for BPI, GCash or Paymaya
BPI - Carlo P. Valencia - SA # 2609238286
Paymaya or GCash - 09399203466
About Princess
Princess started her entrep journey by starting an online flower shop. Three months after launching, she got featured on the Net25 show "Taum Bahay" and recently in Chinkee Tan's show "Raket Science"
Princess is a also a Social Media Manager, developing strategies and elevating the online presence for her international clients.
She teaches Social Media Marketing Mastery course with FHMoms and runs private workshops for local and small business owners. At 26, she has done all of this and taught a few thousand people in the process.
About Carlo
As founder of Startup PH Training (SPHT), Carlo helps founders and corporate innovators test their ideas in days and weeks instead of months and years.
He was also the CEO-Founder of Klaseko, a startup which automated enrollments for schools.
Since 2014, he has run hundreds of workshops to thousands of people across the country. He has taught technopreneurship in CIIT and is a mentor in QBO Innovation Hub.
Prior to his entrepreneurial and educator's journey, he spent almost a decade in HSBC with 7 years in various non-teaching roles under the HR Learning & Development team