Planting The Seeds of Our Future: Trends in Urban and Community Farming
About this event
GreenSG, together with our organising and supporting partners, is excited to present to you our upcoming webinar:
Planting The Seeds of Our Future: Trends in Urban and Community Farming
in conjunction with the NParks SustainabilityFest
Date: 27 June 2021 (Sunday)
Time: 2.00pm to 3.30pm
Join the discussion with our speakers, as we explore urban and community farming through the lens of architecture, science and technology!
About our speakers
Dr. Wilson Wong is the Deputy Director of Jurong Lake Gardens, and is also an Adjunct Associate Professor at the Department of Food Science and Technology in NUS. He is an expert in growing edible plants, and is also the resident columnist for "Root Awakening" on the Straits Times Life section since 2007.
Mr. Bjorn Low is the Co-Founder and Executive Director of Edible Garden City, an urban farming social enterprise. He is a practicing urban farmer and social change-maker, who focuses on identifying the value that urban agriculture brings to highly dense cities such as Singapore.
Mr. Andrew Lee is the Design Director in the architectural firm ONG&ONG, and is also the Leader of the ONG&ONG Architect-in-Residence Team at SUTD. He has more than 27 years of experience in the master planning and design of major infrastructure projects, and was awarded the Asia Top Designer in the Singapore Design Awards 2014.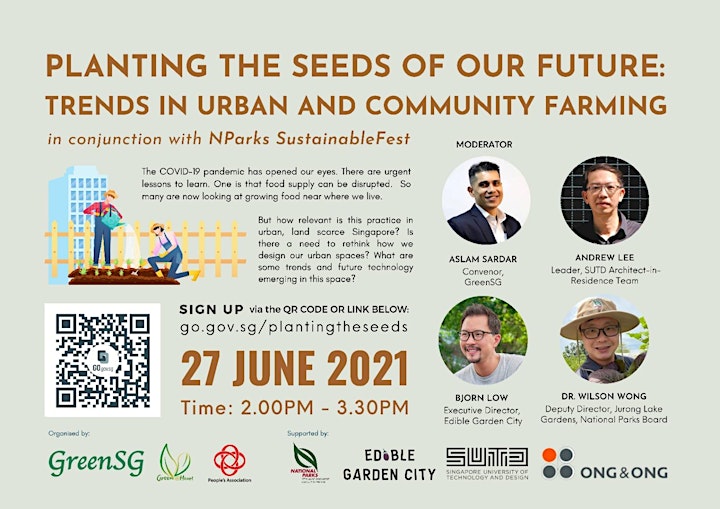 Organizer of Planting the Seeds of Our Future: Trends in Urban and Community Farming
Our Vision
To build a community of shared learning and action to help protect the balance of human life with the natural world, so that all can thrive in it.
Green SG will catalyse, enable and support ground-up initiatives; be a platform to share ideas and research; and match expertise and leverage on different perspectives for a sustainable future. We believe in individual and community initiatives as the bedrock for more sustainable ways of life, and for developing the potential in everyone.