About this Event
Join us for our December — Play Bossaball! event at Yuying Secondary School! Happening this coming 15 December from 1PM to 4PM.
Come experience and sport like never before! Learn how to perform amazing Bossaball tricks while you groove to the music.
DETAILS:
15 December 2019
1:00PM to 4:00PM
Yuying Secondary School
FREE Entry
– Come dressed in your Sports or Casual attire!
INTERESTED?
RSVP now or register your interest on our Eventbrite page today!
Please do not hesitate to contact Mr Shawn at +65 9855 5154 for more information.
See you there!
Find out more about Bossaball in the video above — Our feature on Channel 8's Morning Express which aired on 27 September 2019.
For more information, you may visit our website: https://www.bossaball.com.sg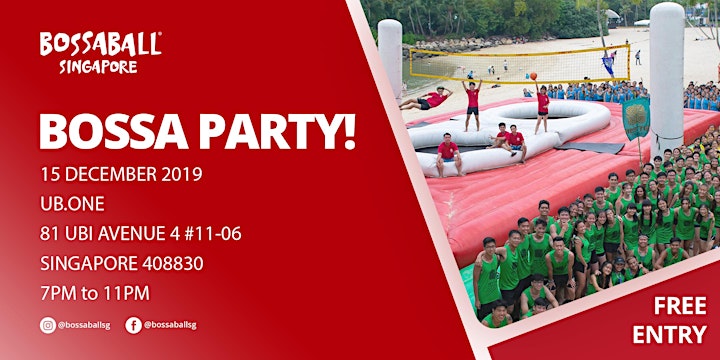 After that, we have our Bossa Party @ UB.One
Bossa Party:
81 Ubi Avenue 4, #11-06, Singapore 408830
7:00PM to 11:00PM
FREE food & drinks
FREE entry!
You may register for our Bossa Party on Facebook here: https://www.facebook.com/events/586571738772758/
Bring your family & friends and hang out with us at our Bossa Party 2019!