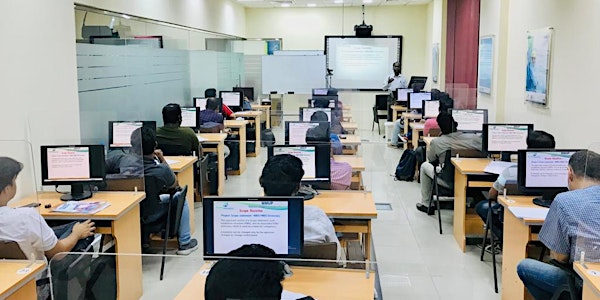 PMP Certification Qatar | Best PMP Training Provider in Qatar | Green Intl.
Green International, Qatar is a Leader in UPDA Exam Preparation and Project Management Training provider in Qatar.
When and where
Location
Green Intl-MMUP UPDA Qatar Civil Mechanical Electrical Chemical Archit Engg Exam Syllabus Questions Training Center Ibn Seena Street Doha, Doha Qatar
About this event
Best PMP Training in Qatar | PMP Certification Qatar | PMP Certification Requirements 2022| CAPM Certification Course | Project Management Certification | Best Project Management Courses | Construction Project Management Training Courses | IT Project Management | Latest PMP Exam pattern Training
Greetings from Green International, Qatar
Green International, Qatar is a Leader in UPDA Exam Preparation and Project Management Training provider in Qatar.
The PMP certification training in Doha is the universal gold standard for Project Management Professionals. This program includes the top PMP practices underlined in the PMBOK® Guide - 6th & 7th edition that is aligned with the latest PMP Examination Content Outline 2021. This PMP certification training course covers emerging practices, tailoring considerations, and new trends which will help you clear the PMP exam on the first attempt with the help of expert practitioners.
The PMP Certification in Doha trains the latest project management skills and core competencies required in today's organizations. Green International's expert trainers with more than 30 years of project management experience in the industry built its PMP course in Doha to educate students about how to manage projects in large and small organizations using a practical, strategic approach.
PMP Course Key Features
45 Hours of PMP Exam Preparation Training as per PMP New Pattern
Complete Set of Study Materials
PMP Exam Questions Practice thorough Simulation Software
Course completion certificate for 35 PDUs
PMBOK® – Latest Exam Reference Materials
Module-wise Simulation Exercises as per New pattern of exam
Full-Length PMP Exam Simulation Software Practices
Assistance for PMI Membership & PMP® Application Process
Flexible Timings / Evening Sessions
30+ year Industry Experienced, PMP Certified Experts as Trainer
Learn the Project Management from PM Practitioner
Best institute for PMP Certification Training
Leading and Professional Training Center in Qatar, Kuwait, Chennai & Mumbai
High-Tech Training Modes
High-Tech Classroom training with Live sharing on each computer screen.
Live Interactive Virtual Training option based on participants' convenience
Each Session Recorded Video sharing in their respective WhatsApp groups.
Continuous discussions doubt clarifications and sharing of the latest questions by training participants in the WhatsApp group
Continuous support until achieving PMP Certification.
You will enhance your career opportunities
You will be recognized as an experienced expert professional
You will speak the expert project management language with the stakeholders in the project
You will become a continuous learner and build new skills throughout your professional career
You will earn more salary benefits and a reputation
You will demonstrate your dedication to the industry
We are happy to update the Training Schedule for Sep'2022
PMP
05/10/2022, Sat-Mon-Wed, 7.00 pm-10.00 pm for 45 Hrs
View Course Details:
UPDA Civil
25/09/2022, Sun-Tue-Thu, 7.00 pm-10.00 pm for 30 Hrs
UPDA Electrical, Electronics, Instrumentation, Communication Engg.
25/09/2022, Sat-Mon-Wed, 7.00 pm-10.00 pm for 30 Hrs
UPDA Mechanical
25/09/2022, Sun-Tue-Thu, 7.00 pm-10.00 pm for 30 Hrs
UPDA Architecture
19/09/2022, Sat-Mon-Wed, 7.00 pm-10.00 pm for 21 Hrs
UPDA – Chemical, Petro-Chemical
24/09/2022, Sat-Mon-Wed, 7.00 pm-10.00 pm for 24 Hrs
Qatar Civil Defence (QCDD) Exam Preparation- Mechanical
28/09/2022, Sat-Mon-Wed, 7.00 pm-10.00 pm for 15 Hrs
Qatar Civil Defence (QCDD) Exam Preparation- Electrical
27/09/2022, Sun-Tue-Thu, 7.00 pm-10.00 pm for 15 Hrs
Qatar Civil Defence (QCDD) Exam Preparation- Architecture
26/09/2022, Sat-Mon-Wed, 7.00 pm-10.00 pm for 15 Hrs
LEED Green Associate (LEED GA)
28/09/2022, Sat-Mon-Wed, 7.00 pm-10.00 pm for 15 Hrs
Revit Architecture
25/09/2022, Sun-Tue-Thu, 7.00 pm-10.00 pm for 30 Hrs
Revit MEP
24/09/2022, Sat-Mon-Wed, 7.00 pm-10.00 pm for 30 Hrs
CCP
05/10/2022, Sat-Mon-Wed, 7.00 pm-10.00 pm for 35 Hrs
Primavera (P6)
19/09/2022, Sat-Mon-Wed, 7.00 pm-10.00 pm for 24 Hrs
MS Office
16/09/2022, Fridays, 9.00 am – 11.00 am
ISO 45001:2018
23/09/2022 - 21/10/2022 (5 days Friday batch) 10.00 AM - 04.00 PM
ISO 13485:2016
12/09/22 - 16/09/22 (5 Days Morning batch) 10.00 AM - 04.00 PM
ISO 22301:2019
16/09/22 - 24/09/22 (9 Days Evening batch) 06.00 PM - 10.00 PM
Contact our Expert Consultants:
UPDA & Management Training Programs Team
Mob/WhatsApp: +974 3340 3359/ 6646 4941 / 3110 0686 / 5501 6247
Health & Safety, CFM, ISO Training Programs Team
Mob/WhatsApp: +974 3084 4322 / 7764 7600 / 3098 8433 / 7764 7699 / 3111 4862
Email: info@greenintl.net
training@greenintl.net