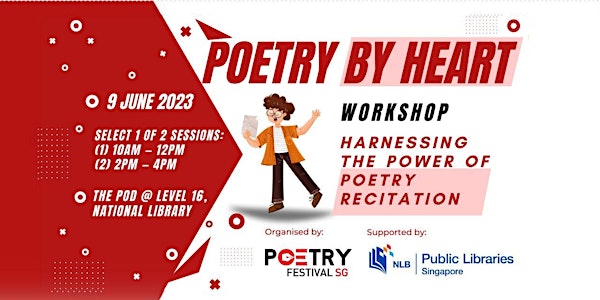 Poetry by Heart: Harnessing the Power of Poetry Recitation - Session 2
Deepen your love for poetry in this poetry recitation workshop!
By GoLibrary | National Library Board, Singapore
Date and time
Fri, 9 Jun 2023 14:00 - 16:00 +08
Location
National Library, The Pod 100 Victoria Street Level 16 Singapore, 188064 Singapore
About this event
About the Programme
Learning poems by heart offers multiple benefits for a happier and more fulfilling life —it can enhance oral communication skills and improve one's memory, besides honing deeper concentration and focus.
Targeted at primary and secondary school students, this workshop will share basic principles and strategies for poetry memorisation and recitation, including retrieval practice, learning by drawing, and embodied learning approaches.
Participants will select their favourite poems to learn by heart and practise techniques that they can use to learn and recite poems out loud. By activating the transformative power of recitation, participants can deepen their understanding of poetry while developing a keener appreciation of voice, rhythm, tone, and articulation.
In the process, participants can enjoy the process of connecting with their favourite poems, with one another, and with themselves.
Participants can attend either session as they are standalone workshops:
Session 1 (9 June, 10am-12pm)
Session 2 (9 June, 2pm-4pm)
About the Facilitator
Ow Yeong Wai Kit is an educator and editor of four poetry anthologies.
A recipient of the Outstanding Youth in Education Award by the Ministry of Education, he holds a master's degree in English from University College London, and has served as a judge of the National Poetry Competition (Singapore).
About the organiser
The National Library Board (NLB) manages a network of 28 libraries, the National Library and the National Archives of Singapore. NLB promotes reading, learning and information literacy by providing a trusted, accessible and globally-connected library and information service through the National Library and a comprehensive network of libraries.