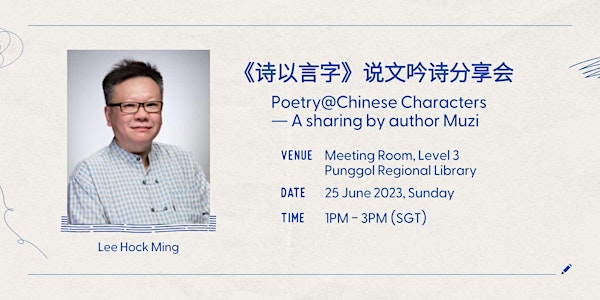 《诗以言字》说文吟诗分享会 Poetry@Chinese Characters – A sharing by author Muzi
李教授将以现代诗解释古代汉字的图像构成与文化内涵,并用方言吟诵古诗。
By GoLibrary | National Library Board, Singapore
Date and time
Sun, 25 Jun 2023 13:00 - 15:00 +08
Location
Punggol Regional Library - Meeting Room (Level 3) 1 Punggol Drive #01-12 One Punggol Singapore, 828629 Singapore
About this event
This programme is conducted in Chinese. 
诗@古汉字和方言吟诵 Poetry@ancient 'hanzi' with a dialect poetry recital
李教授将以现代诗解释古代汉字的图像构成与文化内涵,并用方言吟诵古诗。
Professor Li Hock Ming explains the composition and connotation of ancient Chinese characters through poetry coupled with a recital of his poems in dialect.
主讲者 About the Speaker
李茀民,笔名木子。复旦大学古代文学博士,现任北京理工大学(珠海)中美国际学院教授。文学著作有杂文集和文化随笔各3本,诗集2本,散文、小说和歌词评论各1本。词曲创作包括电视剧主题/插曲和爱国歌曲《家》。 
Prof. Lee Hock Ming started writing in the 1980s. He is a professor at the Beijing Institute of Technology (Zhuhai), teaching classical and contemporary Chinese literature. He contributes to Lianhe Zaobao and is a songwriter. He composed the Chinese version of Singapore's National Day theme song, Home.
重要通知
此活动只开放给新加坡国家图书馆管理局会员报名。请在报名前准备好您的 myLibrary username。如果您还没有注册 myLibrary username,请点击链接 https://account.nlb.gov.sg/。
通过 Eventbrite 报名后,我们会先确认报名者的 myLibrary username。如资料正确,报名者将收到确认电邮。
请注意,工作人员将在活动中进行拍摄和录影,可能会捕捉到参与者的图像和视频。报名参加本场活动,即表示您同意国家图书馆管理局拍摄与录制您和孩子(如适用)的图像和视频,并允许我们使用这些图像和视频,包括将其存档,或用于展示、宣传等用途。
About the organiser
The National Library Board (NLB) manages a network of 28 libraries, the National Library and the National Archives of Singapore. NLB promotes reading, learning and information literacy by providing a trusted, accessible and globally-connected library and information service through the National Library and a comprehensive network of libraries.