[POSTPONED] The Greenhouse Sessions #20: Arts and Community Development in...
Description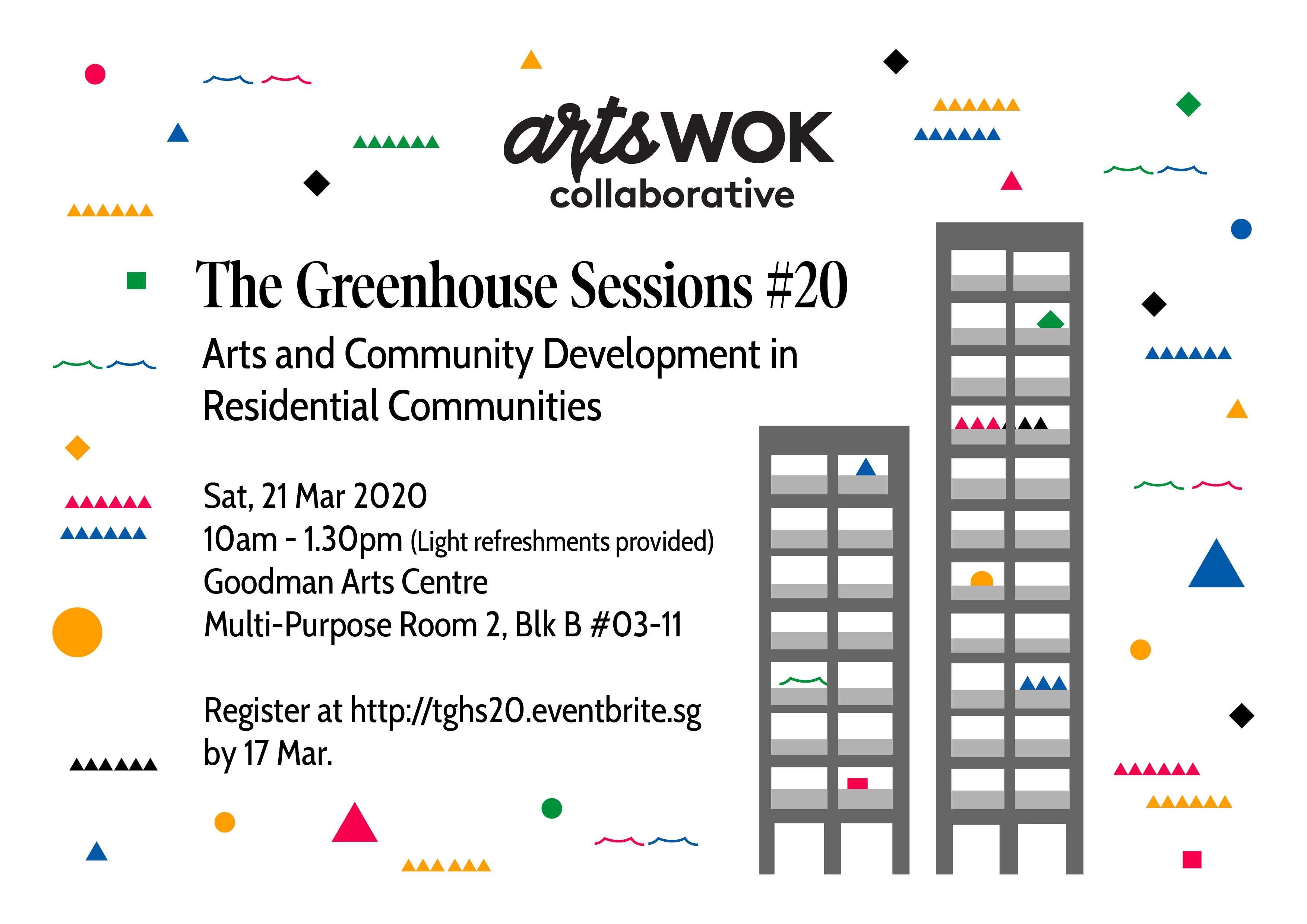 How can we reimagine place-based artistic practices in residential communities?
How can artists contribute towards community development and broaden their artistic practices in relation to spaces and communal relationships?
What are the conditions, and processes required?
What difference does our practice really make?
For this session, we have invited 3 panellists for a discussion on approaches to working with residential communities in public housing spaces. Ian Pay (Senior Community Relations Manager, Housing Development Board) will share about the HDB Lively Places initiative, while Elaine Ng (Senior Director, Engagement and Participation, National Arts Council) will talk about NAC's approach to Arts In Your Neighbourhood. Finally, Evon Chua (Senior Manager, Population Health & Community Transformation, Yishun Health) will provide deeper insights on the use of creative approaches in their Wellness Kampungs in Yishun. The panel discussion will be followed by responses from invited artists/creatives, and a wider discussion with all participants.
In light of the Covid-19 situation, the session will not include the usual workshop component so as to reduce movement and small group contact.
Date and Venue
Saturday, 21 March 2020
10am - 1.30pm (Light refreshments provided)
Goodman Arts Centre
90 Goodman Road
Multi-Purpose Room 2, Blk B #03-11
Singapore 439053
Registration
Kindly register by 17 March.
Admission is free but limited to 40 pax. Please register early, and before the event to avoid disappointment. Kindly note that registering for a ticket is taken as an indication of interest and not a confirmation of your participation. We will be in touch to confirm your attendance. We apologise as we do not accept walk-ins.
Do note that if there are more than one participant from the same organisation, we may limit the number of participants per organisation to allow for more diversity in the room.
About the panellists
Find out more about the panellists here.
About the respondents
Find out more about the respondents here.
Contact
For more info, please visit www.fb.com/thegreenhouseseries or email connect@artswok.org
---
Covid-19 Advisory
1. Individuals who are unwell will not be allowed to participate in The Greenhouse Sessions. Please note that we will be conducting temperature screening before allowing participants to enter.
2. Please do not attend the session, if you have returned from Mainland China, Iran, Italy, France, Germany, Republic of Korea, Spain, ASEAN countries*, Japan, Switzerland, or the United Kingdom within the last 14 days; have been issued a Stay-Home-Notice (SHN) or Leave of Absence (LOA); or have any symptoms of the virus.

3. If you have not been to Mainland China, Iran, Italy, France, Germany, Republic of Korea, Spain, ASEAN countries, Japan, Switzerland, or the United Kingdom in the last 14 days, but are in close contact with people who have been (such as family members living with you), please avoid attending the session.
4. You may attend the session after clearing 14 days without developing any symptoms.
5. If you have developed symptoms or have been diagnosed with the virus after attending the session, please inform Michelle at 9101 2250 as soon as you can.
*ASEAN countries besides Singapore: Brunei Darussalam, Cambodia, Indonesia, Lao PDR, Malaysia, Myanmar, Philippines, Thailand, Vietnam.
About Covid-19
It belongs to the same type of virus as SARS that erupted in 2003

It has an incubation period (before symptoms occur) of up to 14 days

It causes symptoms such as fever, cough, runny nose, sore throat, breathlessness and pneumonia

It is spread by droplets when someone sneezes or coughs

Most of those infected caught it from someone whom they had close contact with (within 2m of the infected person)

An infected person may transmit the virus during the incubation period of between 1 day and 14 days, even before symptoms appear
---
FAQ about The Greenhouse Sessions
What is The Greenhouse Sessions?
The Greenhouse Sessions is a programme by ArtsWok Collaborative. It is a community of practice where people who share a common concern for arts-based community development teach one another to do it better through a process of regular engagement.
Our sessions involve:
Connecting with other experienced practitioners working in the field of arts in communities
Exchanging information, stories and personal experiences in a way that builds understanding and insight
Generating new knowledge and collaboration opportunities through this shared platform to kick-start meaningful action
Is this for me?
As this is a community of practice, the sessions will be open only to those who have some experience or expertise related to the session, as well as individuals who have a keen interest to contribute to the topics of the session.
How can I contribute?
The emphasis here is on group learning, so while literature and other resources will be made available to participants from time to time, the collective wisdom of the community of practice is the real treasure. So come prepared to give and to receive.
Personal Data Protection Act (PDPA)
ArtsWok Collaborative respects your privacy. We will be taking photos, videos as well as recording audio at this event. These may be used for archival, education and publicity purposes. Comments made by attendees may be used in publications by ArtsWok Collaborative but will not be attributed. By registering for this event, we understand that you have consented to the above.