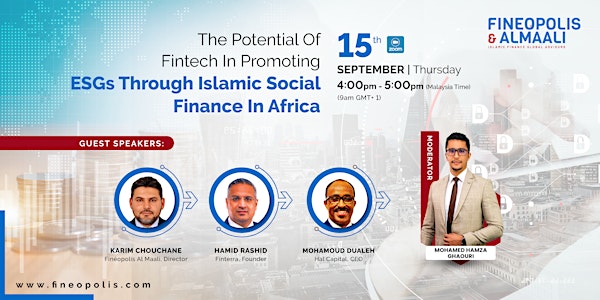 Potential of Fintech in Promoting ESGs via Islamic Social Finance in Africa
An international webinar organized to showcase the true potential of Fintech in promoting ESGs via Islamic Social Finance in Africa
About this event
With the rise in innovations and the disruptions happening in both the Islamic finance and technological arenas , coupled with new complexities and economic uncertainties arising post COVID-19, the role of both these sectors have inadvertently been placed under the spotlight to see how they can be utilised to support both the wellbeing of society and the environment.
Better awareness and understanding of Islamic social finance and fintech solutions already available can hold the key to unlocking the true potential of irradicating poverty, helping the environment and addressing many of the UN SDG goals.
The Potential of Fintech in Promoting ESGs via Islamic Social Finance in Africa is a Webinar which has been organised with the aim to highlight and address issues related to inclusion, environment and ethics, via fintech while also exploring opportunities for growth especilly within the Afircan context.
The Webinar is to be held on the 15th of September and is proudly being organised by Fineopolis & Almaali, in partnership with Finterra and Hal Capital. It happens to fall at an opportune time considering how, many African gorvernments are trying to implement a resilient SDG framework for their people and environment.