Description
Introduction
We all carry infinite potential within. This is the highest truth which exist. This is the gift nature has given to us. Gift of unlimited and infinite potential. Unfortunately, very few of us choose to live this gift, choose to tap this infinite potential and live our life accordingly.
We get stuck in the busyness of life, settling much below than what we truly can accomplish. Living a life of compromise and not understanding how easily and quickly we can make major shifts in life. This is the story of most people and they end up believing this is how it all supposed to be.
Across ages, the great men who have visited earth, affirmed this truth, that we are meant to live an absolutely amazing life of greatness if we really connect to our infinite potential.
This two-day workshop is designed to make the participants aware about this potential, the process of tapping it and living in one's life. It gives a structured road-map laced with very powerful tools and techniques which can help people transform any area of their life. These are some of the most powerful tools known for change and transformation. These are very simple yet very powerful concepts and shared in a very easy to practice manner.
The workshop is a fine blend of science and ancient wisdom of different cultures across time and space. It's very practical in nature and aims to make people understand very powerful concepts in an easy, simple, and applicable manner. The entire session is filled with loads of experiments and process, for the participants to have a real-time experience of these concepts.
Before the participants leave the hall, they would have gone through a substantial shift in their mind and heart about the life they are living. Experiments are designed to show in reality the power of their thoughts, emotions, words and actions.
The foundation of the workshop is intelligent, discerning and rational thinking. We promote no blind beliefs and encourages a lot of questions.
Below you can go through the brief of what will be the session content.
Power of Subconscious Mind
Understand deeply about brain

and

levels

of

minds
Programs which

subconscious

mind

works on

Understand belief as the driving force in life

Process

of

identifying, shifting

and

breaking 70 + limiting beliefs from the painful areas

of

life

Install new powerful beliefs to make quick shift in your life

Leveraging the

power

of

subconscious

mind

to transform your complete life or any area

of

your life which is in chaos
Learn powerful tools to reprogram your

subconscious

mind

for success, happiness, joy, prosperity

and

health
Learn to tap Alpha level

of

mind - Guided audio


Law of Attraction Mastery
Understanding Universe

and

different laws governing the universe
Learn experientially what is energy

and

vibrations – higher vibrations

and

lower vibrations
More than 10 + live experiments

of

how thoughts, emotions create energy and affects our life
Setting goals in the language

of

brain and way to install in subconscious mind


Learn to come in alignment with universe effortlessly

Learn powerful tools to disintegrate all negative thoughts, emotions stopping you quickly

Learn precise process

and

ancient secrets

of

manifestation
Learn 3 powerful tools

of

manifestation

Guided audio manifestion process

Handholding done for the participants for 3-6 months


In last several years we have done a large number of sessions covering many cities in India and people from all walks of life have joined and experience the shift. You can go through the reviews of past participants here on Google and Facebook.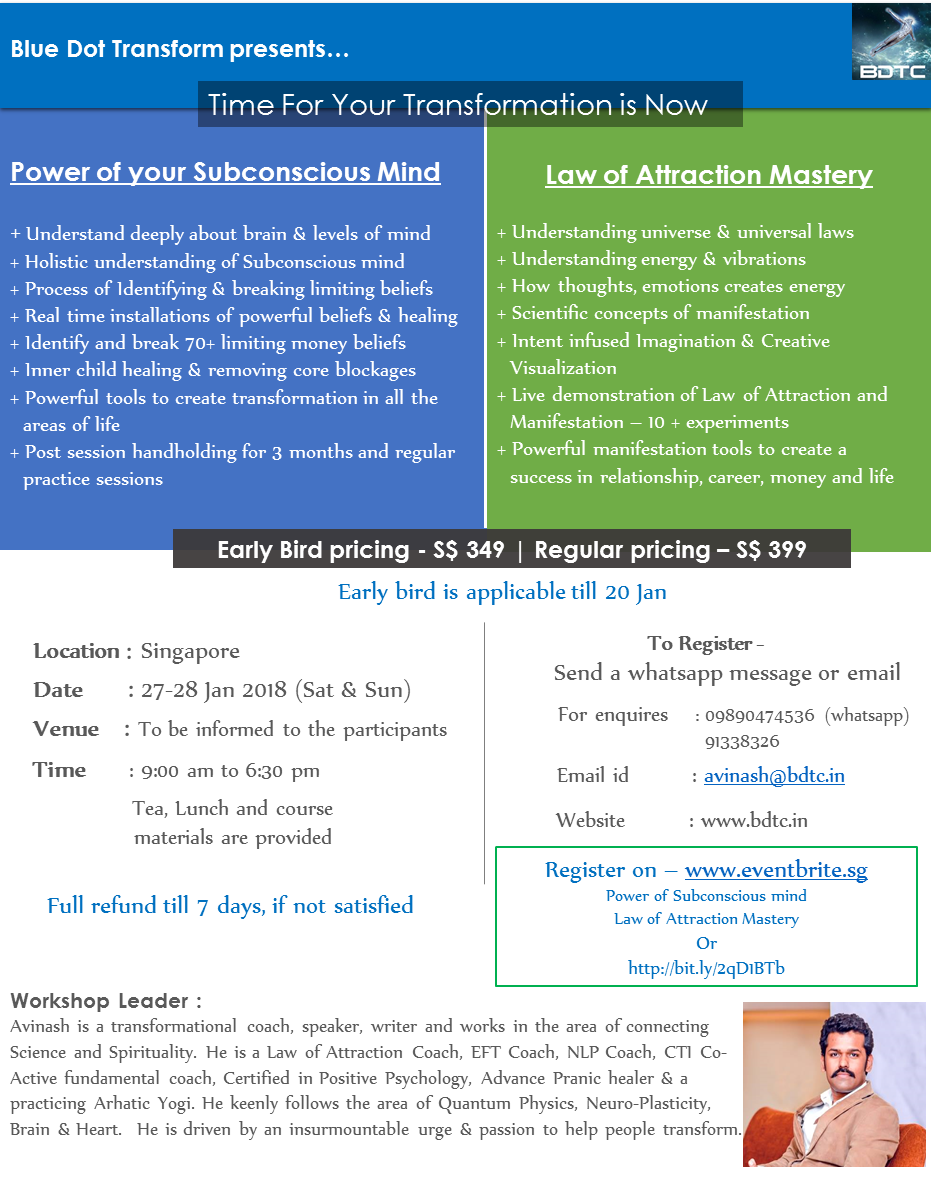 A Guarantee of Full Refund
We understand the value of time and hard-earned money. Hence, the participants get 7 days to seek a full refund post the workshop if they are not satisfied with the session. Its a complete refund and no question asked.
Commitment to Transform
We know the most difficult part is sustaining the daily practice and habits for change to happen. Also, a gentle timely push keeps us on track. Hence, post the session there are lot of practice session, doubts clearing sessions and handholding is done online for 3-6 months. These are all complimentary and is done to help people bring change in their life.
About the Facilitator
The session will be conducted by Mr. Avinash Anand Singh. His short bio is shared below. You can also click this link to read his articles which gets published in one of the India's leading business magazine website.
Avinash is a transformational coach, speaker, writer and works in the area of connecting Science and Spirituality. He is a Law of Attraction Coach, EFT Coach, NLP Coach, CTI Co-Active fundamental coach, Certified in Positive Psychology, Advance Pranic healer & a practicing Arhatic Yogi. He keenly follows the area of Quantum Physics, Neuro-Plasticity, Brain & Heart. He is driven by an insurmountable urge & passion to help people transform.