Event Information
Refund policy
Contact the organiser to request a refund.
Eventbrite's fee is nonrefundable.
This Practitioner Diploma is accredited by the prestigious Association for Counsellors, Coaches, Psychotherapists & Hypnotherapists in UK
About this event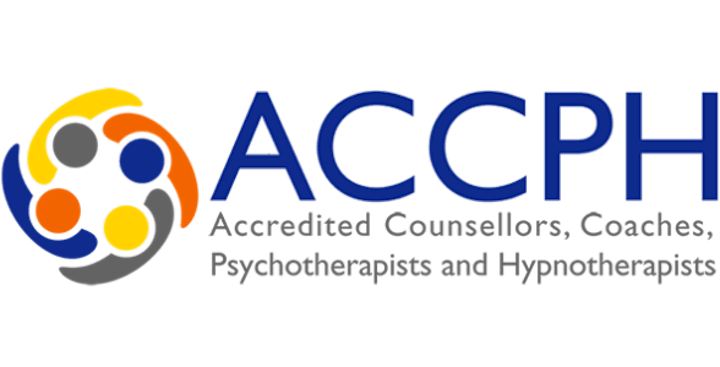 Become A Successful Ericksonian Hypnotherapist and Help Others Fulfil Their Fullest Potential!
Promo Code for $1800 Off Your Course Fee (till 30th December, 2021): EHT21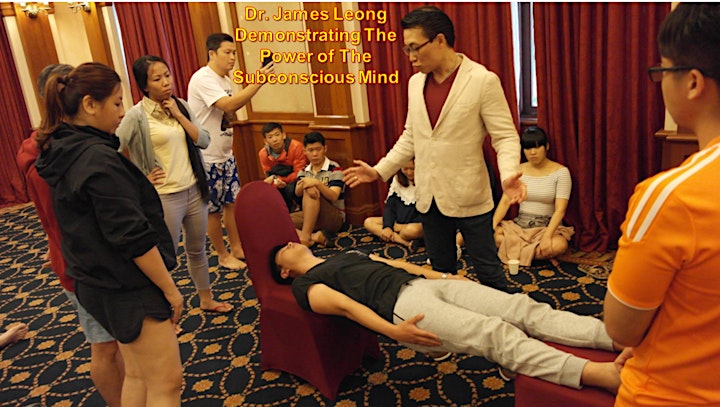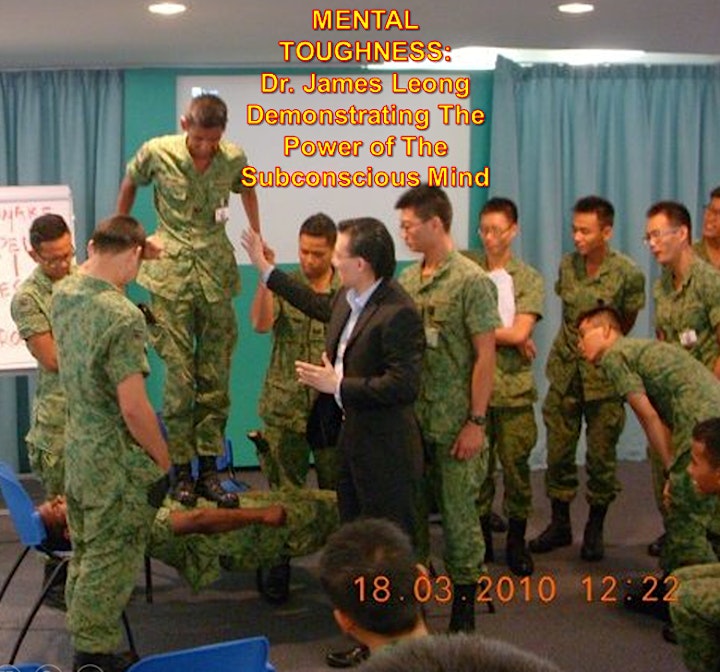 Duration: Comprehensive 120 hours. 100% LIVE Zoom Demonstrations by our Master Trainer Dr. James Leong!
Mode of Instruction: Practice Sessions / Role Play, Watching Videos of live sessions, Quizzes and Discussions, Metaphors / Stories, Assessment of participants' hypnotherapy audio/videos, Case Studies
Mode of Assessment: Each participant must
Submit 10 audios/videos of their hypnotherapy sessions with their pro bono clients
Submit a written assignment
(Please scroll down for the list of Comprehensive Ericksonian Hypnosis Modules we are covering)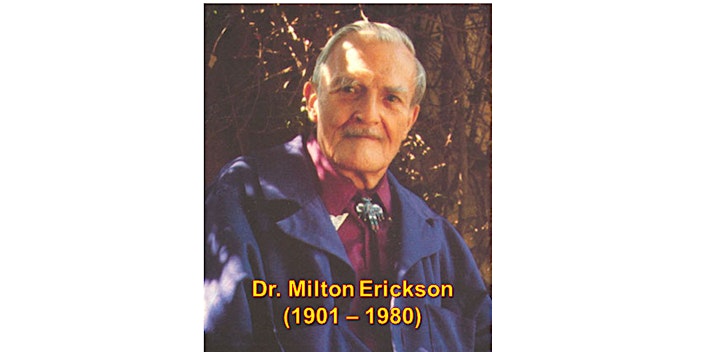 About Dr. Milton Erickson & His Approach to Hypnotherapy
Dr. Erickson (1901 – 1980) was an American psychiatrist and medical doctor who is known throughout the world as the best hypnotherapist who ever lived and his career speaks for itself. At age 17, he contracted polio and the disease was so severe that he was paralysed from neck down, and his doctors believed he would die. Miraculously he was able to use the power of his subconscious mind to heal himself of polio — he attributes his self-healing with giving him insight into the use of self-hypnosis. After recovering his ability to walk, he attended the University of Wisconsin and achieved graduate degrees in both psychology and medicine.
Dr. Erickson has inspired nearly 100 Erickson institutes in almost 30 countries in the US and across Europe and the ideas behind NLP and coaching. Also, he was monumental in getting the American Medical Association to recognise Hypnosis as a clinical treatment modality in psychotherapy and thus changed the face of psychotherapy forever.
Not only was Dr. Erickson known for his simple philosophy of psychotherapy using hypnosis but he is best known for his emphasis on a Permissive/Cooperative Approach. Instead of strong, forceful phrases like "you will," induction of the traditional Authoritarian Hypnosis, his approach is performed with more suggestive phrases like "you could", "you might", and stresses the interaction between the hypnotist and client. In Dr. Erickson's approach, the hypnotist's task is to guide and supervise the subject; the subject's task is to decide if, how, and when to respond to the hypnotist's communications. With these subtle changes, the client is the co-therapist and resistance is diminished.
The usefulness of Ericksonian Hypnotherapy doesn't stop there; it can also provide techniques for practitioners to evoke trance-like memories in order to help the clients get in touch with strengths they were not aware of having. And you can learn Dr. Erickson's unique approach in this comprehensive UK accredited program.
Who is This Program For?
This program will help your clients to
Improve their Emotional Wellbeing
Deal with Chronic Pain
Improve their Quality of Sleep
Quit Undesirable Habits. For example, Smoking, Excessive Consumption of Alcohol, Nail Biting, Bed Wetting
Overcome Procrastination
Boost Their Confidence and Have the Tenacious Resolve to Go After What They Want. For example, Hesitation to Approach A Love Interest, Delivering A Sales Presentation
Make Better Decisions
Cope Better With The Stress Brought About By COVID
Manage Their Post Traumatic Stress Disorder More Effectively
How Does This Program Differ From The Rest?
From Erickson courses to Erickson courses offered by most NLP and hypnosis schools out there, they are mostly obsessed with Dr. Erickson's hypnotic language patterns. And while this is a useful start, our institute does NOT want to end just with the language. To be certified as a competent Ericksonian Hypnotherapist, you'd need a deeper understanding of the principles of hypnotic language as well as Dr. Erickson's values, beliefs, capabilities and processes to help your clients get the results they desire.
(Please scroll down for the list of Comprehensive Ericksonian Hypnosis Modules we are covering)
Recently, Dr. James Leong was invited to represent Singapore at The NLP Masters Summit and the reviews from his international audience were amazing!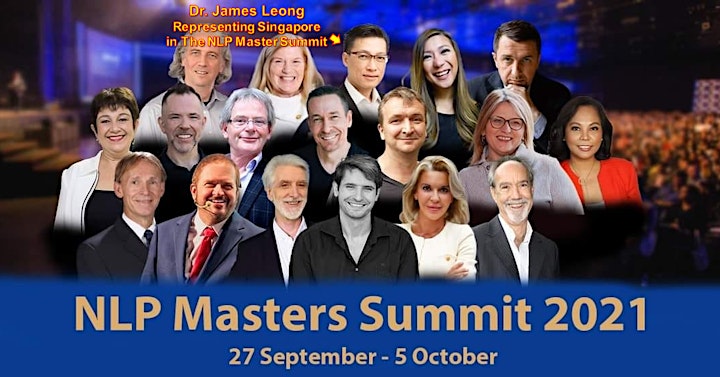 Dr. James Leong with his participants, a group of School Counsellors, from the Ministry of Education in Singapore...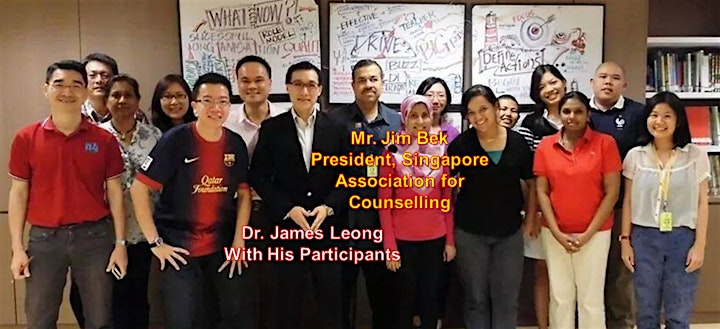 About Your Master Trainer Dr James Leong
Dr. James Leong is a Pioneer of Ericksonian Hypnotherapy in Singapore and Malaysia. He has trained psychologists, psychiatrists, counsellors and medical doctors over the past two decades and he is also the First to offer the UK Practitioner Diploma in Ericksonian Hypnotherapy in Asia.
His journey in Ericksonian Hypnotherapy began when he studied with Anthony Robbins, Dr Harry Alder and Tad James in the 1990s. He then went on to become a long-time student of the Co-Developers and Contributors of NLP, Robert Dilts and Judith DeLozier – Both Dilts and DeLozier studied with Dr Milton Erickson for more than half a decade. Dr. James is an Enneagram Teacher trained by Dr Claudio Naranjo, developer of the modern-day Enneagram since 2010.
Dr. James also works with major companies (like Volvo Group in India and China, KPMG, Deloitte Consulting, Ministry of Home Affairs, and Societe Generale Bank) to help their staff reach their maximum potential.
Dr. James Leong's Qualifications:
Doctor of Business Administration from Wyższa Szkoła Informatyki i Zarządzania w Rzeszowie (University of Information Technology and Management in Rzeszów)
Master of Business Administration from the "The Lord Ashcroft International Business School" at Anglia Ruskin University, UK
Chartered Management Consultant and Member of the Chartered Institute of Management Consultants, USA
Organisational Member and Accredited Training Provider with The Association for Counsellors, Coaches, Psychotherapists & Hypnotherapist (ACCPH, UK)
Board Certified Trainer of Hypnosis (National Board of Professional and Ethical Standards, UK)
Accredited Teacher of the Enneagram (International Enneagram Association, USA).
NLP Master Trainer (NLP University, USA)
NLP Trainer (American Board of NLP)
Language And Behavior Profile (LAB Profile) Practitioner (Success Strategies, Canada)
Advanced Certificate in Training and Assessment (Singapore Workforce Skills Qualifications)
Certificate of Employment Intermediaries for Key Appointment Holder (Recruitment Certification awarded by the Singapore Ministry of Manpower)
(Please scroll down for the list of Comprehensive Ericksonian Hypnosis Modules we are covering)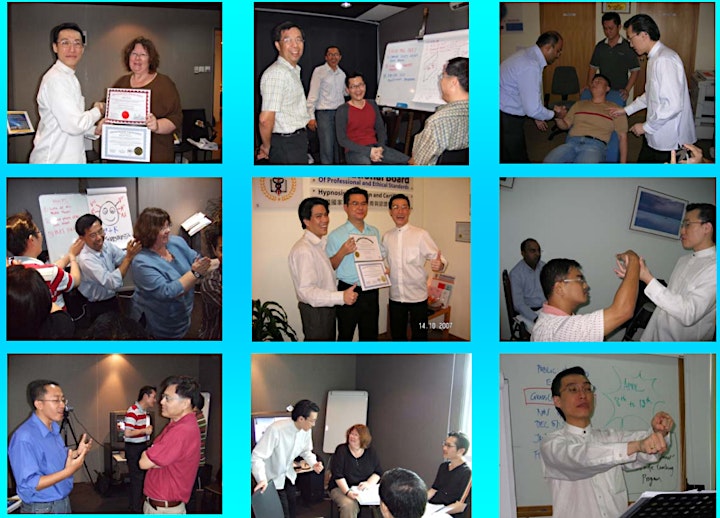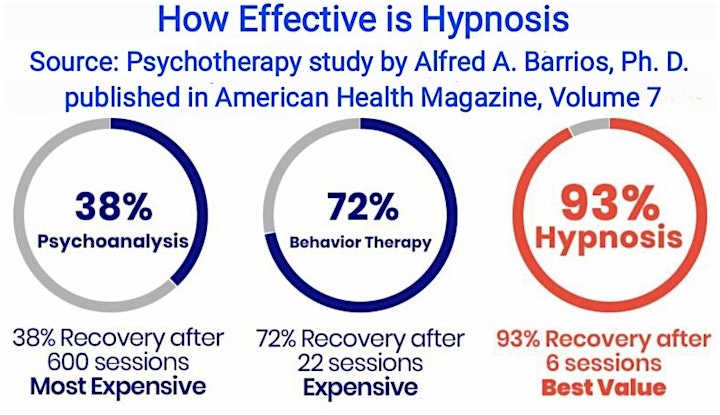 Our Program Covers The Following Comprehensive Modules…
Module 1: Verbal Rapport Building Utilising Open Questions, Self-Sharing, Micro-Expressions, Body Posture, Proxemics and Quality of Your Voice:
You will learn to build trust and rapport with your clients in this module. This includes Matching and Mirroring your client's voice tonality, pitch and volume – It will also help you to induce a hypnotic trance state more quickly and deeply.
Module 2: Positive Frame and Reverse Frame Hypnotic Suggestions and Negative Tags:
The brain don't process negations well. For example, when you say to someone, "Don't think of the color pink," what do you suppose he will begin to think about? What color are you thinking about? So you can direct your listener's attention by saying "don't do" exactly what you'd like them to do.
In this module, learning more of these types of hypnotic suggestions will get your clients to be more agreeable and to more readily accept your ideas.
Module 3: the Minmal Cues of Hypnotic Trance:
This module will reveal to you how to recognise when your client is going into a hypnotic state and to utilise the right moment to introduce your hypnotic suggestions.
Module 4: The Uptime-Downtime Hypnotic Trance Induction:
When your conscious awareness is focused entirely on internal experience, Erickson Hypnotherapists refer to this as downtime. The Downtime state is a subset type of trance phenomenon and can help initiate or deepen trance. This is useful to guide your clients to enter into a brief, light trance and to help them discover new meanings to their situations that may not be explicit or implicit on the surface. Many techniques are used to stimulate downtime, and they are used not only to produce a hypnotic trance state, but also patience, introspection, and receptiveness.
Uptime, on the other hand, refers to a more worldly state of awareness that emphasizes external awareness that is effectively informed by internal awareness.
Module 5: The Humor and Confusion Hypnosis Induction:
This module demonstrates confusion as a hypnotic induction, how to create confusion, how to utilise it when it occurs naturally. Confusion brings a strong desire for clarity. When a confused client does get clarity, he will be more likely to embrace it and actually use it. Thus when a clear order comes after ambiguity, it is often more readily accepted.
Module 6: Hand To Face Induction Technique:
This is another powerful technique for rapidly inducing a stage of trance over Zoom with your clients
Module 7: Arm and Eye Catalepsy as a Vehicle for Inducing Hypnosis:
One of the best means for convincing a subject that he is hypnotized is to induce inability to open the eyes or to move the arms. This module will teach you how to reinforce your client's confidence in you and your hypnotherapeutic approach.
Module 8: The Laws of Observation and Utilisation in Hypnotherapy:
This module is based on the important principles of observation and utilisation and teaches you what to do when you first start using hypnosis and then how to utilise what your client says or does, moment by moment.
You will learn to recognize the emotional variations of your clients while they are in trance to help them achieve their goals in hypnosis and therapy.
Module 9: Hypnotic Anchoring and Conditioning Techniques:
This module will teach you how to utilise human conditioning to get your clients to accept ideas and therapeutic treatment and how to also use these principles to induce hypnosis.
Module 10: Pseudo-Orientation in Time Hypnosis Technique:
Pseudo-orientation in time is a hypnotic technique pioneered by Milton Erickson and will allow you to guide your client into an imagined future and to report on what is necessary for their sessions with you to be successful.
Module 11: Double Bind Hypnosis Suggestions:
This module teaches you a very effective hypnotic language pattern called the Double Bind. There are several classes of hypnotic double bind and they will motivate your clients to accept new ideas and ways of accepting treatment programs.
Module 12: Open-ended Hypnosis Suggestions:
These type of suggestions can help you induce hypnosis effortlessly and assist your client to accept new ways of thinking about their challenges and problems.
Module 13: The Laws of Positive Expectancy and Reinforcement in Hypnosis:
This module looks at the role of implication in speech and non-verbal behaviour and teaches you how to develop the skill to influence indirectly through an attitude of expectancy.
Module 14: Implication, Compression and Economic Hypnotic Language:
This module will teach you how to maximize the time available by streamlining the hypnotic techniques you are being taught. This will help you be more effective when you interact with your clients.
Module 15: The Laws of Reversed, Concentrated Effort and Dominant Effect as a Hypnotic Phenomena:
Despite the fact that these laws are paradoxical and hardly mentioned nowadays, they are some of the oldest and most central concepts in hypnotherapy. In this module, you will learn howto utilize these laws as therapeutic and coaching tools in your practice.
Module 16: Responding to Clients who have Polarity Responses:
This module will help you deal with difficult and resistant clients. You will learn techniques to calm your client down, to change the way they think and to turn objections into opportunities.
Module 17: Passive Response Hypnotic Suggestions:
This module teaches you skills that will help your clients to trust themselves more easily and not interfere in the treatment process in a negative manner.
Module 18: Learning and Teaching Your Client Self Hypnosis:
Dr. James Leong will reveal to you how to use Ericksonian Self-Hypnosis for your own personal development and to be able to teach it effortlessly to your clients.
Module 19: Identifying and Matching Predicates as a Rapport Building Technique:
Predicates are the words that we use to describe our inner world to the outside world. When you are able to listen to and pick up these words, you'll be able pace your clients' subjective realities (including their challenges) and build rapport with them effortlessly and quickly.
Module 20: Hypnotic Inductions based on Eye Movements:
Dr. Erickson has expanded on to the classic Eye Fixation Induction by adding hypnotic suggestions like "your eyes only fully close when you are ready to go into hypnosis." In this module, you will learn Dr. Erickson's eye movements related hypnotic patterns to bypass your client's critical conscious mind.
Module 21: The Confusion Hypnosis Induction Technique:
You will learn how to utilise senses and behaviors as a powerful hypnotic induction by continually re-directing your client's attention. For example, while your client's conscious mind is trying to find the logic in what is being said or done, you will then introduce suggestions to his subconscious mind to deepen the state of hypnosis.
Module 22: Pacing and Leading to Induce Hypnosis:
Very often clients would resist direct suggestions for change. In such situations, Dr. Erickson would pace his patient by making suggestions that matched the patient's ongoing behavior. As his patient becomes receptive to pacing, he'd lead and offer more directive suggestions. For example, you may pace your client by suggesting 'as you exhale" as your client exhales and then lead by adding "you will begin to relax".
Module 23: Nominalisations as a Hypnosis Deepening Technique:
A nominalisation is a word pretending to be a noun but is not tangible; in other words you could not place your hand physically on "relaxation", "transformation", "consciousness", or a "relationship", however these words are used as if they are nouns and solid 'things'. Read a poem or listen to you favorite songs, and notice the abundant use of nominalisations and notice their effect on you (without you being aware at all)!
In this module, you will learn how to create and use nominalisations artfully to bring about your client's desired outcome.
Module 24: Indirect Passive Response Suggestions:
This module will teach you how to relax the rational (sometimes critical) part of the conscious mind while tapping into the unlimited potential of the unconscious mind.
Module 25: How to Develop Your Client's Response Attentiveness to Hypnosis:
When your clients enter therapy, they are sometimes apprehensive and have various expectations. This module will teach you how to utilise and build these expectations as a hypnotic and therapeutic tool.
Module 26: Indirect Eye Fixation and Distraction as Hypnosis Inductions:
In this module, you will learn how to covertly directionalise your client's focus of attention using only your eye movements.
Module 27: How to Indirectly Evoke Previous Trance Experiences:
One of the quickest and most effective ways of inducing a hypnotic state of trance is to utilises a client's memory to relive an experience intensely and you will learn this effortless in this module.
Module 28: Hypnotic Double Bind:
The double bind is a form of hypnotic sucggestion that offers your clients the feeling that they can choose freely. As no one wants to be patronized, and as we all like to have choices, the double bind can be used to motivate your clients and this in turn leads to therapeutic benefits.
Module 29: The Eyes Fatigue Hypnotic Induction:
With this hypnotic induction, you will be able to utilise the extremes of your client's altered states of consciousness to bring about a hypnotic trance state.
Module 30: Hypnotic Surprise Techniques:
You will learn how to induce hypnosis with surprise and disorientation. Here's an example: A therapist who was unable to be hypnotised by other hypnotherapists but had wanted so much to experience hypnosis personally actually paid Dr. Erickson to hypnotise him. However Dr. Erickson was unsuccessful during that session and he gracefully guided the therapist out of his office. Dr. Erickson then reached out to shake hands goodbye, and he slowly, gently, suggestibly lifted the therapist's arm inducing catalepsy, and soon all the other suggestions Dr. Erickson had given him earlier on about going into a trance took effect. This happened because the therapist did not expect to be hypnotised just when he was about to leave. There was no defenses against this surprise, and a few years later, this therapist went on to incorporate hypnosis into his practice.
Module 31: "My Friend John" Hypnotic Induction:
The induction technique is rightly regarded as Ericksonian classics that are flexible and great for overcoming resistance. Unfortunately, their classic status has meant that they are often considered to be outside the reach of all but the most elite hypnotherapists.
You will learn to use these two techniques to induce hypnosis in a variety of ways, even learn to hypnotise two people at once!
Module 32: Analogue Marking, Interspersal Technique and Embedded Commands to Induce Hypnotic States:
You will learn how to induce hypnotic states by making suggestions indirectly within a larger statement. Dr. Erickson is a genius for introducing ideas through interspersing words or phrases within the context of a story or discussion. These embedded suggestions were typically set off by the use of a slightly different voice tone, slowing the rate of speech, or with a very brief pause.
Module 33: Learn the Use of Other Advanced Hypnotic Language Patterns:
In this module, you will learn the following language patterns of Dr. Erickson: Unspecified Nouns and Verbs, Unspecified Referential Indices, Unspecified Verbs and Adverbs, Hypnotic Ambiguity, Lost Performatives, Sequence of Time and Ordinals, Negative Commands, and many more.
Module 34: Layering Hypnotic Potential, Multiple Tasks and Overloading Techniques in Ericksonian Hypnosis:
You will learn powerful hypnotic inductions such as how to overwhelm your your client's conscious mind by verbalizing the letters of the alphabet in a for­ward fashion while visualizing them backward.
Module 35: Recognize when Your Client is Entering A Hypnotic Trance:
You will develop better sensory acuity and start recognising the cues of hypnotic trance as your client drift in and out of a trance-like state.
Module 36: Stacking Truism Hypnotic Induction:
Dr. Erickson has taught the use of Compound Suggestions with Truism as part of his hypnotic language patterns to produce a false causation. The client listens to the first truism statement, and agrees with it. The client then listens to the next truism, and agrees with that too. The next suggestion is then made while the agreement with the truism is still in mind, so it too will be accepted as true, even if it has nothing to do with the first statements and is not a truism.
Module 37: Identify Your Client's Positive and Negative Response Cues:
You will learn to identifiy your client's "yes", "no", "I don't know", or "I don't want to answer" responses that are indicated by his ideomotor responses (such as finger movements) rather than verbal signals. This happens when a client's thought or mental image brings about an apparent "reflexive" or automatic muscular reaction, often of minuscule degree, and he is not aware of this happening.
Module 38: Post-Hypnotic Suggestions:
Whereas hypnotic suggestions are those intended to have an effect while your client is in a state of hypnosis, post-hypnotic suggestions are intended to have an effect later on, outside of the consultation. In this module, you will learn how to bring about new behaviors or ways of thinking within your client after and between consultations.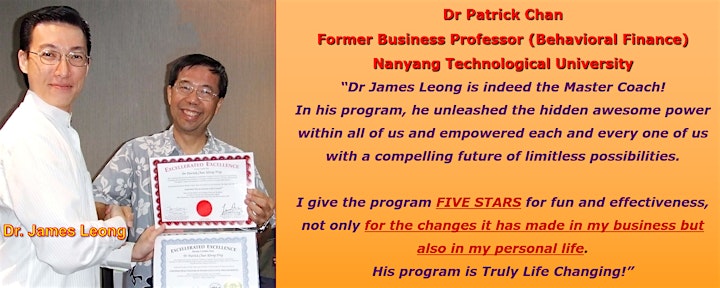 All Training will be conducted LIVE via Zoom by Dr. James Leong
Schedule of Program in 2022 (Singapore Time):
January 18, 19, 21: 7.30pm to 10.30pm (Singapore Time)
January 22: 9.30am to 12.30pm (Singapore Time)
January 25, 26, 28: 7.30pm to 10.30pm (Singapore Time)
January 29: 9.30am to 12.30pm (Singapore Time)
February 8, 9, 11: 7.30pm to 10.30pm (Singapore Time)
February 12: 9.30am to 12.30pm (Singapore Time)
February 15, 16, 18: 7.30pm to 10.30pm (Singapore Time)
February 19: 9.30am to 12.30pm (Singapore Time)
February 22, 23, 25: 7.30pm to 10.30pm (Singapore Time)
February 26: 9.30am to 12.30pm (Singapore Time)
March 1, 2, 4: 7.30pm to 10.30pm (Singapore Time)
March 5: 9.30am to 12.30pm (Singapore Time)
March 8, 9, 11: 7.30pm to 10.30pm (Singapore Time)
March 12: 9.30pm to 12.30pm (Singapore Time)
March 15, 16, 18: 7.30pm to 10.30pm (Singapore Time)
March 19: 9.30am to 12.30pm (Singapore Time)
March 22, 23, 25: 7.30pm to 10.30pm (Singapore Time)
March 26: 9.30am to 12.30pm (Singapore Time)
March 29, 30: 7.30pm to 10.30pm (Singapore Time)
April 1: 7.30pm to 10.30pm (Singapore Time)
April 2: 9.30am to 12.30pm (Singapore Time)
Note: Compulsory 85% attendance and submission of assignments are needed to graduate from this program.
Copyright (C) 2021 by Dr James Leong and James Leong International LLP.
Date and time
Location
Refund policy
Contact the organiser to request a refund.
Eventbrite's fee is nonrefundable.
Organiser of Practitioner Diploma in Ericksonian Hypnotherapy ( PROMO: EHT21 )
Dr James Leong is a Chartered Management Consultant and Master Executive Coach with more than 18 years of Corporate Consulting and Coaching experience.
His Personal Development Journey started in the 90s and he is a long-time student of Dr Claudio Naranjo, developer of the modern-day Enneagram, since 2010.
An Accredited Enneagram Teacher, James is also a Master Trainer in NLP and Ericksonian Hypnosis. Having taught and coached in many different cultures and countries, James is familiar with both personal transformation and corporate contexts. James has also devoted himself to hundreds of hours in personal development, mindfulness, self-mastery, approaches like Gestalt Therapy, Somatic Movements, and more.
James has also conducted over 2000 hours of training and facilitation in both small and large group corporate contexts in areas such as leadership, self-mastery, sales, peak performance, organisational development and team building for executive development.
His clients include Multi-National Corporations like the Volvo Group in India and China, KPMG, Deloitte Consulting, MHA, SAF, Societe Generale Bank and Accuity (Subsidiary of Reed Business Information), ESIS Asia Pacific and many more.
His USP is that he teaches "simple steps that produce transformational results".
James seamlessly brings his unique boardroom coaching and facilitation techniques to the training, creating both insightful learning and deep transformation for participants.
James seamlessly brings his unique boardroom coaching and facilitation techniques to the training, creating both insightful learning and deep transformation for participants. He is also the Lead Trainer and Chartered Management Consultant with one of Sweden's most successful Change and Management Consulting Firm and his clients include Multi-National Corporations like the Volvo Group in India and China. His specialization includes
1. Change Management
2. Executive Coaching
3. Leadership
4. Emotional Intelligence and Awareness
5. Building High-Performance Teams
6. Employee Motivation
7. Sales
QUALIFICATIONS
Doctor of Business Administration from Wyższa Szkoła Informatyki i Zarządzania w Rzeszowie (University of Information Technology and Management in Rzeszów)
Master of Business Administration from the "The Lord Ashcroft International Business School" at Anglia Ruskin University, UK.
Chartered Management Consultant and Member of the Chartered Institute of Management Consultants, USA.
Accredited Teacher of the Enneagram (International Enneagram Association, USA).
NLP Master Trainer (NLP University, USA)
NLP Trainer (American Board of NLP)
Certified Trainer of Hypnosis (National Board of Professional and Ethical Standards)
MBTI Trainer (CPP, USA).
Language And Behavior Profile (LAB Profile) Practitioner (Success Strategies, Canada)
Advanced Certificate in Training and Assessment (Singapore Workforce Skills Qualifications)
Certificate of Employment Intermediaries for Key Appointment Holder (Recruitment Certification by the Singapore Ministry of Manpower)