Description
What does it take for me to know ya? It takes a change in mindset; for metanoia. #WhileTheyAreHere is a ground up movement to connect generations, by introducing an assets-based mindset. We do what we do because we realise the value in community, it's a gift we get to enjoy; not take for granted. If you are curious about meaningful conversations and intergenerational engagement, come down to experience it for yourself - change for the better starts with us!
Our event details are as follows:
Date: 2 Jan 2020, Thursday
Time: 2 - 7pm
Venue: National Youth Council, Red Box (Level 2 Learning Hub)

You may come anytime you are available, or according to the programme line up we have in store for you! Programme details will be sent nearer to the date. In order for us to cope with the flexibility of attendance, kindly state your availability.

Upon registration, you should receive an email with a link to indicate your interest and availability for this event.
Please click on the link to complete your registration. Thank you.

"As part of our Final Year Project (FYP) in Ngee Ann Polytechnic, my team and I are working on bridging the intergenerational divide in Singapore. Building Bridges is a ground-up movement that promotes intergenerational engagement by practicing an assets-based mindset, to strengthen authentic relationships among all generations." - the team behind this project made possible by all participating partners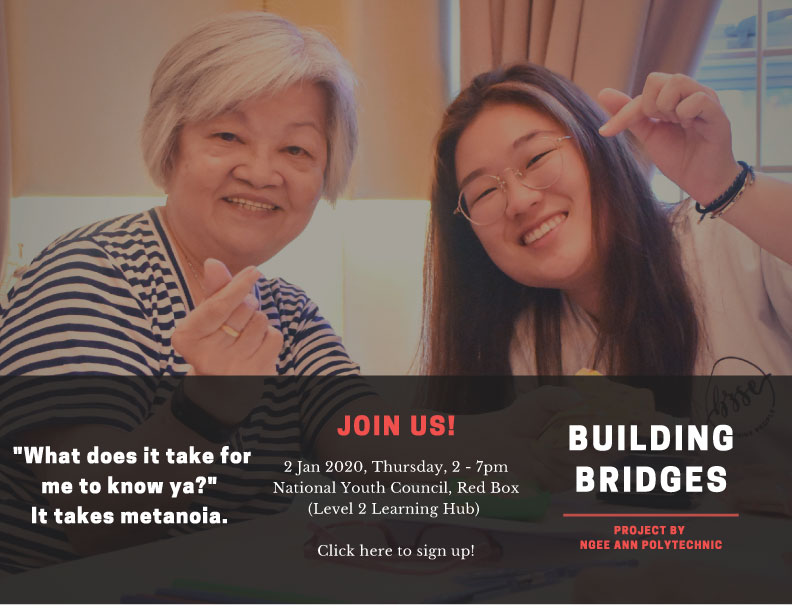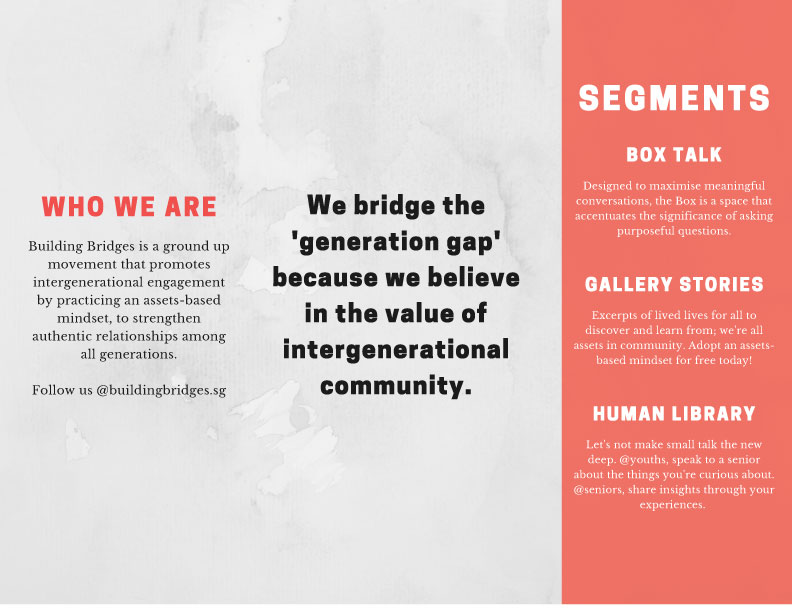 Alternatively, you may sign up directly here
In registering for this activity, you consent to the collection and processing of your personal information for U 3rd Age Pte Ltd mailing list, in accordance with the Personal Data Protection Act (2012).
You may choose to unsubscribe at any point by sending an email to u3rdage.carol@gmail.com
Sharing this event as one of the participating partners. Your contact details will be shared with the organisers of this event.