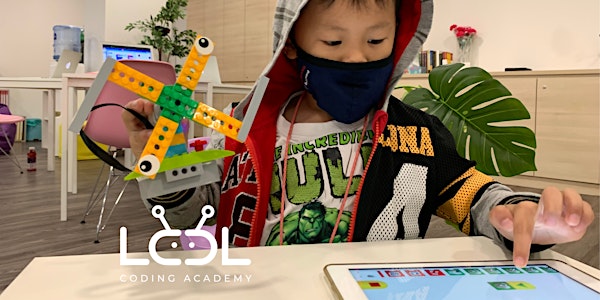 Pre-schoolers Robotics with Lego Education (5-6 y.o.)
Unleash creativity, coding & problem-solving skills with hands-on LEGO fun.
Date and time
Mon, 10 Apr 2023 09:00 - 12:00 +08
Location
LccL Coding Academy 19 Tanglin Road #04-20 Tanglin Shopping Centre Singapore, 247909 Singapore
About this event
Event details
For 5 - 6 y.o
1 week long camp, Monday to Friday, 3 hours each day
Small learning group of 1:6 teacher-student ratio
Devices and materials provided
Camp levels 2 and 3 available
Intakes
Pick an intake (all Mon - Fri, 09:30am - 12:30pm):
Mar - Apr 2023
Jun - Aug 2023
29 May - 2 Jun
5 - 9 Jun
12 - 16 jun
19 - 23 Jun
26 - 30 Jun
3 - 7 Jul
10 - 14 Jul
17 - 21 Jul
24 - 28 Jul
31 Jul - 4 Aug
Early bird discount
Early Bird (more than 2 weeks early): $570
Regular camp fee: $600
Pre-requisites
No pre-requisites. Suitable for all children 5 - 6 y.o. who have never worked with LEGO Education SPIKE Essential.
Video: Mini projects from the camp. Building and coding on the LEGO SPIKE Essential to achieve specified objectives.
Introduction
This camp, using the using the LEGO Education SPIKE Essential, is an engaging experience designed for children aged 5-6 years old. It combines the power of LEGO, hands-on learning, and innovative STEAM concepts to spark children's creativity, critical thinking, and problem-solving skills.
Our camp is the perfect opportunity for children to explore, learn, and grow in a fun and interactive environment.
What do students learn?
Through our project-based curriculum, students learn:
Science, Technology, Engineering, Arts, and Mathematics (STEAM) concepts through hands-on LEGO building activities
Coding and programming using the user-friendly LEGO Education SPIKE App, based on Scratch
Creative design and prototyping, as they build their own LEGO models and machines
Collaborative teamwork, communication, and presentation skills
Confidence in learning, curiosity, and a strong foundation for future STEAM education
Students learn by:
Exploring - connect to scientific question or engineering problem, establish line of inquiry and consider possible solutions.
Creating - build and code a Lego model.
Testing - students given tasks to modify the model based on investigation, design and usage goals.
Sharing - students present and explain solutions they have created.
Why LCCL Coding Academy
Our academy is founded and led by a team of experienced computer science educators and practitioners. Our age-appropriate and progressive curriculum ensures in-depth understanding and strong fundamentals. This is proven over the years with multiple student wins:
2nd place at the National Robotics Competition 2022, pre-school level
1st place at the National Robotics Competition CoderZ 2022 , secondary school level
1st place at the National Robotics Competition CoderZ 2022 , primary school level
Seven students ended up in top 20 placing at the Singapore Coding Olympics, 2022
other wins in 2021, 2019, 2018
Info & Contact
Check us out at LCCLcoding.com or visit us virtually.
WhatsApp or call 6817 2957. Click here to WhatsApp instantly.
Video: Brothers explain the code they programmed on Milo the Rover (in the camp using LEGO WeDo 2.0). At LCCL, we emphasize true learning and understanding.
Frequently asked questions
How do I know if my child is suitable for this?
About the organiser
The premier coding & computational thinking school in Singapore. We offer classes for children and teens 5 – 18 years old. Our learners are supported by four cornerstones:
Led by team of highly experienced & distinguished computer scientists
Strong focus on Computational Thinking, not just coding
Fun & inspiring learning environment
One of the longest track record
Equipped with the strength of our curriculum and teaching methodology, our students have gone on to win at MOE recognised National Robotics Competitions (NRC). List of student wins in recent years:
2022: 1st place, NRC Coding Challenge (primary category)
2022: 1st place, NRC Coding Challenge (secondary category)
2022: 2nd place, NRC Pre-school category
2022: 7 in top 20, Singapore Coding Olympics
2021: 3rd place, NRC Coding Challenge (primary category)