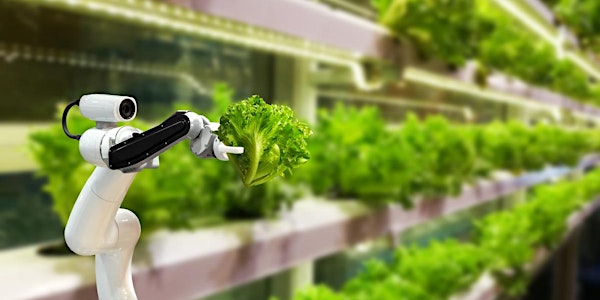 Present and future of Agrifood Tech Innovation under the Covid-19 crisis
Dialogues between Spain and Singapore in the Agrifood Tech industry
Date and time
Wed, 10 Jun 2020 02:00 - 03:30 PDT
About this event
Last month the Embassy of Spain and the Spanish-Singaporean Chamber of Commerce in Singapore launched a series of Dialogues about different topics of interest for Spain and Singapore. After a first Dialogue related to the oil and gas industry, we invite you to our second Dialogue on the Agrifood Tech industry.
Food production needs technological transformation in response to the restriction of resources, sustainability and biodiversity requirements, changing consumer habits, population growth, climate change and Covid-19 crisis threatening the international and local supply chains. In the context of the Covid-19 crisis, the collaboration between countries, sharing knowledge, proposals and innovation, makes more sense than ever before.
Spain has developed a strong R&D focus in the agriculture and food industry, adding competitiveness to its world leadership on agrifood exports. Spanish innovation meets quality, new alternative food, resilience and traceability.
Singapore also faces relevant challenges. Singapore is strengthening its food security and supply chain by setting the "30 by 30" national goal aiming at producing 30% of their food consumption by 2030. It will include new foods and alternative proteins, urban agriculture solutions, and above all boosting industrial productivity in the agri-food sector increasing the satisfaction of consumers.
In this panel, you will be able to meet and listen to two important players, Ms Yee Ting Wong from A*STAR and Mr Jorge Saludes from AINIA. The moderator, Mr Carlos Bonet, from AM FRESH, will guide and manage the discussion that will include also two presentations by the Spanish startup EKONOKE and the Singaporean startup DIMUTO.
A*STAR is the Singaporean Agency for Science, Technology and Research. It drives mission-oriented research that advances scientific discovery and technological innovation. It is a catalyst, enabler and convenor of significant research initiatives among the research community in Singapore and beyond.
AINIA is a Spanish Food Technological Centre and Food Industry Research Association, an institution promoted and managed by companies to perform applied research for the benefit of the industry and consumers. Its activity is based on the use of the best knowledge and the creation of solutions for all kind of food processors.
AM FRESH is a company specialized in fresh products that are delivered all around the world, devoted to innovation and technology.
IMPORTANT: We would like to share the contacts of those who register for this event. If you are interested in joining us, but don't want to share your details, that is fine too. You are also welcome! Just let us know by dropping us an email to info@spanishchamsg.org and/or to maria.urda@maec.es.
About the speakers
Ms Yee Ting Wong is the Acting Director of Food and Consumer Cluster, Agency for Science, Technology and Research (A*STAR).
She is a scientist at heart with a passion to drive innovations and put good science into practical solutions that will improve lives and health outcomes.
Her research experience and publications spanned across areas such as food science, nutrition, gerontology, oxidative stress mechanisms, wound healing, immunology and bio-nanotechnology, having experience working with multi-disciplinary experts and putting emphasis on team empowerment to make game-changing decisions and those that nurture global citizenship values through the adoption of United Nations-Sustainable Development Goals framework.
In her current role, she is involved in establishing new R&D programmes and in bringing scientists and industry player into partnerships to develop a vibrant and innovative food and agrifood ecosytem for Singapore addressing issues such as food security and public health.
Mr Jorge Saludes is the Head of International Market at AINIA.
With a wide experience, of more than 35 years in different companies, at different levels of responsibility in projects, he has been working at AINIA Technological Centre, for the last 20 years, from Chief of Department, to Head of Business Unit and more recently as Director of International Markets. The range of duties are from the identification of business opportunities to the development of new markets for AINIA outside Europe, in matters related to Food Technology, Food Safety, Environmental technologies for food industry, Quality and HACCP, Analytical Control and Transfer of Food Technology.
He has relevant experience as international assessor to different international missions and coordination of cooperation projects. More recently, in the last seven years, he has been promoting the cooperation of AINIA and its associated companies y R&D projects at international level.
Ms Inés Sagrario is CEO of EKONOKE, a Spanish startups that delivers proximity-grown fresh greens from its sterilized indoor grow-room. Its proprietary growing technology and biofertilizer allows their lettuce greens to last up to 12 days LIVE at the point of consumption, guaranteeing an amazing taste, full nutrient levels, yet 0 chemicals, 0 waste and 0 plastic. Expecting expansion plans in urban areas all over the world, reinventing food value chains - lettuce no longer travels thousands of kms, only the knowledge to grow them sustainably does.
Mr Adrian Teo is the Chief Operation Officer (COO) of DIMUTO, a Singaporean startup that provides end-to-end supply chain visibility to global trades specifically to the perishables industry (e.g. fruits & vegetables) through technologies such as blockchain, Internet of Things (IoT) and Artificial Intelligence (AI). Founded by Mr. Gary Loh, who has deep supply chain industry expertise in the fruits industry through SunMoon, DiMuto's Track & Trace blockchain solution digitizes each fruit into a traceable digital asset on the blockchain.
About the moderator
Mr Carlos Bonet is the General Manager of AM FRESH Asia, the commercial branch of the Spanish innovation powerhouse AM FRESH Group. He began his career in Asia as a Trade Advisor at the Commercial Office of the Embassy of Spain in Korea in 2012. Carlos decided to continue his role of expanding and positioning Spanish food and beverage in the region since then, spending over 3 years at Codorniu Asia as Asia-Pacific Regional Sales Manager. Since its establishment in Singapore, AM FRESH has big plans for Asia from several perspectives: innovation, farming, sourcing and commercial.