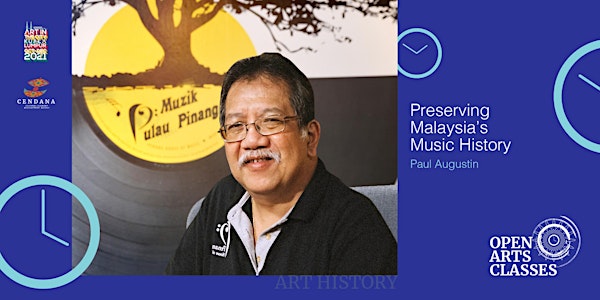 Preserving Malaysia's Music History with Paul Augustin
A talk by Paul Augustin on his efforts to preserve Malaysian music heritage.
About this event
BACKGROUND OF ARTS PRACTITIONER
Paul Augustin is the Director of Penang House of Music and the Festival Director at The Penang Island Jazz Festival. In 2020, he is the recipient of the 17th BOH Cameronian Arts Awards Gamechanger, an honourable recognition given to individuals or organisations who have trailblazed the industry with their distinct artistic voice.
CLASS SUMMARY
Malaysian music preservation: A journey on a road less travelled
The role and importance of music, culture, and the arts to society
Connecting the dots of identifying objects, images and sounds in our music heritage
IMPORTANT NOTES
Class will be conducted in English
Suitable for students and beginners
Expand your knowledge and interest in music preservation and what it takes to promote music interest among the locals