[PRESSPLAY] Portfolio Review: Narrative Illustration
PRESSPLAY presents Portfolio Review: Narrative Illustration.
About this Event
Important Notice
This programme/event is open to members of the National Library Board, Singapore. Please ensure you have your myLibrary ID on hand before proceeding with the registration. If you do not have a myLibrary ID, you can create one here: https://account.nlb.gov.sg/.

About the Programme/Event
In this session, learn from professional artists as they critique your artwork!
Narrative Illustration simply means an illustration that tells a story. They are heavily emphasised in the industry, showing up in key frame concept art, book covers, table top and video game art (table top and video games), and more. It involves the deliberate connection of characters and backgrounds via staging, poses, and lighting to tell a compelling story.
In this session, watch how concept artist and illustrator Calvin Chua dissects your portfolio submissions and how your artworks can be improved upon. This session is open to all who are interested in the topic, and submission of artworks is optional.
 How to submit your artwork
If you would like a chance for Calvin to critique your artwork, please email arts@nlb.gov.sg:
Email Subject: PRESSPLAY Portfolio Review Narrative Illustration
Tell us your preferred name and myLibrary ID
Attach 1-3 pieces of your original artworks on narrative illustration in high resolution, preferably in png or jpg format.
For each artwork, please provide 1 short paragraph of what the artwork is about, or what you are trying to convey in the artwork.
Deadline to submit: 28 Jan 2021 (Thu), 11.59pm.
Notice to Participants
This session may be recorded and uploaded onto NLB's online platforms or used at other presentation platforms.
For those submitting your artworks, you must consent to your artworks being displayed during the Zoom session to all participants and for the artist to overlay or recreate your artwork for the purpose of the portfolio review session.
Please note that due to the time limitation, only selected artworks will be reviewed by the artist during this session. Submission of artworks is not a guarantee of a review.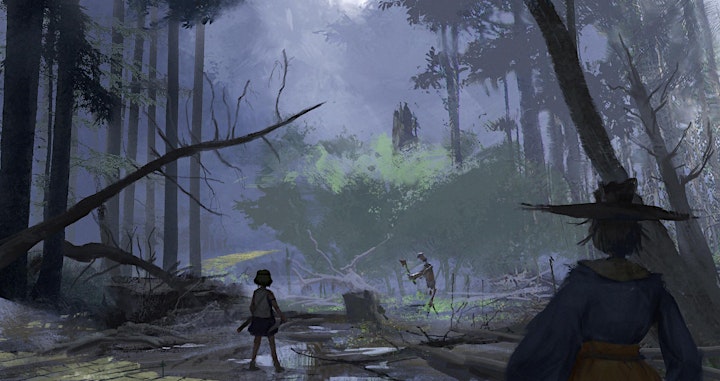 About the Artist
Calvin Chua (@stormbrush) is a concept artist and illustrator who is obsessed with traumatic horror films. He believes that great art should tell stories, evoke emotion, and express movement. Calvin has collaborated with admired writers, filmmakers, and artists in his career, and has also worked on titles such as Star Wars, 20th Century Fox Alien Anthologies, Warhammer, and Legend of the Five Rings from Fantasy Flight Games. 
About PRESSPLAY
PRESSPLAY is an annual arts festival that celebrates young people and their creativity. Through hands-on workshops, artist showcases and collaborations with home-grown studios and collectives, PRESSPLAY invites audiences to explore new art forms and connects them with up-and-coming artists in Singapore.   

Online Programme/Event Administrative Information
This programme is conducted entirely online. You may access Zoom via the app or using a web browser
Please ensure that you enter a valid email address as you will receive an email with the link to the online programme/event near the day of the programme/event
The link of the programme should not be shared with others
Do ensure you have a strong internet connection. Using your mobile data is not recommended
The National Library Board, Singapore (NLB) reserves the right in its absolute discretion to disqualify or refuse admission to any registrant without any reason and notice