[PRESSPLAY] Zine Design: Designing with Illustrations (Workshop)
library@orchard presents a Zine Design workshop on Designing with Illustrations by Joy Ho.
About this event
Important Notice
This programme/event is open to members of the National Library Board, Singapore. Please ensure you have your myLibrary ID on hand before proceeding with the registration. If you do not have a myLibrary ID, you can create one here: https://account.nlb.gov.sg/

Important Registration Info
1.       Please submit your portfolio by emailing libraryorchard@gmail.com by 9 Jan 2021.
Email Subject Heading: Registration for Zine Design: Designing with Illustrations
Your Name
Your myLibrary ID (a valid myLibrary ID is required)
Date of Zine workshop you are attending
Your Portfolio/sample(s) of past experience in illustration or zine-making work
2.       Please note that only successful registrants will be notified via email 3 days before the workshop date
3.       Please note that this workshop is for participants aged 16 years and above
4.       Please note that your zines may be selected for library@orchard's showcase
About the Programme
In this workshop, participants will be creating experimental zines that focus on format and illustrated panels to enhance their narrative and concept.
Participants will also be briefly introduced to the development of zines with unique formatting, where the artist will share about special-format zines she has collected over the years.
Before the session, try to research other artworks or book formats that you like, to be used as inspiration for your zine, (for example, multi-panel wall art, or folded paper). The artist will then guide participants to create a maquette, test out papers, and cut out shapes, to see what works best for their narrative, world, or concept, before starting work on their actual zine!
About the Series
Zine Design is a series of workshops that highlights DIY culture and zines as a form of creative expression. Join us for a workshop or two and your zines might just be showcased!
About the Artist
Joy Ho is an illustrator and cartoonist who creates scratchy dog comics and draws smiley faces with bodies. Their work has been recognized by the Will Eisner scholarship and the Society of Illustrators in the US. They organise and design for Queer ZineFest, and recently collaborated with migrant poets for Our Pandemic, a series pairing illustrators and poets on life under lockdown during COVID. 

About PRESSPLAY
PRESSPLAY is an annual arts festival that celebrates young people and their creativity. Through hands-on workshops, artist showcases and collaborations with home-grown studios and collectives, PRESSPLAY invites audiences to explore new art forms and connects them with up-and-coming artists in Singapore.
For more information, visit facebook.com/artseensg.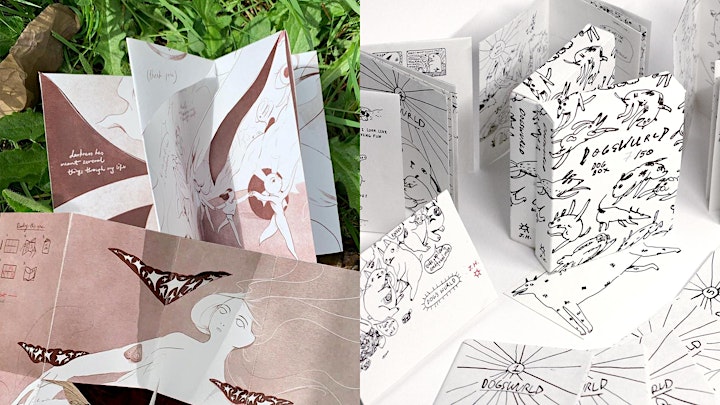 Organiser of [PRESSPLAY] Zine Design: Designing with Illustrations (Workshop)
The National Library Board (NLB) manages a network of 27 public libraries, the National Library and the National Archives of Singapore. NLB promotes reading, learning and information literacy by providing a trusted, accessible and globally-connected library and information service through the National Library and a comprehensive network of Public Libraries.