[PRESSPLAY] Zine Design: Slice-of-life Comics (Workshop) | library@orchard
library@orchard presents a Zine Design workshop on Slice-of-life Comics by James Tan.
About this Event
Important Notice
This programme/event is open to members of the National Library Board, Singapore. Please ensure you have your myLibrary ID on hand before proceeding with the registration. If you do not have a myLibrary ID, you can create one here: https://account.nlb.gov.sg/

Important Registration Info
1.       Please submit your portfolio by emailing libraryorchard@gmail.com by 9 Jan 2021.
Email Subject Heading: Registration for Zine Design: Slice-of-life Comics
Your Name
Your myLibrary ID (a valid myLibrary ID is required)
Date of Zine workshop you are attending
Your Portfolio/sample(s) of past experience in illustration or zine-making work
2.       Please note that only successful registrants will be notified via email 3 days before the workshop date
3.       Please note that this workshop is for participants aged 16 years and above
4.       Please note that your zines may be selected for library@orchard's showcase
About the Programme
Tired of superheroes comic and superpowers to save the day? Learn to create your own slice-of-life comic zine. For this session, think about a day in your life--it can be the food you eat, a train journey, or even your routine walks home. Artist James Tan will show you how you can create a comic out of these moments, infused with your personal observations and thoughts.
You will be guided through the fundamentals of comic-making in this session and learn how you can be creative and make your own comic(s) from slice-of-life moments.
About the Series
Zine Design is a series of workshops that highlights DIY culture and zines as a form of creative expression. Join us for a workshop or two and your zines might just be showcased!
About the Artist
James Tan is an illustrator, art educator and comic artist. He likes to draw quirky stuff and is known for his 'studied carelessness' style. Among his works is a series of picture books Stacey & the Museums, published in collaboration with five local museums. He has published comics on diverse topics, from the conservation of the Bukit Brown cemetery, to coping with dementia.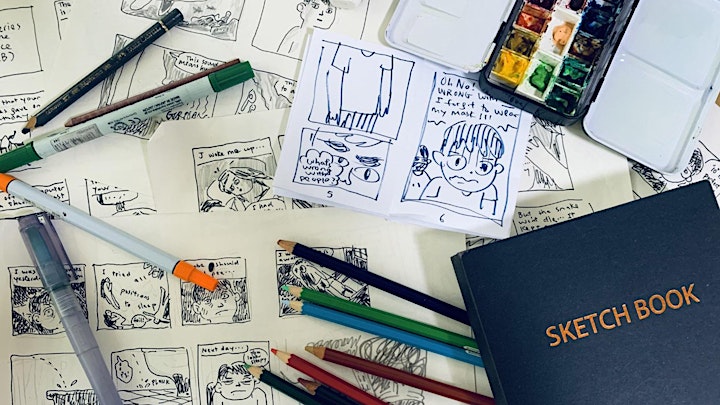 About PRESSPLAY
PRESSPLAY is an annual arts festival that celebrates young people and their creativity. Through hands-on workshops, artist showcases and collaborations with home-grown studios and collectives, PRESSPLAY invites audiences to explore new art forms and connects them with up-and-coming artists in Singapore.
For more information, visit facebook.com/artseensg.