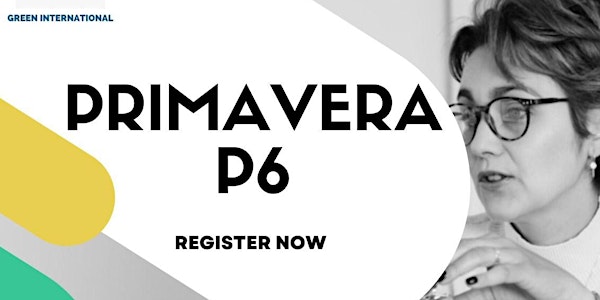 Primavera (P6) course in Qatar
Green International, Qatar is a Leader in UPDA Exam Preparation and Project Management Training provider in Qatar.
When and where
Location
Green Intl-MMUP UPDA Qatar Civil Mechanical Electrical Chemical Archit Engg Exam Syllabus Questions Training Center Ibn Seena Street Doha, Doha Qatar
About this event
30 days 3 hours

Mobile eTicket
Primavera course in Qatar | Enroll now and become P6 Professional
P6 Primavera Training | P6 Primavera Course | Primavera P6 Classes 100% Hands-On Training | Primavera P6 Professional Training | Primavera P6 Training In Qatar | Primavera P6 Certification
Greetings from Green International, Qatar
P6 Primavera Training Course
Primavera is the most powerful, robust, and easy-to-use solution for globally prioritizing, planning, managing, and executing projects, programs, and portfolios. Primavera is an integrated project portfolio management (PPM) solution comprising role-specific functionality to satisfy each team member's needs, responsibilities, and skills. It provides a single solution for managing projects of any size, adapts to various levels of complexities within a project, and intelligently scales to meet the needs of various roles, functions, or skill levels in your organization.
Green International is conducting Primavera P6 Practical hands-on practical training in Qatar as a Leading and Pioneer training provider
#primavera p6 certification, #primavera p6 professional project management, #primavera p6 training, #primavera project management, #primavera project planner, #primavera training
We are happy to update the Training Schedule for Nov-Dec' 2022
PMP - PROJECT MANAGEMENT PROFESSIONAL
14/12/2022, Sat-Mon-Wed, 7-10 pm for 45 Hrs
CFM - Certified Facility Manager
25/12/2022, Sun & Tue 7:00 pm– 10:00 pm 36 Hrs
CCP- CERTIFIED COST PROFESSIONAL
20/12/2022, Sun-Tue-Thu, 7-10 pm for 35 Hrs
UPDA Civil
11/12/2022, Sun-Tue-Thu, 7-10 pm for 30 Hrs
UPDA Mechanical
11/12/2022, Sun-Tue-Thu,7-10 pm for 30 Hrs
UPDA Electrical, Electronics, Instrumentation, Communication Engg.
11/12/2022, Sun-Tue-Thu,7-10 pm for 30 Hrs
UPDA Architecture
28/12/2022, Sat-Mon-Wed, 7-10 pm for 21 Hrs
UPDA – Chemical, Petro-Chemical
10/12/2022, Sat-Mon-Wed, 7-10 pm for 24 Hrs
Qatar Civil Defence (QCDD) Exam Preparation- Mechanical
28/12/2022, Sat-Mon-Wed, 7-10 pm for 15 Hrs
Qatar Civil Defence (QCDD) Exam Preparation- Electrical
29/12/2022, Sun-Tue-Thu, 7-10 pm for 15 Hrs
Qatar Civil Defence (QCDD) Exam Preparation- Architecture
31/12/2022, Sat-Mon-Wed, 7-10 pm for 15 Hrs
LEED Green Associate (LEED GA)
26/12/2022, Sat-Mon-Wed, 7-10 pm for 15 Hrs
Primavera (P6)
19/12/2022, Sat-Mon-Wed, 7-10 pm for 24 Hrs
Revit Architecture
13/12/2022, Sun-Tue-Thu, 7-10 pm for 30 Hrs
Revit MEP
14/12/2022, Sat-Mon-Wed, 7-10 pm for 30 Hrs
NEBOSH IGC LEVEL 3
19/12/2022, Monday to Wednesday, 7.00 pm- 9:00 pm
NEBOSH PSM LEVEL 4
16/12/2022, Fridays Only, 2:00 pm – 5:00 pm
IOSH MS
28/11/2022, Friday Only, 2.00 pm – 5.00 pm
18th Dec – 25th Dec. 2022 Sunday Only, 7.00 pm – 9.00 pm
15th Jan – 22nd Jan. 2023 Sunday Only, 7.00 pm – 9.00 pm
19th Feb – 26th Feb. 2023 Sunday Only, 7.00 pm – 9.00 pm
IELTS
27/12/2022, Sun & Tuesday, 7:00 pm – 9:00 pm
CMA
02/12/2022, Tue & Friday, 7.00 pm – 10.00 pm
NVQ
16/12/2022, Friday Only, 2:00 pm – 4:00 pm
OTHM
09/12/2022, Friday Only, 2.00 pm – 4:00 pm
aPHRI – Associate Professional in Human Resources
16/12/2022 Fridays, 4:00 pm – 6:00 pm
ISO 45001:2018
25th Nov-23rd Dec 2022 (05 Friday weekend batch) 10:00 am – 4:00 pm
ISO 13485:2016
19th-25th December 2022 (5Days Morning batch) 10:00 am – 4:00 pm
Contact our Expert Consultants:
UPDA & Management Training Programs Team
Mob/WhatsApp: +974 6646 4941 / 3340 3359 / 5501 6247
Health & Safety, CFM, ISO Training Programs Team
Mob/WhatsApp: +974 3084 4322 / 7764 7600 / 3098 8433 / 7764 7699 / 3111 4862
Tel: +974 4476 0135 / +974 4476 0546
https://www.facebook.com/groups/updammupexampm