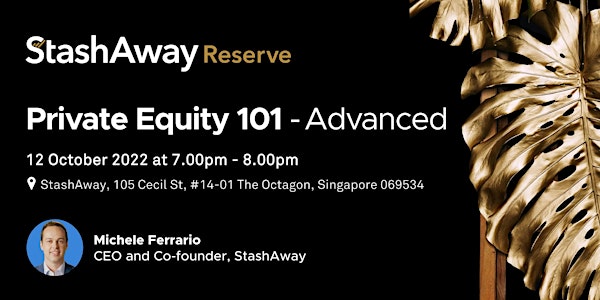 Private Equity 101 - Advanced
Join us on a deep dive into Private Equity
When and where
Location
StashAway @ The Octagon 105 Cecil Street #14-01 Singapore, 069534 Singapore
About this event
Curious about private equity and how it works? Join us for a live StashAway Academy session where we'll cover all the different aspects of investing in private equity.
This session will cover the following:
What is private equity and how is it different from public equities?
Overview of a private equity fund and the different stages of a fund's life
Strategies within private equity as an asset class
Risks of private equity investing
We hope you can join us!
About the Speaker:
Michele Ferrario, Co-founder and CEO, StashAway
Michele spent half of his career in and around financial services, as a consultant to large financial institutions at McKinsey & Co., and then as a Private Equity investor. He then spent the second part of his career building consumer internet companies, most recently as Group CEO of ZALORA, where he was responsible for it growing 15x and becoming the undisputed leader in the market. Michele holds an MBA from Columbia Business School and in 2016 was invited by Singapore's Minister of Finance to be a member of Singapore's Committee for the Future of the Economy.
About StashAway:
StashAway is a digital wealth manager that offers investment portfolios and wealth management solutions for both retail and accredited investors and operates in Singapore, Malaysia, the Middle East and North Africa, Hong Kong, and Thailand.
As of January 2021, the company surpassed $1 billion USD in assets under management. It achieved this milestone faster than it took the world's largest digital wealth managers, Betterment and Wealthfront, to reach the same milestone. In 2020, StashAway was recognised as a Technology Pioneer by The World Economic Forum and a Top 10 LinkedIn Startup.
By registering for this event, you are deemed to have understood and consented to StashAway collecting your personal data that you directly input into the registration forms and contacting you thereafter in relation to our products, services, and events. We promise to send only the good stuff. However, if you ever wish to opt-out, you can easily unsubscribe using the Unsubscribe feature included in the emails. If you wish to know more about our Privacy Policy, you can visit our Privacy Policy page where the policy will apply mutatis mutandis to the event that you have registered for.